Guided Selling for CPQ with Flexible UI to Boost Sales Effectiveness
Logik.io's Commerce Logic Engine offers advanced guided selling capabilities that enables businesses to deliver intuitive, engaging, guided experiences to help sales reps more effectively sell solutions (not just lists of parts), and give buyers an immersive self-service buying experience.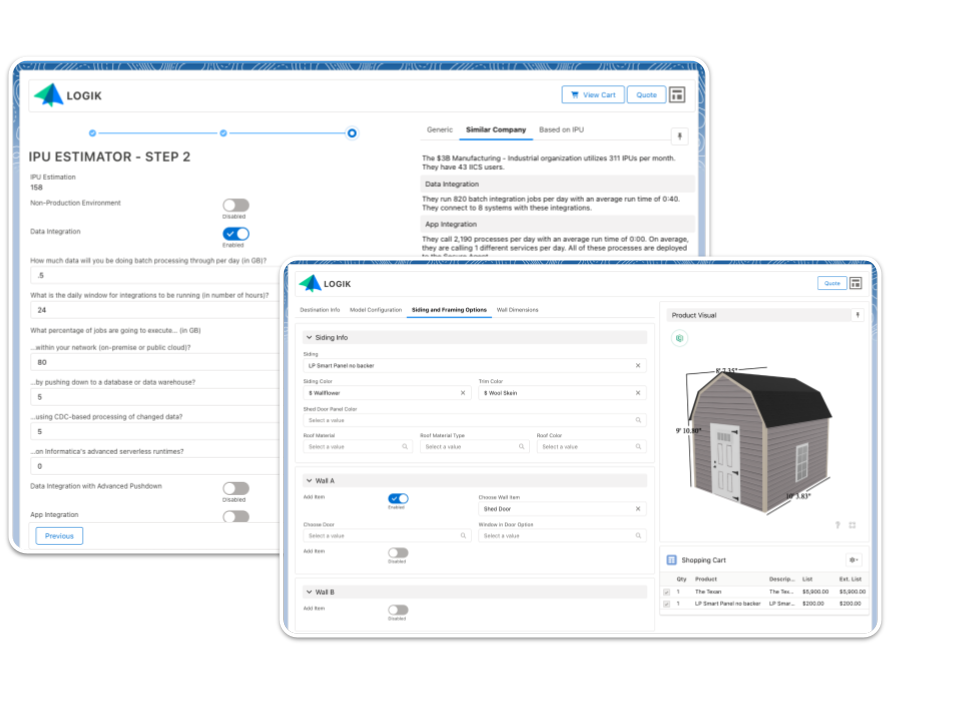 Get the Commerce Logic Engine that Boosts Sales Team Effectiveness with True Guided Selling for CPQ
Your products are sophisticated, you have a million product SKUs and part numbers, and they all live in a long list your sales reps need to search and select from.
With Logik.io advanced guided selling capabilities, you're not only able to get away from your linear "search and select" process, but provide intelligent intuitive prompts and guidance to your reps that help them configure the perfect solution for your customer's needs, helps them do it faster, and guides them to take full advantage of all the tools in your product portfolio.
Why Logik.io for CPQ Guided Selling?
Flexible & intuitive selling experience for reps to sell perfectly configured solutions
Give your sales reps the tool they need to deliver a quote for products and services that fit exactly what your customer needs. No more picking through part numbers and product lists. Let Logik.io guide every seller to the perfect solution.
Maintain a single source of data in the leading sales and CPQ platform: Salesforce
Logik.io enhances the "C" of Salesforce CPQ, and is built directly on the Salesforce platform and within the Salesforce data structure, so you can still leverage all your product data in one central place. Logik.io works right alongside your existing system.
Exceptional sales rep experience with lightning fast speeds
Logik.io adds a proprietary solving engine to Salesforce CPQ built to handle advanced product configurations with split second speed speed for sales reps to produce quotes faster for every product, for every customer, every time.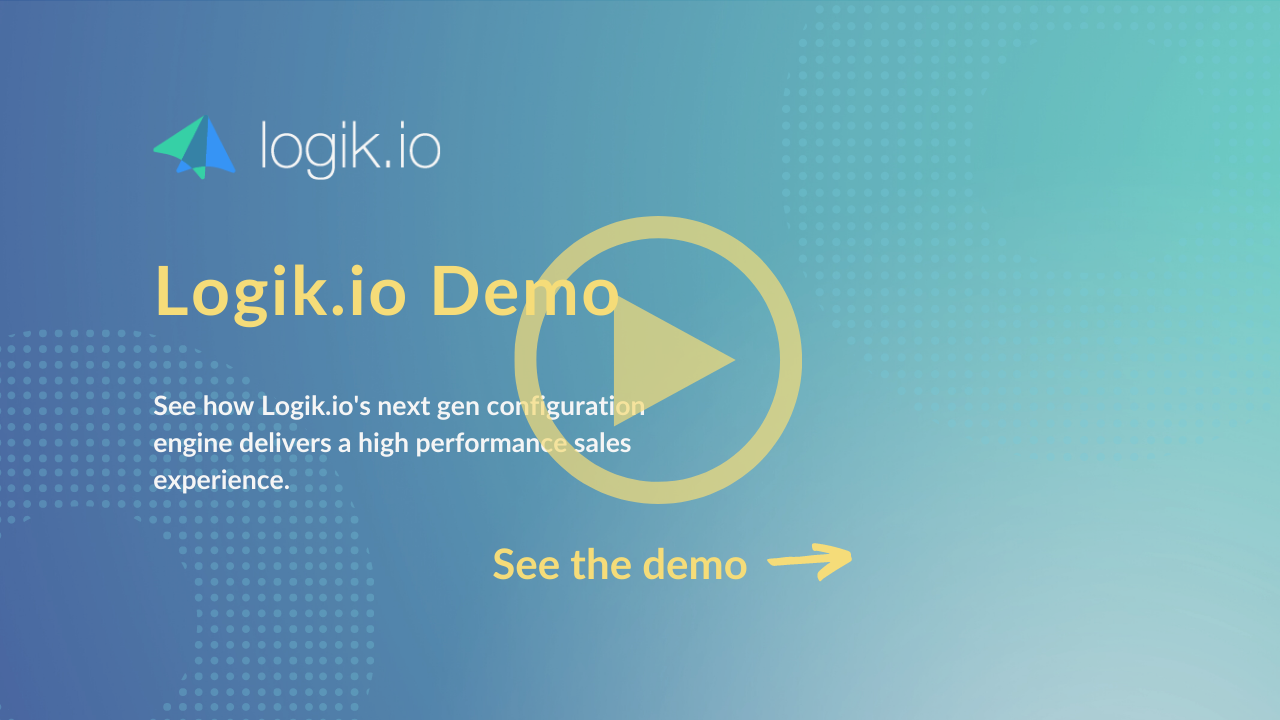 TALK TO LOGIK.IO
Want to learn more about how Logik.io can help your sales team sell more effectively with guided selling?
Guided Selling CPQ
The best sales techniques are the ones that can increase sales while also increasing customer satisfaction. Guided selling is a technique that accomplishes just that. Customers are always looking for the best deal. That does not necessarily mean the product that's the cheapest, but the one that will suit their needs and desires the best. When they find that product, they're more likely to spend money on it. This is where a guided selling tool really shines. Logik.io's guided selling solution uses advanced solving models to help buyers pick the products that most closely match their requirements.
Configure, price, quote (CPQ) tools are a driving factor in the guided selling process. These tools allow sales staff to put together products that best meet the customer's needs. The pricing is then set for that particular configuration, and a quote is sent out to the customer. CPQ software streamlines this process and allows sales teams to work more efficiently. With guided selling, CPQ becomes an even more powerful tool for your sales staff.
Using an intelligent backend to aid sales in the configuration phase with guided product selection, CPQ tools can create configurations and quotes that even more closely match the requirements of customers. When the data in your CRM is able to drive decisions for the guided selling platform, it makes the combination of guided selling and CPQ even more powerful. The guided selling solvers know more about your customers and are able to create personalized configurations that are more likely to thrill them, and more likely to sell.
During the guided selling process, sales reps will follow a preconfigured set of steps that include questions and backend processing that are designed to drill down to what the customer's needs and requirements are and return a provide a product configuration that provides the best match. With guided selling, the guesswork of which configuration is most likely to sell is removed, and overall sales are increased as a result.
Guided Selling Examples
Not all guided selling tools are created equally. Salesforce Guided Selling is a feature built into Salesforce CPQ, but it provides little more than a filtering mechanism for products. While this can help narrow down selections, it doesn't do everything that a true guided selling app would do to ensure that the choices made are the right fit for the customer. To better understand how a good guided selling solution goes beyond mere filtering, let's take a look at some of the best guided selling examples:
IKEA Comfort Guide - IKEA is a trusted brand in the furniture space. They are able to leverage that trust with their Comfort Guide guided selling experience for people in the market for bedding. Given how important sleep is, finding the right bedding can be stressful. This is especially true when ordering online. IKEA's Comfort Guide gives their customers peace of mind by asking a few simple questions about their sleeping preferences and generating a list of mattresses, mattress toppers, pillows, and quilts that will be a great fit for them.
Coolblue - As an electronics retailer, Coolblue is aware that not everyone who purchases products from them is tech savvy. Simply presenting customers with a list of technical specifications and expecting them to be able to choose the right product for them is more likely to send them off to the local big box store to get expert help. Instead, Coolblue's guided selling tool asks customers simple questions and provides them with a detailed explanation of the terms they'll need to understand. In so doing, it's able to present a product to them that fits their needs without expecting them to become a tech whiz.
Through guided selling, e-commerce companies like IKEA and Coolblue are able to offer their online customers the same experience and expertise that they'd get if they went into a brick-and-mortar location. While those guided selling examples are customer-facing, your sales staff can benefit from the same concept. With guided selling, CPQ tools turn all of your salespeople into experts on your products and customers.
Another takeaway from those two examples is the importance of a good guided selling UX. The experiences provided by IKEA and Coolblue are intuitive, easy to follow, and work at lightning speed. When sales staff spends less time fighting the tools, they have more time to wow your customers.
Guided Selling Examples Salesforce
To replicate those guided selling examples, Salesforce can be a powerful tool, but Salesforce Guided Selling alone only provides basic functionality for simple configuration needs. For more advanced needs, Logik.io gives more power than guided selling CPQ in Salesforce allows for. The Logik.io Salesforce CPQ product configurator has an advanced solving engine that goes beyond mere filtering, allowing you to create a system that intelligently matches product configurations to both the customer needs and the product constraints.
Logik.io takes the Salesforce CPQ quote process and supercharges it. This provides access to a larger list of rules and options and connects them together with advanced logic powered by complex math calculations and formulas. But Logik.io isn't all about the backend experience. At the end of the day, your sales staff is still your direct connection to the customer. By providing sales reps with intelligent, context-aware prompts, they'll be able to better address the needs of the customer and match the right product to the right buyer.
Once the configuration is set, sales reps can return to the Salesforce CPQ page, where Logik.io will have created a complete bill of materials, ready to have any additional discounts applied to them, and turn them into a quote.
Visit our YouTube page for Salesforce CPQ examples that will show you the power Logik.io brings to the platform.
Guided Selling In Salesforce
For simple products that don't have much complexity, the built-in guided selling in Salesforce is still a fantastic tool. The Salesforce CPQ quote process can benefit from making use of those tools for products where the needs are basic. Your sales staff will still have the advantage of being able to quickly and easily set up the Salesforce CPQ configuration for your customers.
Guided selling in Salesforce reduces the amount of time it takes for your sales staff to generate quotes by using simple rules that filter your list of products based on sales staff input. This filtering process not only allows your sales team to work more quickly, but also reduces manual errors that can result in lost sales or unhappy customers.
For these reasons, learning how to use the software is beneficial. Thankfully, Salesforce has created training resources that help you get up and running quickly. To learn more about the tools available to you in Salesforce, visit the Salesforce GPQ Guided Selling trailhead. There, you'll learn how to use guided selling for more effective Salesforce quoting.
Salesforce CPQ
With Logik.io or with the built-in tools, guided selling with Salesforce CPQ can empower your sales staff to respond more effectively to the needs of customers, while boosting the number of deals they're able to close. In addition to the trailhead above, there are plenty of resources available for Salesforce CPQ customers to learn about all the features like reporting and more that the software provides. We've assembled some of our favorites below:
Salesforce CPQ Basics - This module on the company's website features several of its trials. For those who just want the basics, this module provides a Salesforce CPQ tutorial to help you get to know your way around the software.
CPQ Specialist Trailhead - This Salesforce CPQ certification is for those who want to go beyond the piecemeal approach and learn the software in-depth. The self-paced learning path will teach you how to configure and administer a Salesforce CPQ solution.
Salesforce CPQ Training - For those who prefer to learn entirely through video, this Salesforce CPQ training playlist on YouTube will take you from the basics to more advanced features.
Additional Related Resources
Guided Selling | Guided Selling Software | Guided Selling Salesforce CPQ | Configure Price Quote | Guided Selling for Manufacturing | Product Configurator | Product Configuration Software
TALK TO US
Ready to talk about how Logik.io can enhance your Salesforce CPQ experience?