Help Sellers Sell, with Logik.io Guided Selling for Salesforce CPQ
Easily architect unique and intuitive guided selling flows and UI with Logik.io's Commerce Logic Engine. Logik.io's advanced guided selling capabilities enable businesses to deliver engaging, guided experiences that help sales reps more effectively sell perfectly configured solutions, not just lists of parts.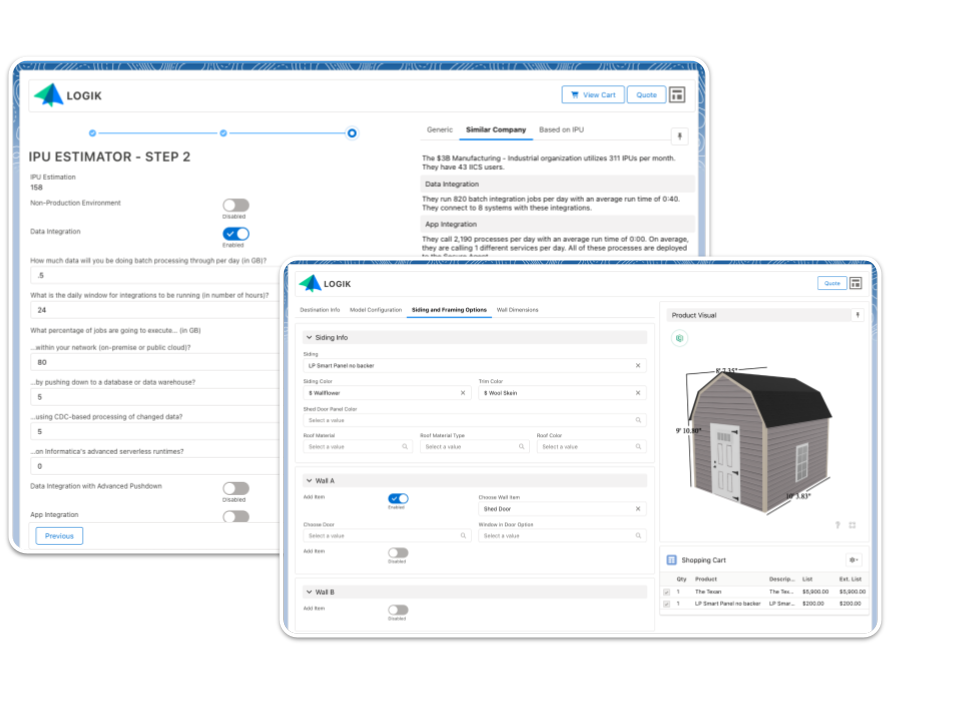 Boost Sales Team Effectiveness with Advanced, True Guided Selling for Salesforce CPQ
Your products are sophisticated, you have a million product SKUs and part numbers, and they all live in a long list your sales reps need to search and select from.
With Logik.io advanced guided selling capabilities, you're not only able to get away from your linear "search and select" process, but provide intelligent intuitive prompts and guidance to your reps that help them configure the perfect solution for your customer's needs, helps them do it faster, and guides them to take full advantage of everything in your product portfolio.
Why add Logik.io to Salesforce CPQ for Guided Selling?
Flexible & intuitive selling experience for reps to sell perfectly configured solutions
Easily architect and design unique and intuitive guided selling flows and layouts that give your sales reps the tool they need to configure exactly what your customer needs. No more picking through part numbers and product lists. Let Logik.io guide every seller to the perfect solution.
Maintain a single source of data in the leading sales and CPQ platform: Salesforce
Logik.io enhances the "C" of Salesforce CPQ, and is built directly on the Salesforce platform and within the Salesforce data structure, so you can still leverage all your product data in one central place. Logik.io works right alongside your existing system.
Exceptional sales rep experience with lightning fast speeds
Logik.io adds a proprietary solving engine to Salesforce CPQ built to handle advanced product configurations with split second speed speed for sales reps to produce quotes faster for every product, for every customer, every time.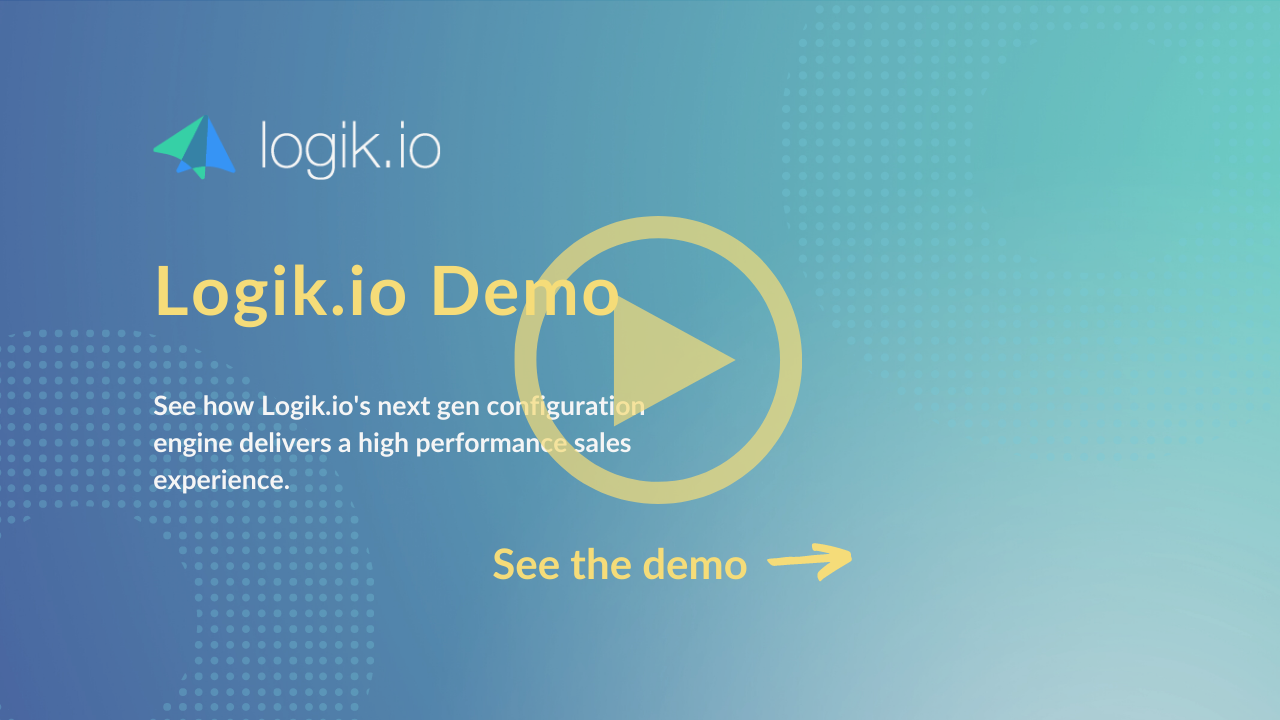 TALK TO LOGIK.IO
Want to learn more about how Logik.io can help your sales team sell more effectively with guided selling?
Guided Selling Salesforce CPQ
Guided selling in salesforce CPQ has many benefits for businesses and sales teams. Guided selling steers reps to the best product options for customers. Alternatively, they can build a custom solution to meet their needs perfectly. This helps increase conversion rates and customer satisfaction. It also helps new sales reps learn more quickly and increases overall efficiency and productivity for your entire sales team.
The CPQ (configure, price, quote) software generates accurate quotes for any configuration or customization combination. Regardless of how unusual or complex your rates are, in Salesforce CPQ, pricing methods are factored in. It can handle a wide variety of billing types and pricing models. This saves time and money, makes quoting much easier, and provides automatically updated forecasting.
Salesforce CPQ has some amazing features and results. Salesforce CPQ Plus even includes extras, the most notable of which being the Salesforce CPQ API (application programming interface) to connect other tools. Take a look at the Salesforce CPQ pricing page for more details.
Guided selling in Salesforce CPQ provides many invaluable tools, capabilities, and benefits for businesses with basic guided selling and configuration needs. However, when it comes to more advanced use cases, their system isn't well equipped to handle them.
While many businesses immediately seek out Salesforce CPQ alternatives, the best solution is to add software with the functionality that you need to the existing foundational elements that guided selling in Salesforce CPQ already provides. Enter Logik.io for Salesforce CPQ.
Logik's next-generation configuration engine provides lightning-fast speeds, streamlines workflows, reduces maintenance costs, and increases flexibility. Logik can handle even the most complex configurations and simplify the selling process with feature-based configurations and automatically generated bill of materials (BOM).
Check out the CPQ salesforce tutorial, help pages, demo, or YouTube videos to learn more about guided selling in Salesforce CPQ.
Guided Selling in Salesforce
Guided selling in Salesforce is a software solution that allows sales reps to use questions designed to determine the customer's needs to guide the sales process. They quickly and easily filter your product options to find the perfect solution. The product configurator allows your sales team to configure the perfect product for each individual customer based on your component and customization options.
Using the costs listed in your price book, the Salesforce CPQ software then generates an accurate quote for the configuration. In Salesforce CPQ, pricing methods of all kinds can be accounted for. This includes cost-plus, markup, batch, block, one-time, subscription, usage-based, and custom pricing. It also considers deals and markdowns for situations like holiday sales, special promotions, bundling or multiyear discounts, and more.
To make the guided selling process extra clear, Salesforce allows users to build an opportunity path in Salesforce. This acts as a visual representation of the route opportunities will take and all the steps along the way. If you still don't completely follow how guided selling in Salesforce works, don't worry. For people who want to learn more about guided selling, Trailhead, Salesforce's learning platform, has you covered.
Guided Selling Examples Salesforce
Salesforce does its best to make its products and platform useful, intuitive, simple to set up and use, and easy to understand. However, especially for people who haven't used this kind of technology before and are just learning about tools like CPQ, product configuration, and guided selling Salesforce CPQ offers, it can be a lot to take in all at once.
Obviously, that can be overwhelming. Salesforce understands this and has resources to help. It can be very helpful to see how the process works. If you'd like to see some guided selling examples, Salesforce has demonstration videos and tutorials on its YouTube channel. For more in-depth and tangible Salesforce CPQ examples, the Salesforce CPQ guided selling Trailhead is a great resource.
The guided selling Salesforce CPQ provides is a wonderful business tool and a great place to start. However, companies selling sophisticated products that require an advanced codeless rules engine and complex configuration logic are going to need a bit more than the Salesforce CPQ product configurator can offer.
That doesn't mean you can't or shouldn't use Salesforce. You definitely should and there are many benefits to doing so. However, utilizing an add-on Salesforce CPQ product configurator like Logik.io can enhance its functionality and give you the power you need.
Guided Selling Ecommerce
For most guided selling, eCommerce is a shared weakness. The way this software typically works to provide guided selling CPQ, Salesforce included, is by embedding the guided selling software into the platform itself. That may work for B2B businesses personalizing product options over the phone or in person. However, for B2C eCommerce businesses, it's inadequate at best.
Having software so embedded in and dependent on the platform ties it down. This format makes it difficult, if not impossible, to extend the features to other platforms, like those designed for digital commerce. Companies in need of a more targeted solution should consider getting a guided selling app built to work seamlessly with eCommerce platforms, like Logik.io.
Logik.io's guided selling app, available in the Salesforce App Exchange, is made for eCommerce. Our next-generation headless commerce configuration engine is exactly what online sellers need to easily embed the ideal guided selling UX into any eCommerce platform or website.
Using Logik.io for eCommerce doesn't just add guided selling to your eCommerce site. It puts the power of headless commerce at your fingertips. Plus, our partnership with Threekit adds real-time, dynamic, high-quality, ultra-realistic, and interactive visuals.
Want the best guided selling examples using Threekit's stunning visual configurator? Visit these sites to test it out.
Salesforce CPQ Guide
Salesforce, like any business tool or solution, isn't a perfect fit for everyone. You can extend the capabilities of Salesforce CPQ to handle much more advanced configurations without simply adding a targeted solution like Logik.io. One method is using Salesforce CPQ training material to attempt to implement a system with workarounds that meet your needs.
Salesforce Trailhead has a Salesforce CPQ admin guide. While that Salesforce CPQ guide has a lot of useful material, it takes over 24 hours to complete. Some sites have Salesforce CPQ certification dumps, giving users access to Salesforce CPQ certification questions and answers.
There's no way to know if the information on those Salesforce CPQ study guide sites is correct. Even if it was, it likely wouldn't provide the same understanding that taking an actual certification course would.
You could try to use Salesforce CPQ documentation, like the Salesforce CPQ developer guide, to figure out how to use the API to connect different tools or even build a custom integration. The Salesforce CPQ guide PDF for developers is pretty technical and hard to follow though. This would likely be extremely time-intensive and expensive. You're better off using a solution made to solve this problem like Logik.io for Salesforce CPQ.
Salesforce CPQ Quote Process
Getting a Salesforce CPQ certification and going over all their training materials is one way to possibly extend the functionality of guided selling in Salesforce CPQ. Becoming a developer (or hiring one) to go over all the Salesforce CPQ documentation for developers is another. However, you don't have to go through all that trouble to improve the CPQ process.
There's another, much better way to get what you need without spending all that time and money on a strategy that's ultimately unlikely to be successful. You can enhance your guided selling and Salesforce CPQ quote process with an advanced guided selling tool like Logik.io. Our app can augment Salesforce CPQ features to make the process much smoother and allow much more advanced capabilities.
You can watch the Logik.io for Salesforce CPQ demo and other explainer videos on our YouTube channel. If you need more Logik.io for Salesforce CPQ help or just want to learn more about us, feel free to visit our site. To get a Logik.io for Salesforce CPQ tutorial, visit our Talk to Sales page. If there's anything else you need, feel free to reach out to us and ask. We'll do everything we can to get you whatever you need.
Additional Related Resources
Guided Selling | Guided Selling Software | Guided Selling Salesforce CPQ | Configure Price Quote | Guided Selling for Manufacturing | Product Configurator | Product Configuration Software | Logik.io for Salesforce CPQ
TALK TO US
Ready to talk about how Logik.io can enhance your Salesforce CPQ experience?