Logik.io supercharges CPQ for Manufacturing with a configuration experience built for sophisticated products
Logik.io augments and enhances the "C" of CPQ solutions, specifically built for manufacturers with complex product configurations. Our advanced product configurator, or as we call it, our Commerce Logic Engine makes even the most sophisticated products simple to sell, so sales can sell faster, admins can maintain less, and every customer gets exactly what they need.


SCHEDULE A DEMO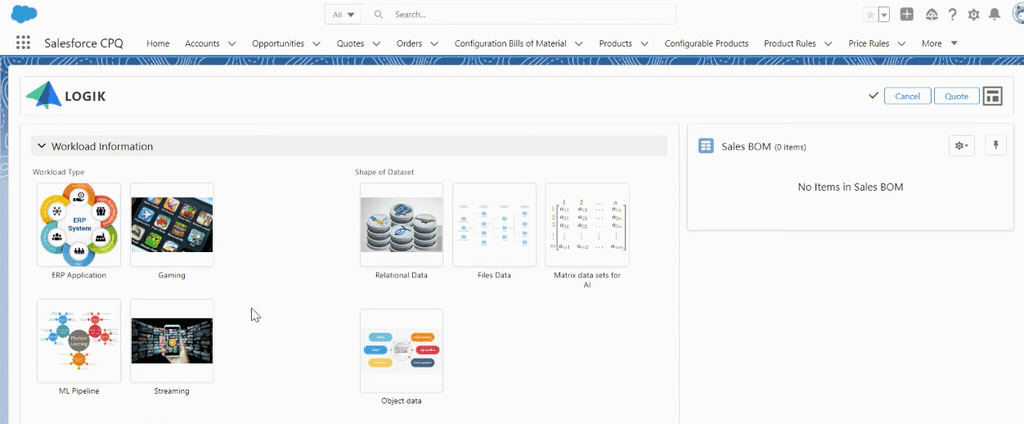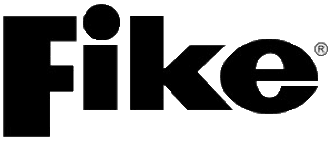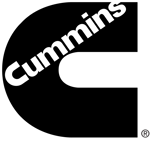 Why is Logik.io the perfect addition to CPQ for Manufacturing?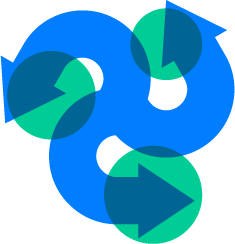 Handle even the most complex products with ease and lightning fast speeds
Logik.io adds a proprietary solving engine to Salesforce CPQ built to handle advanced product configurations with split second speed speed for sales reps to produce quotes faster for every product, for every customer, every time.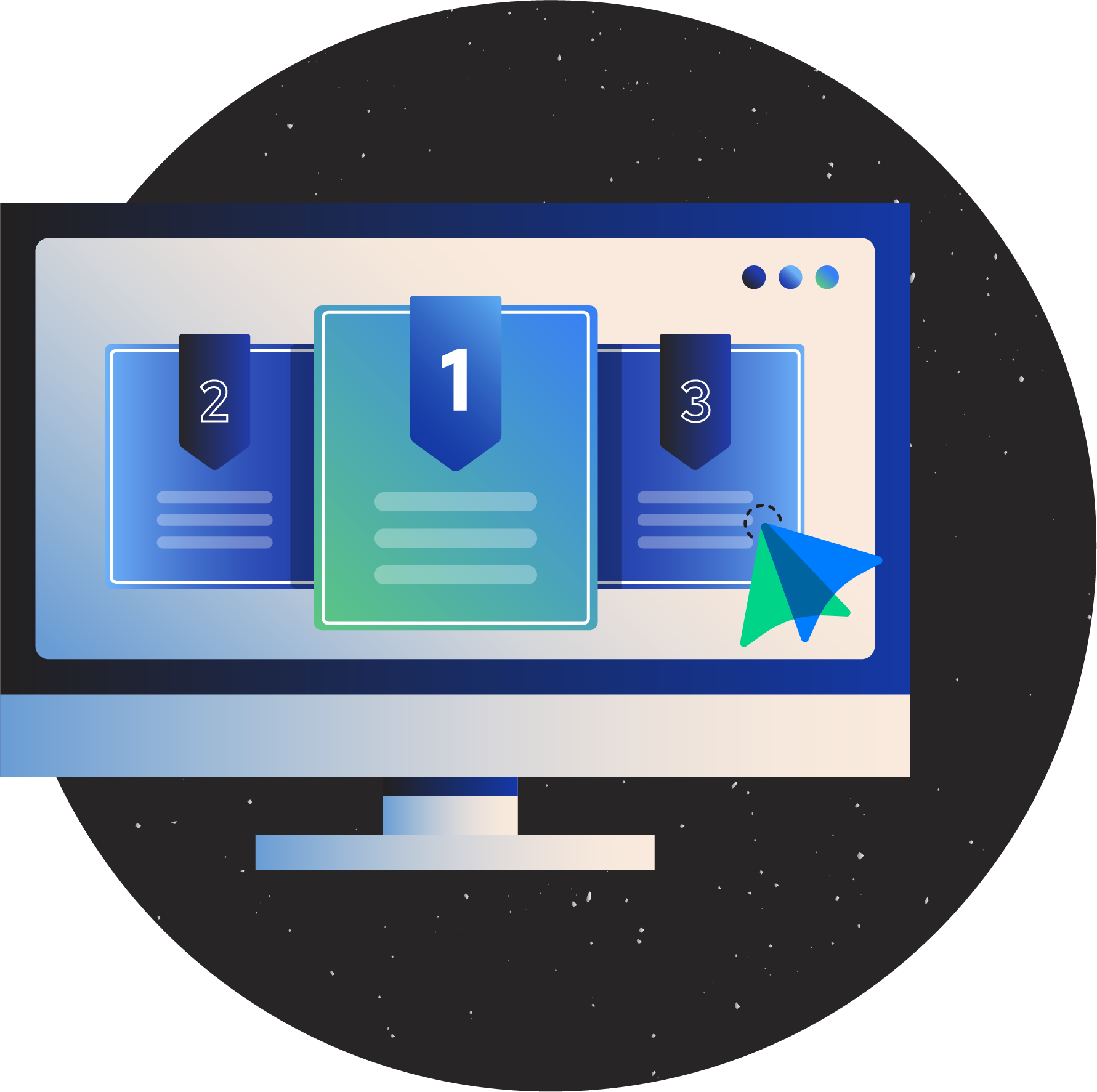 Flexible & intuitive selling experience for anyone to create perfectly configured solutions
Give your sales reps the tool they need to deliver a quote for products and services that fit exactly what your customer needs. No more picking through part numbers and product lists. Let Logik.io guide every seller to the perfect solution.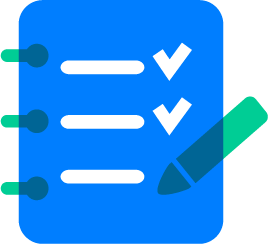 Maintain a single source of data in the leading sales and CPQ platform: Salesforce
Logik.io enhances the "C" of Salesforce CPQ, and is built directly on the Salesforce platform and within the Salesforce data structure, so you can still leverage all your product data in one central place. Logik.io works right alongside your existing system.
Complicated product rules used to be challenging for CPQ to handle.
Before Logik.io.
Find out how
Create guided product configuration experiences for CPQ that makes configuring even the most sophisticated products fast and simple.

Other product configurators for manufacturers are complicated to manage, require custom development and scripting, and have limited performance for sophisticated manufacturing products. Logik.io was purpose-built to simplify the complicated CPQ processes for manufacturers, with a configurator built to make administrators lives easier, and to provide a powerful dedicated engine to govern the logic, rules, and recommendations that direct how products can and should be configured and sold.
Learn more about Logik.io's Commerce Logic Engine
CPQ For Manufacturing
As a manufacturing company in an increasingly digital, modernized market, you should not be using outdated Quote-to-Cash processes. The nuances of your business deserve a fully realized tech stack that can make your sales process easier. Conducting product configuration, pricing, and quotation manually or with inadequate tools is not just time-wasting—there's a real risk of losing customers to competitors who can offer a more seamless experience. With the market in a state of expansion right now, setting yourself up with a solid tech stack can help you retain and grow your buyer contingency.
Even though we have had configure, price, quote (CPQ) technology since the late 1970s, CPQ systems gained attention when they joined up with Salesforce solutions in the late 1990s and early 2000s. Most recently, the COVID-19 pandemic and resulting shutdowns put an extreme emphasis on buyer-driven, self-service options for both B2C and B2B companies. It only makes sense that CPQ software offerings would expand as a result. Today, the best CPQ software will include an advanced rules engine as well as features for pricing and generating quotes. They are also rule-based for approval and authorization requirements.
As a manufacturing company with a complex product and possibly thousands of options and configurations, your CPQ process and CPQ process flow is more in-depth and complicated than a B2C or non-manufacturing business. Off-the-shelf CPQ software solutions will not meet your needs adequately because they are designed for the general market. While it works for most scenarios, your administrators, sales teams and customers all deserve better.
An advanced CPQ solution allows you to account for the more nuanced changes that are common in the manufacturing industry. For example, a suitable solution should help you to account for fluctuations in the cost of raw materials, logistics, or availability of labor in its CPQ process flow. These are features that can shield or even improve your profit margins throughout the sales process.
Similarly, CPQ for manufacturing software comes integrated with sales software such as CRM and ERP systems. This makes it easier for your sales team to focus on providing a more satisfactory customer experience. By leveraging the system, its rules, logic, and processing capacities, reps will see a reduction in overall time. The customer receives accurate quotes within a shorter time frame, and you can deliver fully optimized products much faster.
If you're having trouble finding the best CPQ for manufacturing software for your business, one way to do it is to discover what solutions are being used by other CPQ companies with demonstrated CPQ examples of success in their operations. If it worked for them, it could work for you.
But, it's important to remember that there is no one-size-fits-all solution. While gathering inspiration is great, you'll still want to keep clear goals in mind and be honest about your limitations. You can't do everything, but you can do what's going to matter most.
We've compiled a list of the 5 main pitfalls you'll want to avoid during CPQ selection and implementation, accessible for free, on-demand at https://www.logik.io/blog/5-pitfalls-to-avoid-when-selecting-implementing-cpq.
One of these common options is the Salesforce and Logik.io combo. We joined forces to make even the most complex product configuration, pricing, and quotation processes simple. Not only does this save your business money and time, but it will also future-proof your company against developments and changes in customer needs.
CPQ Software For Manufacturing
Every single CPQ company says that their software is the best for manufacturing companies. As much as we'd like to believe them, they can't all be telling the truth. Manufacturing is an industry that can't be distilled down into simple talking points, or truly be understood by those who haven't had a hand in it themselves. So, how do you filter through the marketing speak and get down to the details that matter? This is especially important if you require niche features to support the unique business processes that come with manufacturing – and let's be honest, most do.
Here is some free CPQ software advice from us to you: most CPQ software companies do not really have the built-in features and capabilities that you need to support your needs as a manufacturer. Here are some of the bare-minimum features that even free CPQ software for manufacturing should provide:
A product catalog
A visual system of selection and configuration
ERP pricing
Order and inquiry management
Handle complex configuration, rules, and formulas
Integration with other sales tools such as CRMs and ERP software
Approval, authorization, and documentation
Quote and proposal management
Smart selling, able to adapt to different sales processes
These aren't all features that you can find in a general-purpose CPQ solution. Most of those available are either built on top of CRMs or need to be integrated with enterprise software such as CRMs. These general-purpose CPQ products aren't nearly powerful enough to meet the needs of modern discrete manufacturing. At least, not on their own.
That's why Logik.io exists. Our powerful product configurator meets the complex needs of manufacturers better than any of the top 10 CPQ configurators. Working with Salesforce software, we have the best CPQ software when complex configuration is required.
CPQ Companies
Configurators have been part of guided selling in the manufacturing industry for decades. However, CPQ solutions didn't become a definite and popular suite of applications on their own until 2010. That's when Gartner first defined the CPQ suite of applications and released the first of its annual reports for the segment, solidifying its place in business technology for the decades to come.
The CPQ full form is Configure, Price, Quote. It is a software solution that helps manufacturing companies produce quotes and bills of material for sale, and process complex orders for configurable products with real-time input from buyers.
CPQ software makes it easy to capture order details, calculate prices, and communicate that information to both the engineering teams on the factory floor and the customer closing the sale. This means that both buyers and sellers can redirect their energy toward optimizing sales with ease.
The CPQ market has now grown extensively and gained several large players to make note of. There is certainly a difference between the best CPQ software for small businesses and smaller manufacturers compared to the best CPQ software solutions for enterprise manufacturers.
The annual CPQ software Gartner report will help us find and evaluate various CPQ companies in the space. These include IBM CPQ, SAP CPQ, Salesforce CPQ, Oracle CPQ, Apttus CPQ, Tacton CPQ, and more.
Here, we will only evaluate the ones that are highly specialized for manufacturers: Salesforce CPQ, Tacton CPQ, SAP CPQ, and Oracle CPQ.
The CPQ Salesforce solution is the best place to begin your evaluation, as it is arguably the premiere software option in the current market – and, it has a unique cloud designed for manufacturers. The CPQ Salesforce meaning is the same as mentioned before: configure, price, quote. The company, formerly called Steelbrick CPQ, was acquired by Salesforce in 2015 and integrated natively into the Salesforce platform to create the product known and used today.
Even before it was part of the Salesforce CPQ process, Steelbrick was already an industry leader with an established reputation. Now, with Salesforce's powerful functionality, Salesforce's Steelbrick CPQ can easily handle complex functionality for current manufacturers.
Salesforce CPQ features rival those of any competitor on the market, especially when leveraged in conjunction with the Logik.io Commerge Logic Engine. The product itself, as you can see in our Logik.io for Salesforce CPQ demo video, offers a powerful experience made possible by its native integration to the Salesforce platform. This makes for a robust Salesforce CPQ presentation for your product, and a top-tier experience if implemented.
The biggest advantage you get from Salesforce CPQ comes from the overall Salesforce ecosystem and the resources that Salesforce provides on top of the CPQ software itself. There are many Salesforce CPQ examples on their website, and you also get access to free Salesforce CPQ tutorials and certifications.
These Salesforce CPQ certifications are available through the Salesforce CPQ Trailhead course on the site. And, because Salesforce CPQ is so easily integrated into the Salesforce product suite, it is easy for manufacturers to learn Salesforce CPQ as a whole. What's more, Salesforce CPQ offers pricing solutions that work for a range of products.
Once you implement Salesforce CPQ as your business's CPQ tool, you will be glad to discover that the Salesforce CPQ documentation is among the best that can be accessed. Because there are specific roles for Salesforce CPQ jobs, you can usually find a highly talented admin for any Salesforce CPQ help needs.
Logik.io Commerce Engine is also native to the Salesforce platform, meaning any CPQ operations on their end can be enhanced with our expertise. Logik.io can also headlessly integrate across a variety of platforms, but is unique in the direct relationship it has with Salesforce CPQ.
Tacton CPQ
Compared to Salesforce, Tacton CPQ or Tacton Systems is a niche CPQ application. Tacton CPQ clients are generally industrial clients such as vehicle manufacturers.
Being such a niche solution, Tacton CPQ clients are limited compared to what other companies such as Oracle and Salesforce have to offer. For example, the Tacton logo or name aren't as easily recognizable to the layperson.
For the same reason, the Tacton CPQ training and Tacton knowledge base are much smaller compared to the established Salesforce CPQ. People gravitate toward things they're familiar with, and name recognition carries a lot of weight in sales particularly.
Because Tacton is a standalone application rather than one integrated into a platform, Tacton needs to hook into and integrate with your CRM, usually Salesforce. However, the Tacton CPQ Salesforce integration is as fluid or seamless as a native integration.
Apptus/Conga CPQ
What many in the CPQ space may have once known as Apptus CPQ has transformed into the newer Conga Configure, Price, Quote solution as of May 2020.
The main goals of the software provided remain consistent – to provide users with an efficient method by which they can leverage their tech stack to close more sales – but are just packaged a bit differently.
Conga focuses on bringing an automated quote-to-cash process to eCommerce environments across multiple continents. They do not have as close of a relationship with the Salesforce platform as commerce engines like Logik.io, but have still been able to bring about general success for their clients with what they have.
Conga revenue lifecycle management solutions are shown to work with Salesforce CPQ, bringing the another highly trusted industry name back into the mix.
IBM CPQ
While many may recognize the name IBM as a large scale technology provider, they may not know about the IMB CPQ solution – Sterling Field Sales.
Sterling Field Sales brings together customer data profiles and opportunity management alongside the expected configure, price, quote features. IBM touts their solution as an out-of-the-box offering that can be utilized within the larger Salesforce architecture, which is a main draw for many.
IBM has created a wealth of readily accessible resources regarding this software, most of which focus on different integrations that are possible with Salesforce. Because of the reputation IBM has earned over their history in business, these points of information are well regarded by users and prospective clients alike.
SAP CPQ
SAP, the widely recognized provider of ERP solutions, also offers the cloud-based SAP CPQ Callidus (formerly CallidusCloud). SAP CPQ is a legacy tool that SAP acquired in 2018 to improve its Variant Configuration functionality in its ERP systems.
Salesforce will often integrate with the SAP CPQ system. However, the SAP CPQ integration is not robust. Even though SAP does have a resourceful CAP CPQ certification program and free SAP CPQ tutorial options, companies who are already on Salesforce should consider the native Salesforce CPQ instead.
Despite the SAP CPQ documentation and SAP CPQ training needed, the SAP CPQ help is no match for the integrated Salesforce application. Comparatively, Salesforce provides a wider range of customization and lower overall maintenance and setup requirements.
Oracle CPQ
Oracle's CPQ is one of the top players in the market, alongside Salesforce. It provides a sales-oriented Quote-to-Cash CPQ solution with features like one-of-a-kind pricing requests, cross-selling opportunities, and guided selling paths. It also creates sales visibility, insights, and channel control options.
Formerly known as BigMachines before Oracle acquired the company in 2013, Oracle CPQ is an enterprise-grade CPQ solution that offers machine-learning capabilities for an exceptional customer experience. However, it has a much lower adoption rate than some of its counterparts, mostly because many users find it too complex and rigid. It also has poor customer support and issues with stability, which does not engender any additional trust from shoppers.
With so many businesses pivoting toward customer-first experiences, buyers have a lower tolerance than ever for hiccups like this. If they aren't finding the experience they're looking for out of your platform, they'll take their business to a site that better accommodates them. These buyers are the result of "consumerization," and steadily increasing to make up the market majority. But, if you can create a stable, user-friendly environment as early as possible, you have potential to maintain and expand your clientele to accommodate these consumerized buyers, and earn their patronage moving forward.
The biggest advantage a solution like Salesforce CPQ has over Oracle CPQ is that Oracle's CPQ architecture is much more rigid and less flexible than Salesforce. In terms of the resources and ecosystem around the product too, Oracle's CPQ jobs are in lower demand than Salesforce, while resources like Oracle CPQ tutorials are far less extensive. If you're looking for a balance between usability, effectiveness and maintenance, you'll very much want to consider available resources before implementation. Can you find the answers to your own questions through a tutorial, or will you need to escalate to a helpdesk each and every time?
Get your free demo now to see the Logik.io Salesforce product configurator in action.


Additional Related Resources
Guided Selling | Guided Selling Software | Guided Selling Salesforce CPQ | Configure Price Quote | Guided Selling for Manufacturing | Product Configuration Software | Logik.io for Salesforce CPQ | Salesforce Manufacturing Cloud