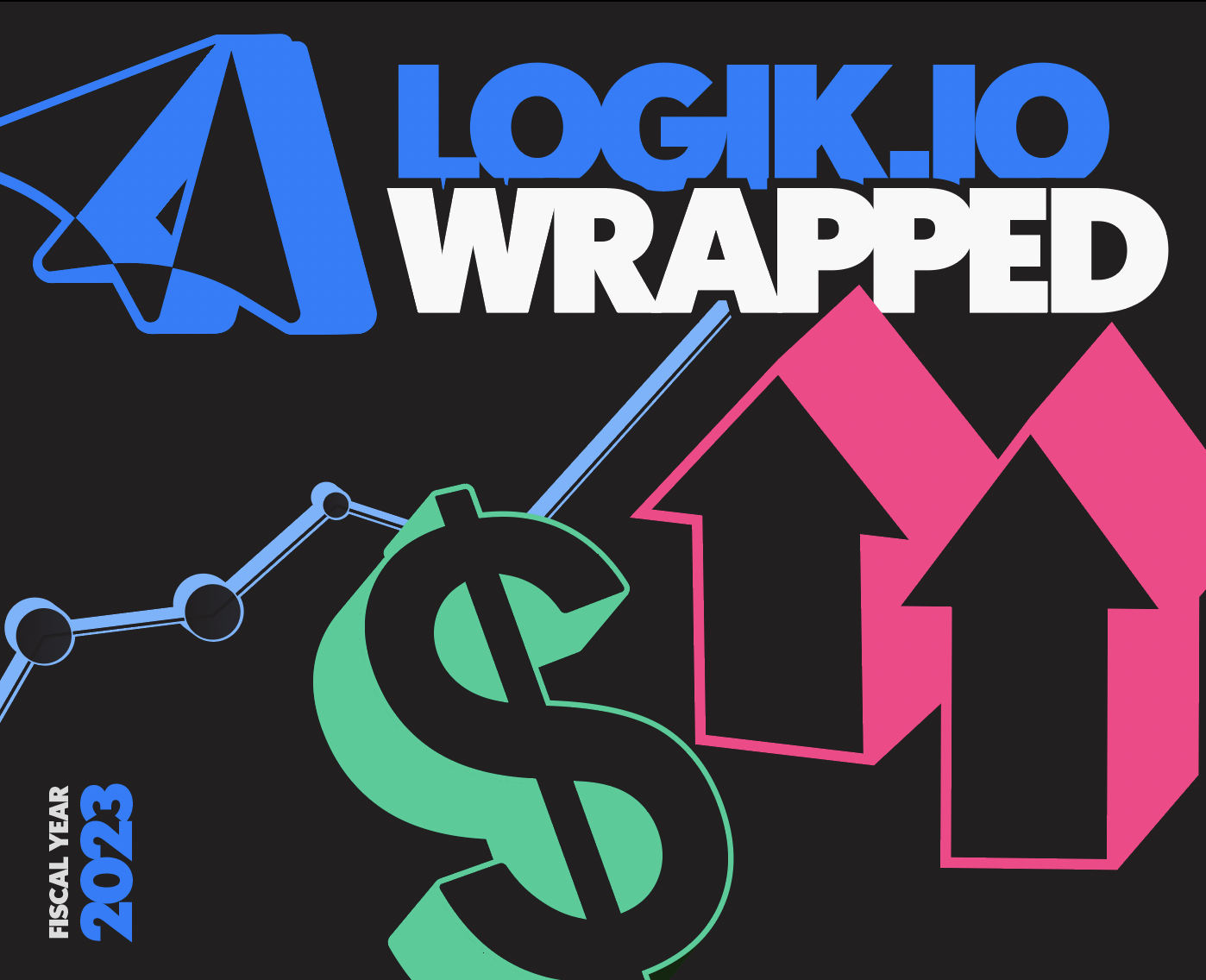 2023 is already shaping up to be a good year.
But before we get too excited about what's to come, we want to take the time to celebrate all the milestones we hit in 2022.
Aside from the technical mission of architecting a world-class commerce logic engine to consumerize how buyers buy and sellers sell and future proof your tech stack, Logik.io is founded upon a core set of values and principles that serve as the compass by which we orient ourselves.
It's great to claim these values in theory, but we have to make sure we're doing the work to realize them, in action, day by day.

As such, we proudly present Logik Wrapped 2022, a retrospective review of exactly how we brought these values to life, and what they meant for our team, clients and partners alike.

75,574 configurations processed by Logik.io

7,236 unique products configured

2,730 configurations averaged per day

40% average quoting time reduction for sales reps using CPQ
The first value in our larger ethos, our product-led promise to lead with innovation keeps Logik.io at the forefront of cutting-edge developers.

When we debuted our commerce logic engine to the market, we did so with the goals of helping businesses with even the most complex of offerings sell more, sell faster, and maintain less.

Over the course of 2022, that same engine helped reduce the amount of time our clients spent navigating their CPQ solutions by 40%. In total, Logik.io runs an average of 2,730 transactions per day, which tracks to one million total transactions annually.

In the last year, Logik.io processed 75,574 configurations for products and services across industries like
Construction
Manufacturing
Retail
Transportation
Airline/Aviation
Computer Services
Medical Device
High Tech
Software
Building Materials
Security Software
Of the products serviced by Logik.io, 7,236 were linked to blueprints.

206% increase to the Logik.io administrative support community

70 unique support articles launched

16 inclusive of build notes
Following our foundational leadership strategy, Logik.io pledges to optimize 1% every day and show consistent +1% improvement across all projects, initiatives, and interactions.

Enacting this value is where we leverage our widespread support community and reiterate that Logik.io is not a purchase, but an investment; one that comes with purpose-built resources and expert teams fully dedicated to creating an ecosystem of like-minded users.

Across 2022, what began as a Logik.io administrative support community of 160 individuals blossomed to a user base of over 330 in about six months' time. Between these users, over 70 unique support articles were created and published, 16 of which come with build notes.
The easily accessible support resource library quickly proved to be a hit, racking up 9683 total views by the end of the year. If that same view count is distributed across the number of published articles, each use case has been viewed an average of 132 separate times.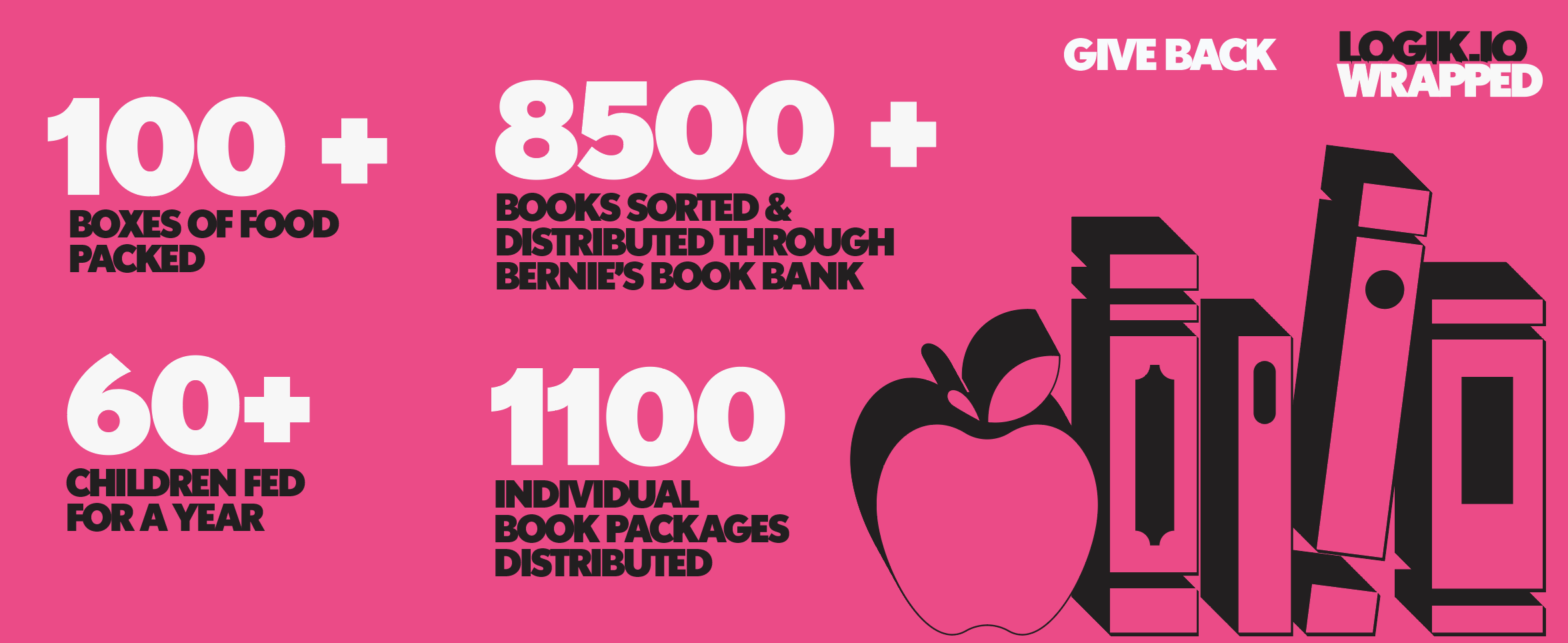 100+ boxes of food packed for Feed My Starving Children

60+ children fed for a year

8500+ books sorted and distributed through Bernie's Book Bank

1,100 individual book packages distributed
Unarguably the most community-driven of Logik.io values, we strongly commit to give first with a 1/1/1 company structure. Each year, we offer 1% of our time, product, and founding equity back to the community that surrounds us.

As a company, Logik.io came together for two Giving Events based in our headquarters' hometown, Highland Park, IL, to satisfy the time portion of the promise.

Working with Feed My Starving Children, a non-profit organization that provides sanitary and nutritious meal kits to communities in need, the Logik.io crew hand-packaged over 100 boxes of food that will provide 60 children with a year's worth of healthy, warm meals.

At Bernie's Book Bank, the team regrouped to sort nearly 9000 books, sourced through public and private donations, into goodie bags for the second and third graders of Chicago. Split into specially curated packs of eight, the books served as holiday presents for over 1100 students with limited access to engaging, appropriate literature.

2022 also served as a sobering reminder that communities show up for each other whenever necessary, not just when convenient or wrapped in a fun package of a day.

We were honored to sponsor a community event for our headquarter hometown of Highland Park, IL, in wake of the July 4th tragedy.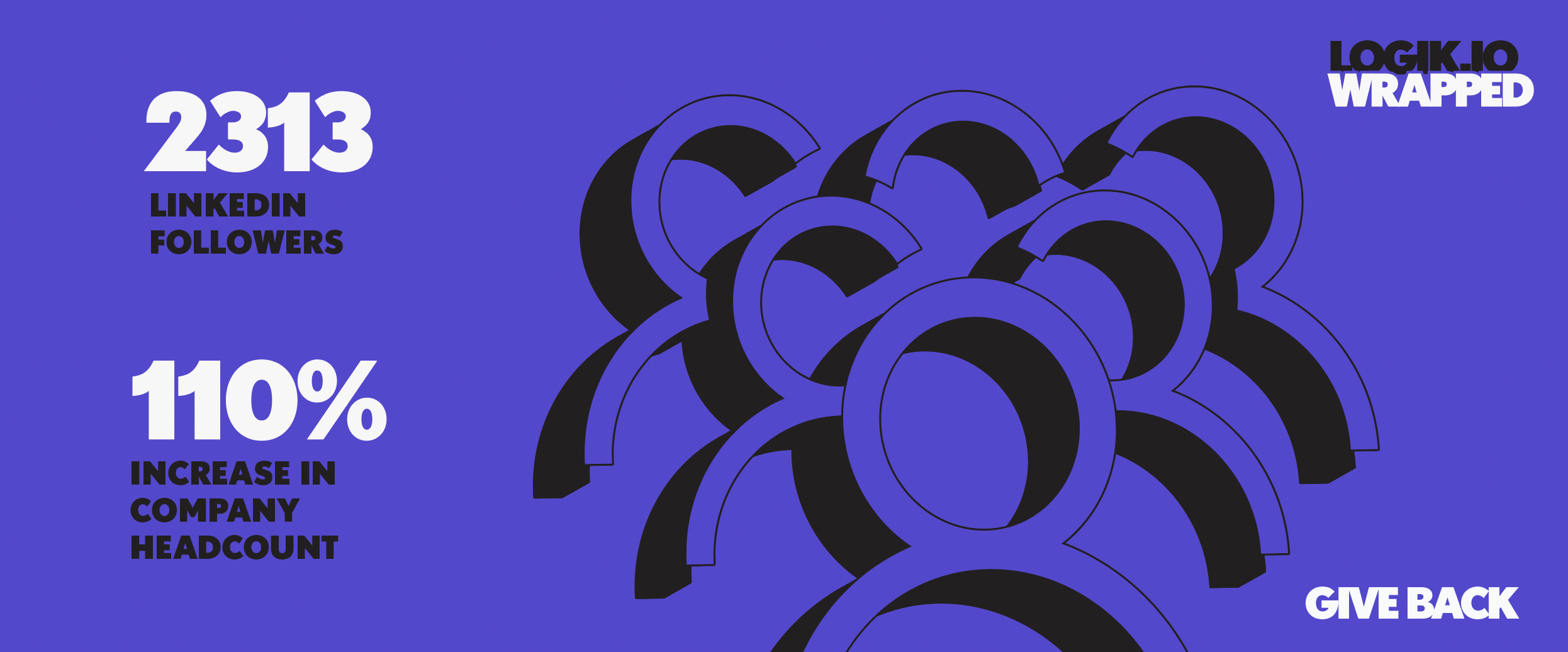 110% increase to company headcount

2,313 LinkedIn followers
Sharing is caring, especially when it comes to the growth-led Logik.io commitment to always invest in each other. Ensuring a robust, welcoming, and inspiring experience for our colleagues and clients is paramount to our culture.

In 2022, Logik.io increased internal headcount by 110%, onboarding an all-star roster of employees spanning the country.

Our social media presence serves as a reminder that, no matter where or who you are, the Logik.io community exists at your fingertips for whatever guidance, education, entertainment, or support you're looking for. At the close of 2022, we had 2,313 LinkedIn followers subscribed to our company newsfeed.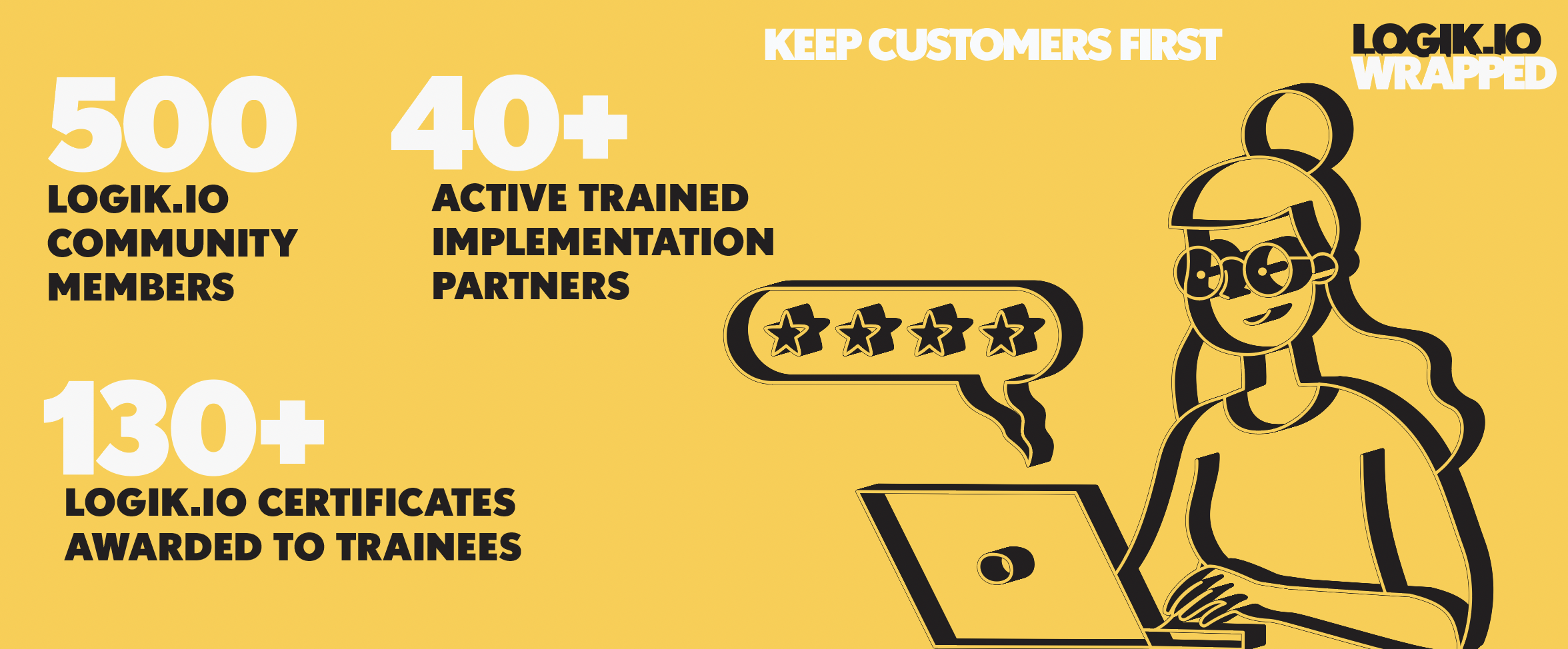 Community of 500+ Logik.io administrators

40+ active trained implementation partners

130+ Logik.io certificates awarded to trainees
Without our customers, we wouldn't be anything worth writing home about. We exist in their service, and are consistently reinvesting in our client community to keep customers first.
In 2022, we awarded over 130 certificates of completion to clients who successfully made it through one of our custom training courses.
For those not as DIY about their experience, we offer a community of 330+ Logik.io administrators and more than 40 active implementation partners, including 19 base partners and 16 growth partners.