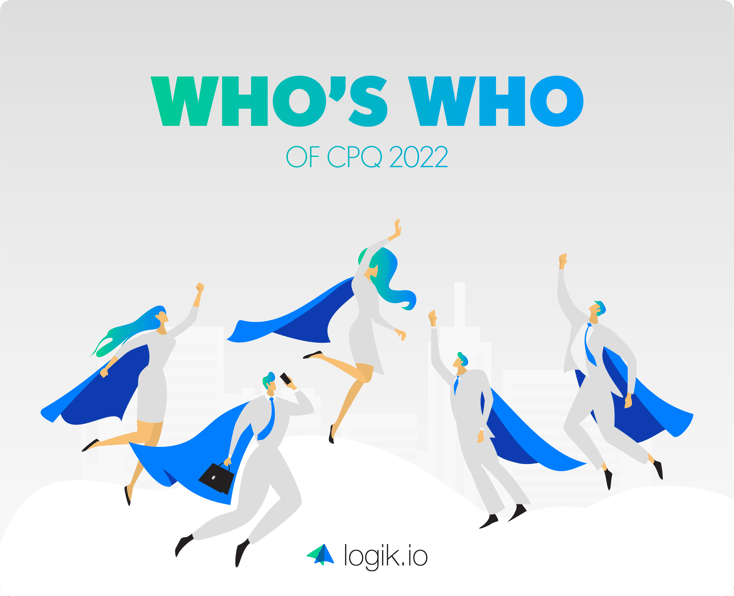 CPQ heroes are historically under-sung and under-appreciated — but not on our watch. We surveyed our most trusted colleagues, partners, advisors and clients to let us know which innovators in the CPQ space were overdue for some praise.

We knew they were hiding between project deadlines and solution architecture, client relations and strategic management, doing the hard work that brings true success without all the razzle-dazzle and acclaim.
We've segmented the list into three separate categories, which will be explained below. Whichever category our rockstars find themselves in, you can rest assured that they are truly representing the best of the industry's best.
So, without any further ado, Logik.io proudly presents the 2022 Who's Who of CPQ.

Managing any enterprise technology isn't easy. But CPQ is an especially complex, hard to learn, and hard to manage system. The folks that manage the strategy, architecture, integrations, and adoption of these tools internally often fly under the radar, but the work they do is immensely important to the operational excellence and sales efficiency of their organization. For that, they deserve some much needed praise. Let's take a look at the best internal CPQ managers and strategists in the business: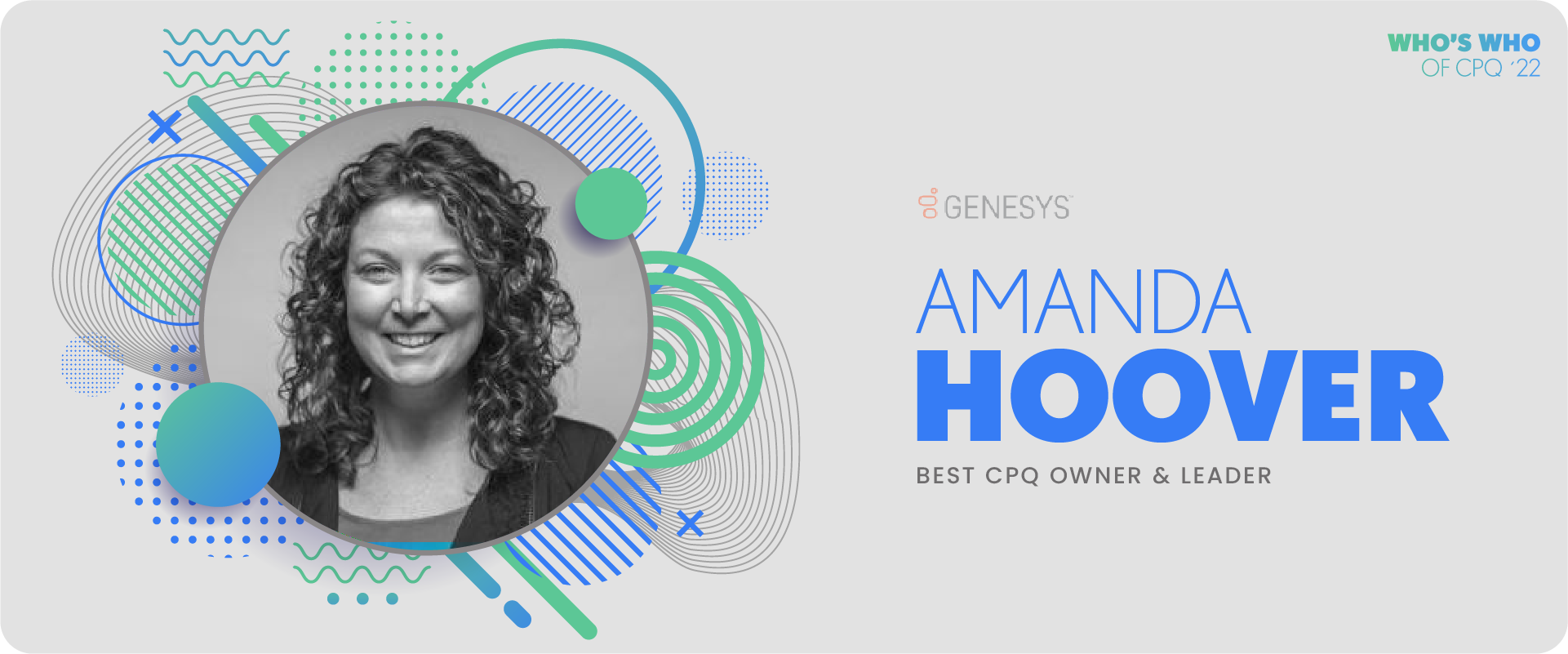 A customer service lens is applied to Genesys Program Lead, Quote-to-Cash Amanda Hoover's project management, helping bridge her sales operations analysis background with the personal as she works with Salesforce and other CPQ solutions.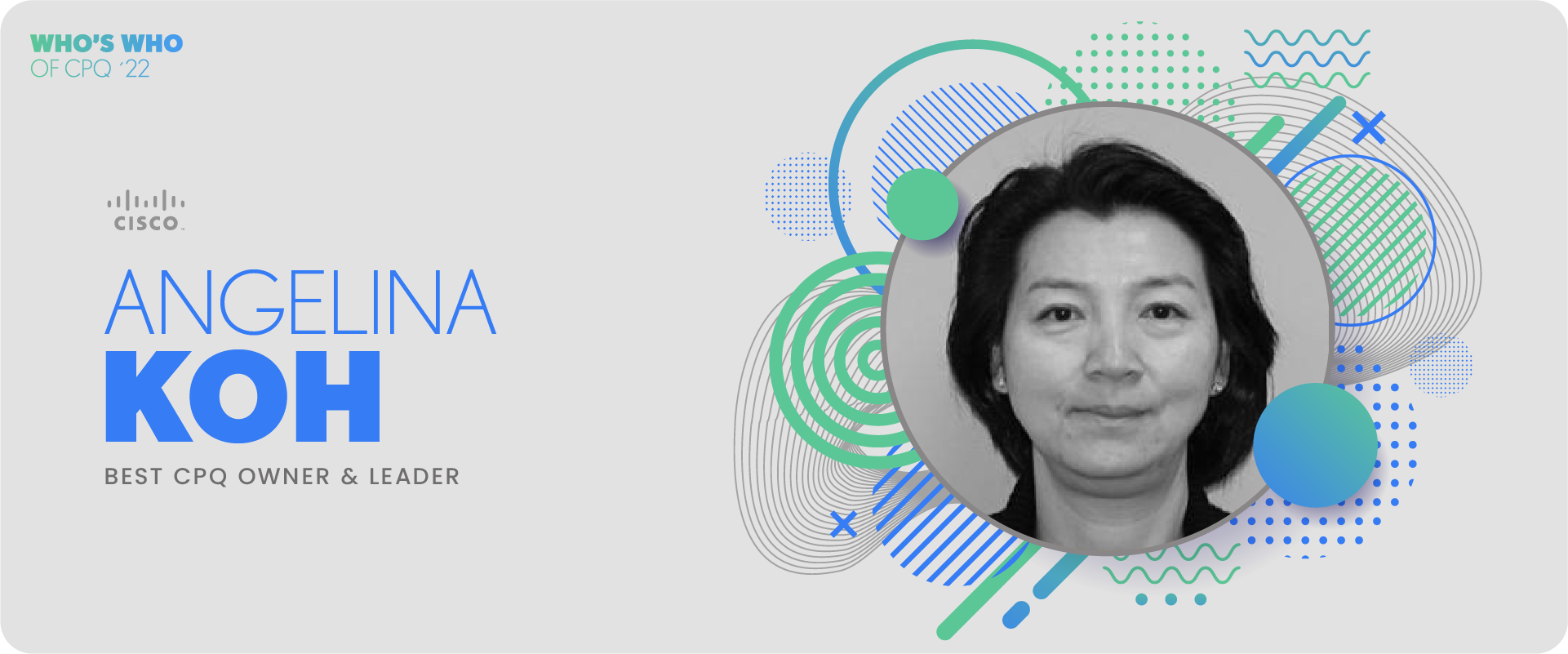 Discipline and simplification are the name of the game with Angelina Koh, Senior Manager, Sales & Marketing - Offer and CPQ Transactability Product Owner at Cisco. Successfully, she shoulders responsibility for go-to-market offer enablement and transactability with the support of buy-sell rules.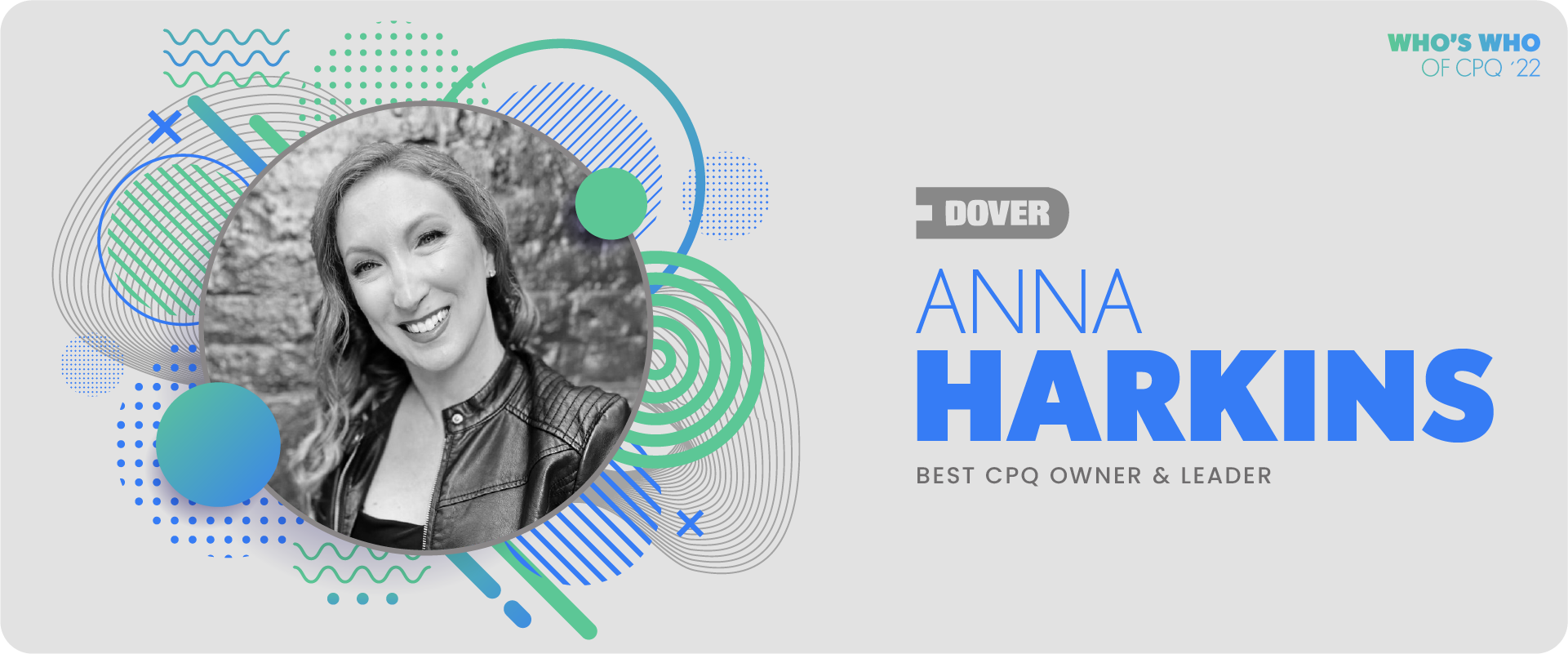 Global strategy becomes a walk in the park when put in the capable hands of Anna Harkins, Senior Director, Digital Business Development & Solutions for Dover Corporation. Skillfully adept at identifying digital partnership opportunities, Anna's eyes are always focused firmly on the horizon – and her success with operational initiatives lights the path toward it.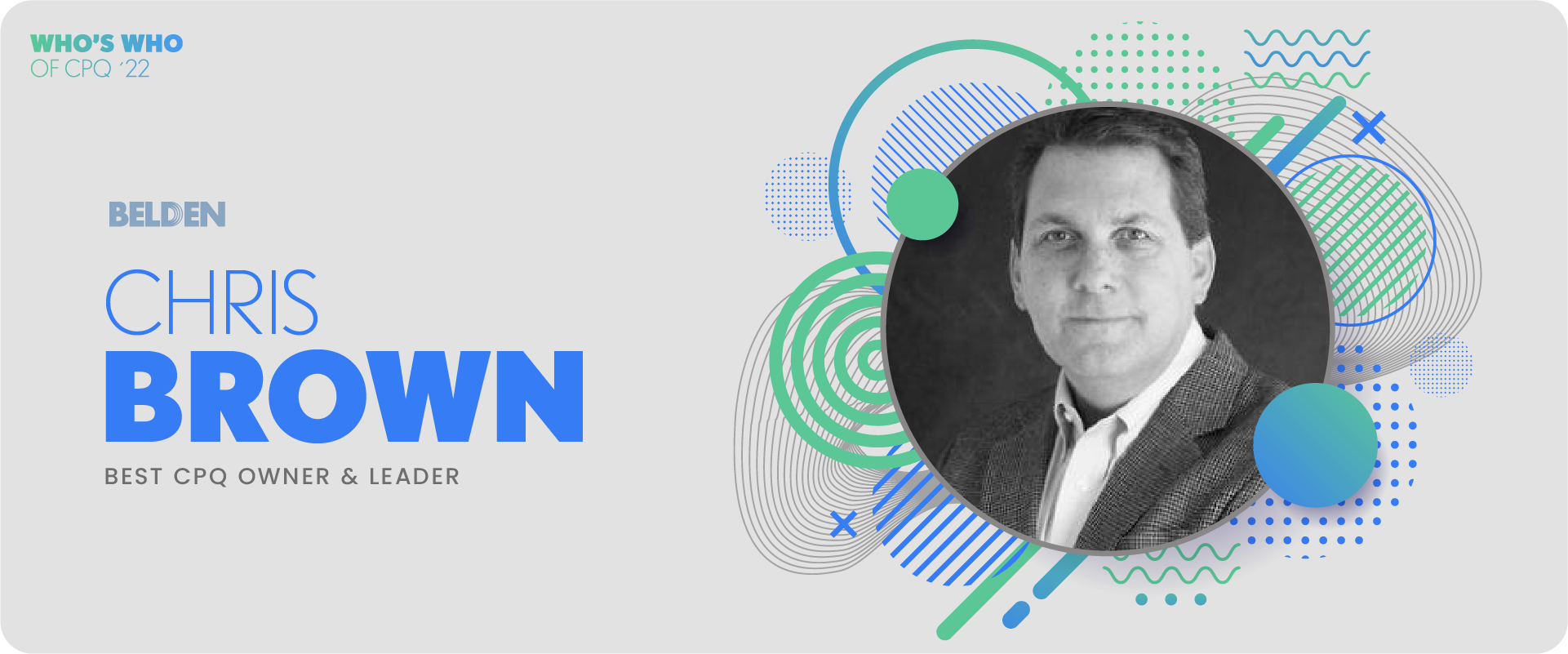 Many wonder how to best design a scaleable operations strategy, and Belden Digital Product Manager Chris Brown has started crafting his own answers to the quandary. Uniquely leveraging system automation in every level of the product-to-cash cycle, Chris is an undeniable force in the digital transformation spheres.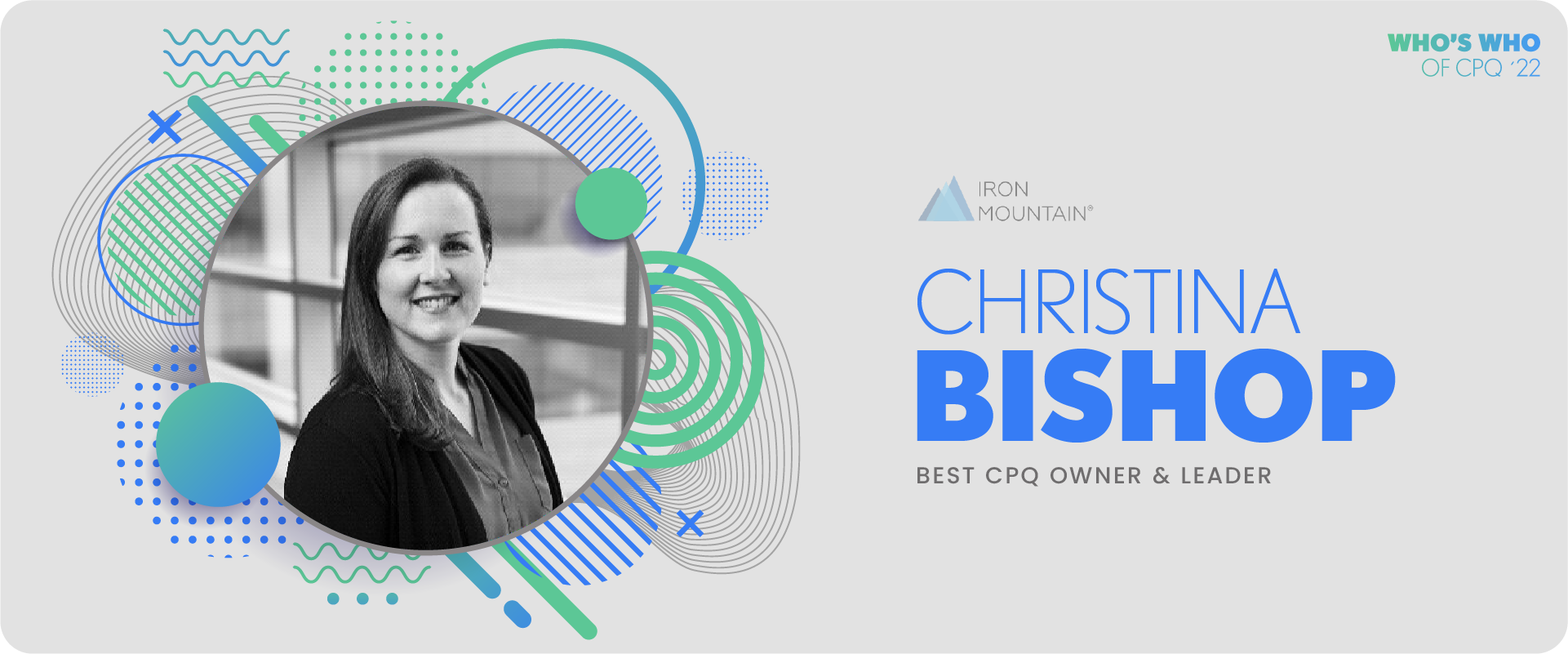 Well past management and deep into the world of mentorship, you can find Iron Mountain Senior Product Management- Sales, CPQ & Billing Christina Bishop. Sales, Marketing, and Enterprise teams have all flourished as a result of her open-book mentality and driving vision.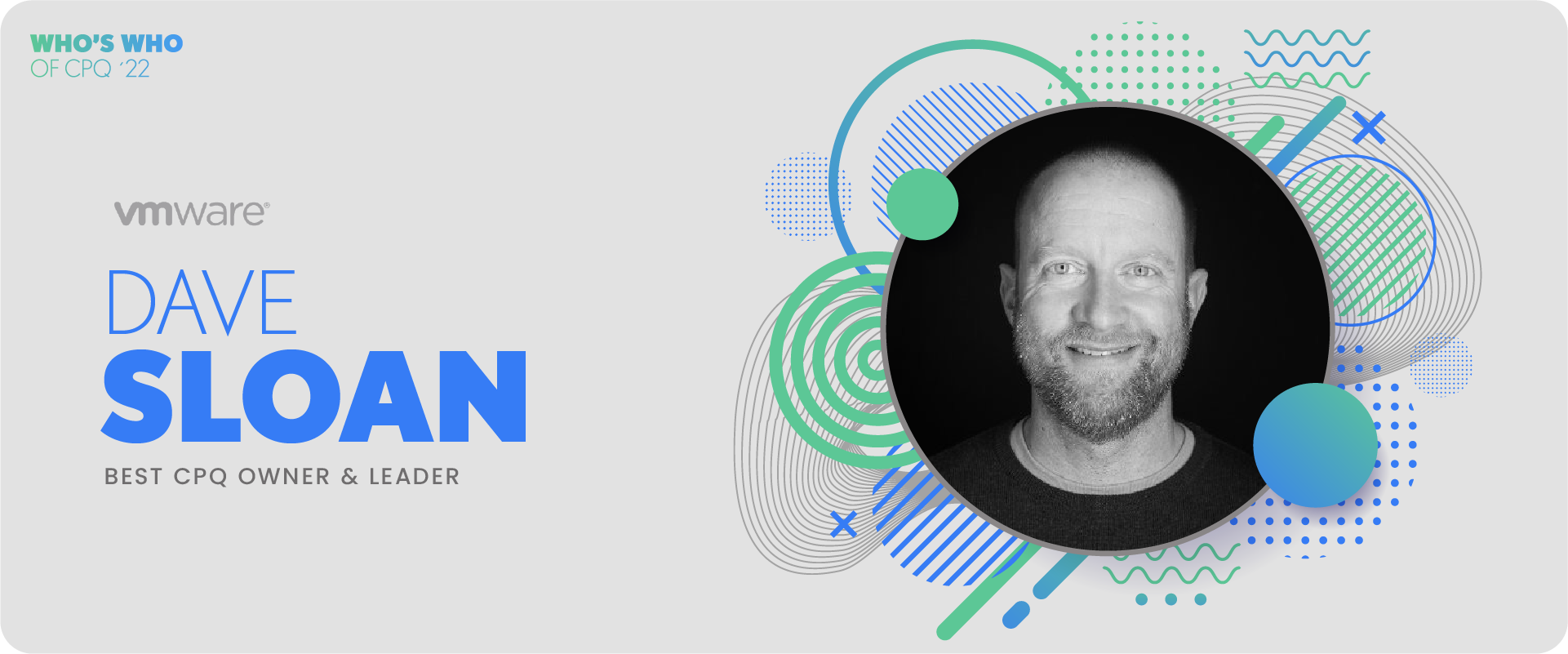 For a lot of folks, the idea of looking $12B in the face seems almost unfathomable. For VMWare Senior Product Manager, CPQ Dave Sloan, it's just another day at the office. Responsible for the deliverables driving a company of such a high valuation, he brings both personal strategy and collaborative innovation to the table.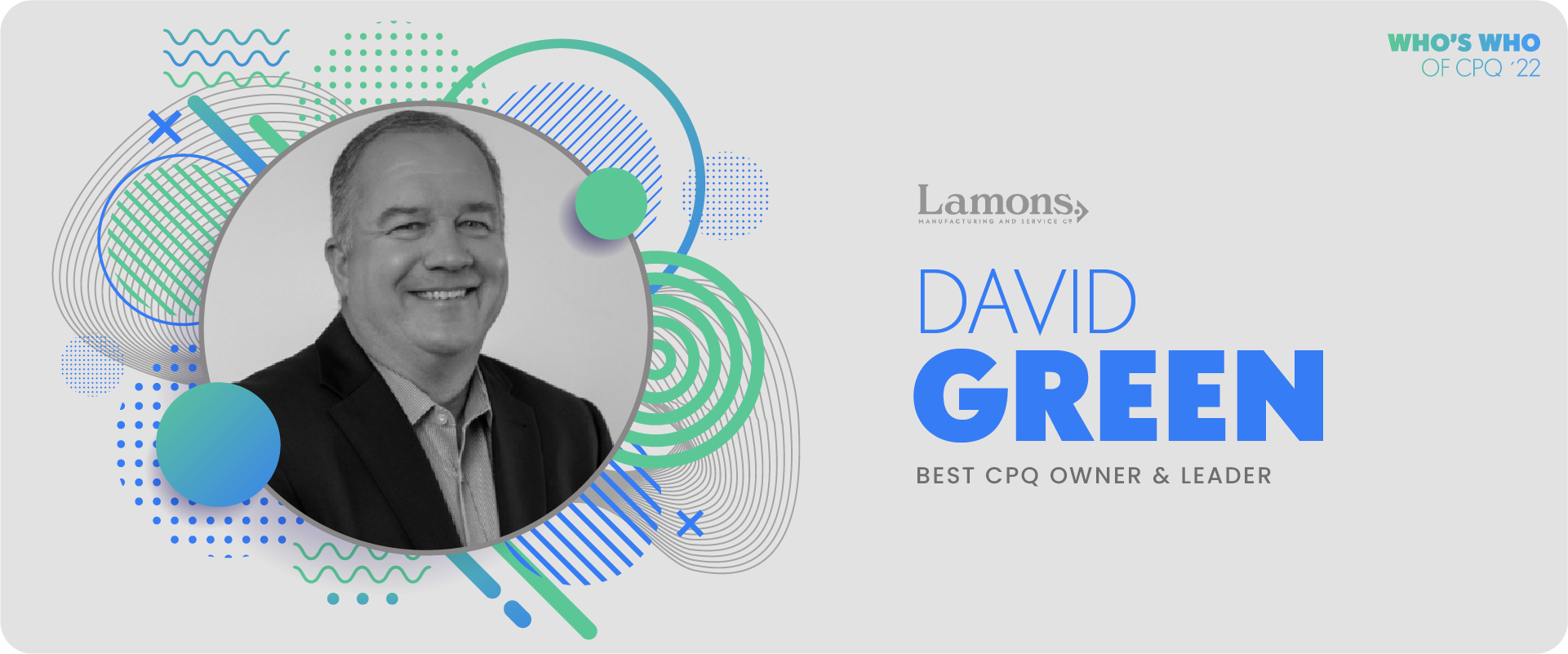 A long-time champion of the value of CPQ solutions, Lamons Sr. VP of Information Technology David Green has a specific slant toward manufacturing-based options that address the most nuanced of needs. He sets his compass by the success of operational processes and sales productivity, keeping a straight path toward overall business success.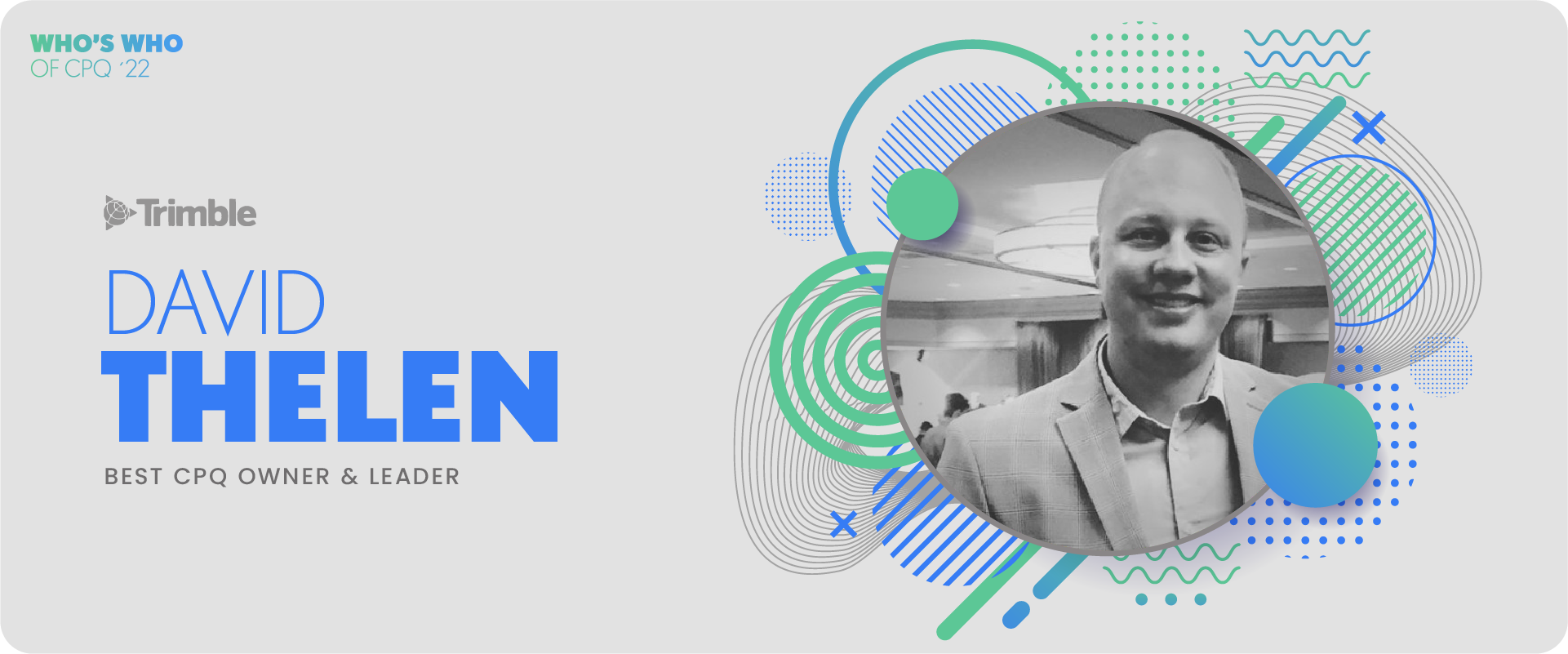 Digital technology transformation has never seen the likes of David Thelen, Director, Global Digital Technology for Trimble. With deep roots of knowledge in both legacy and modern CPQ solutions, he can help adapt disparate types of technological solutions to whatever case is at hand.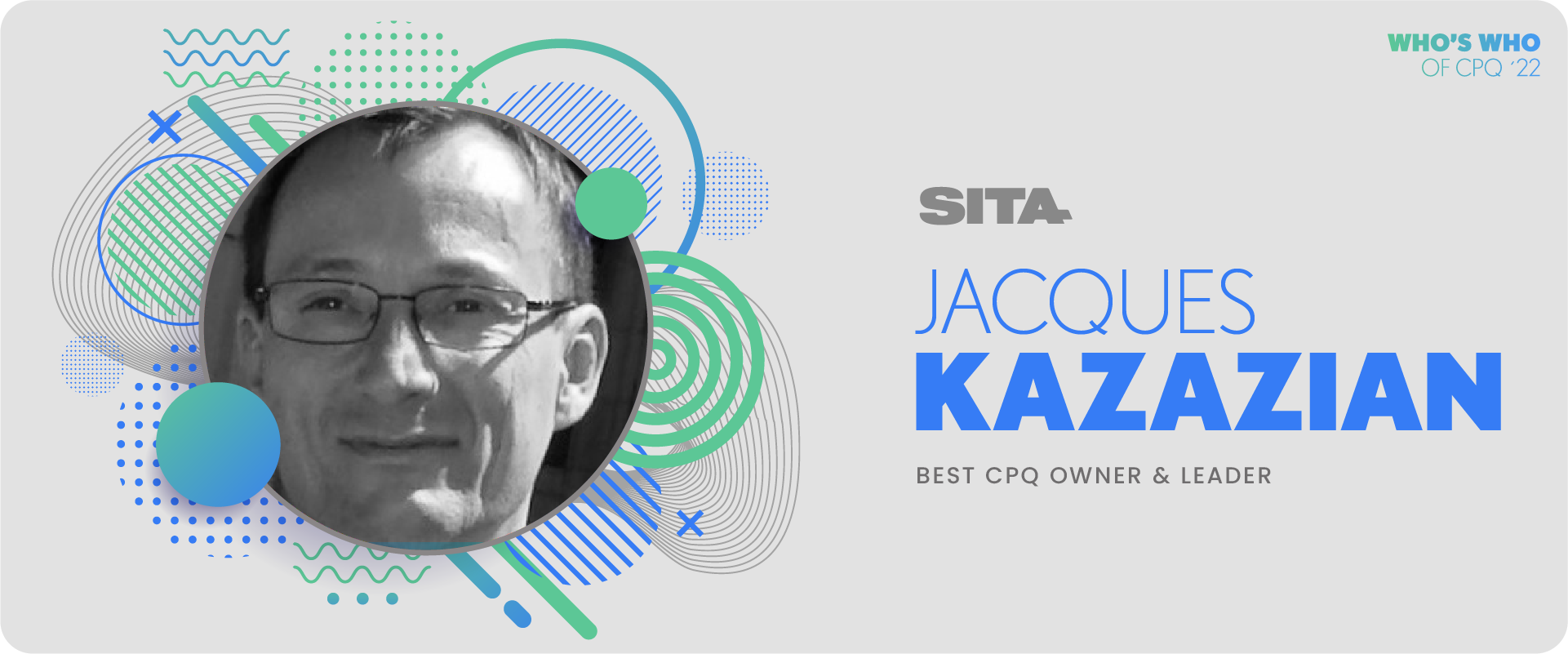 Over the past few decades, Jacques Kazazian has unequivocally established himself as a master of all things sales operations. The current Sales Operation Senior Manager at SITA has shaped and overseen the entirety of SITA's global opportunity-to-cash platform in efforts to drive simplicity, automation, and customer experience.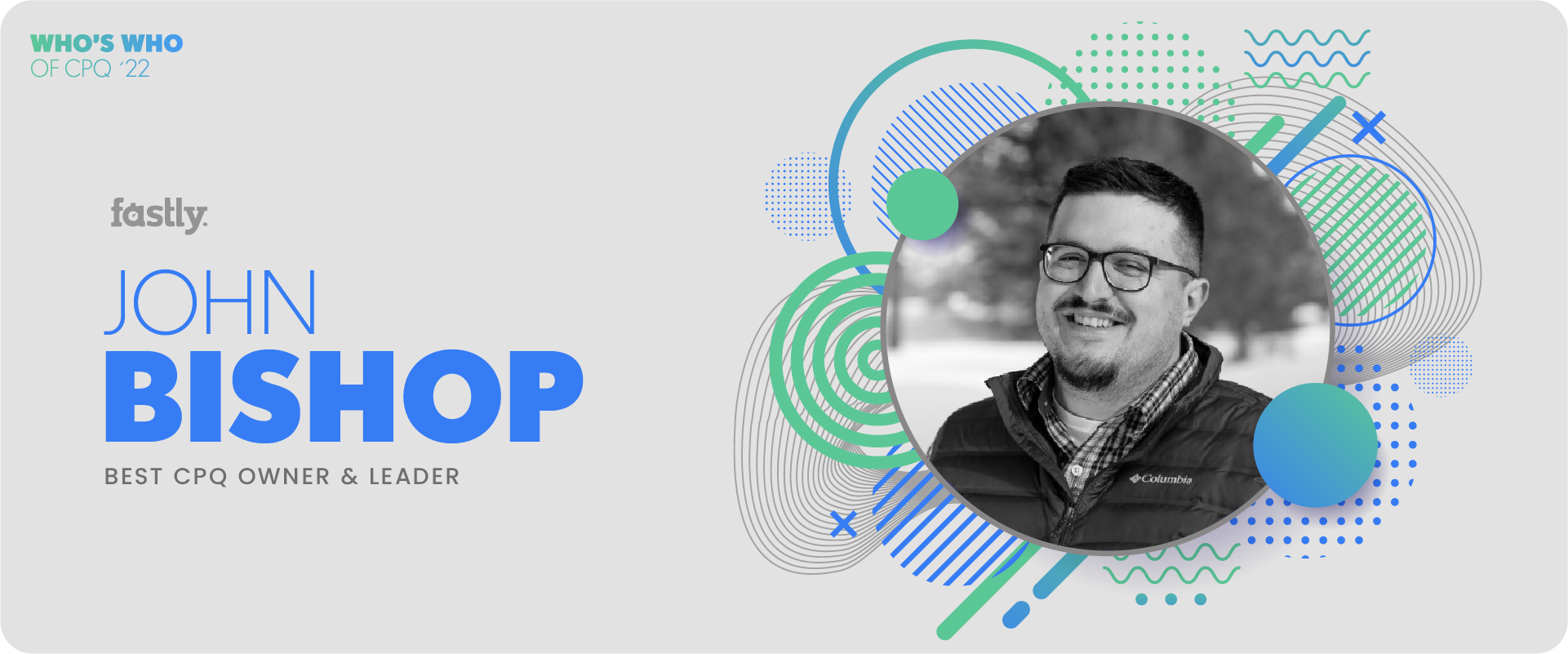 A single Salesforce certification speaks for itself; four such certifications endow a well-earned level of renown to those like Fastly Senior Salesforce CPQ Engineer John Bishop. His work on scalable, innovative enterprise solutions is only matched by the dedication he shows to overall personal development.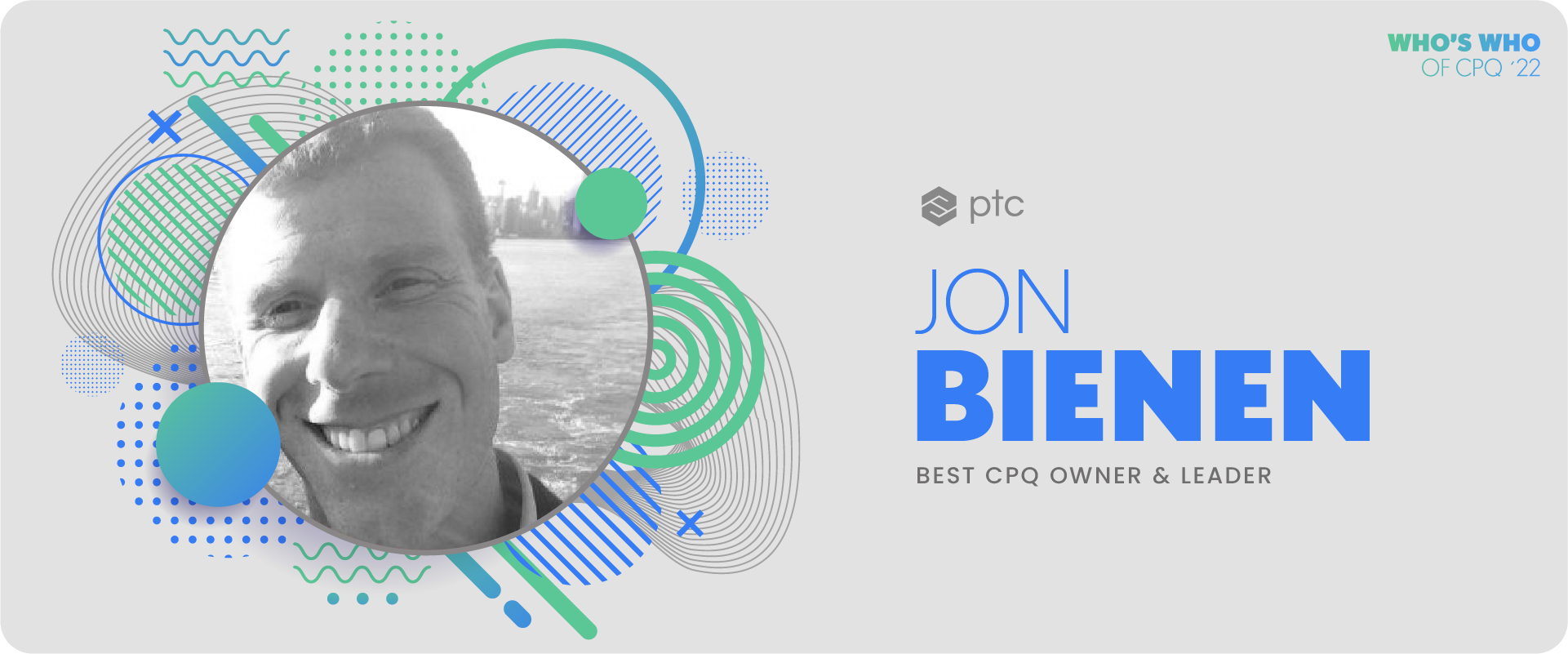 With a history at PTC spanning over 15 years and handfuls of different titles and project focuses, Jon Bienen has found himself firmly situated as Director, Operations, Deal Management. If there's anything he's more familiar with than sales operations, it may just be CPQ itself – much to the delight of his peers.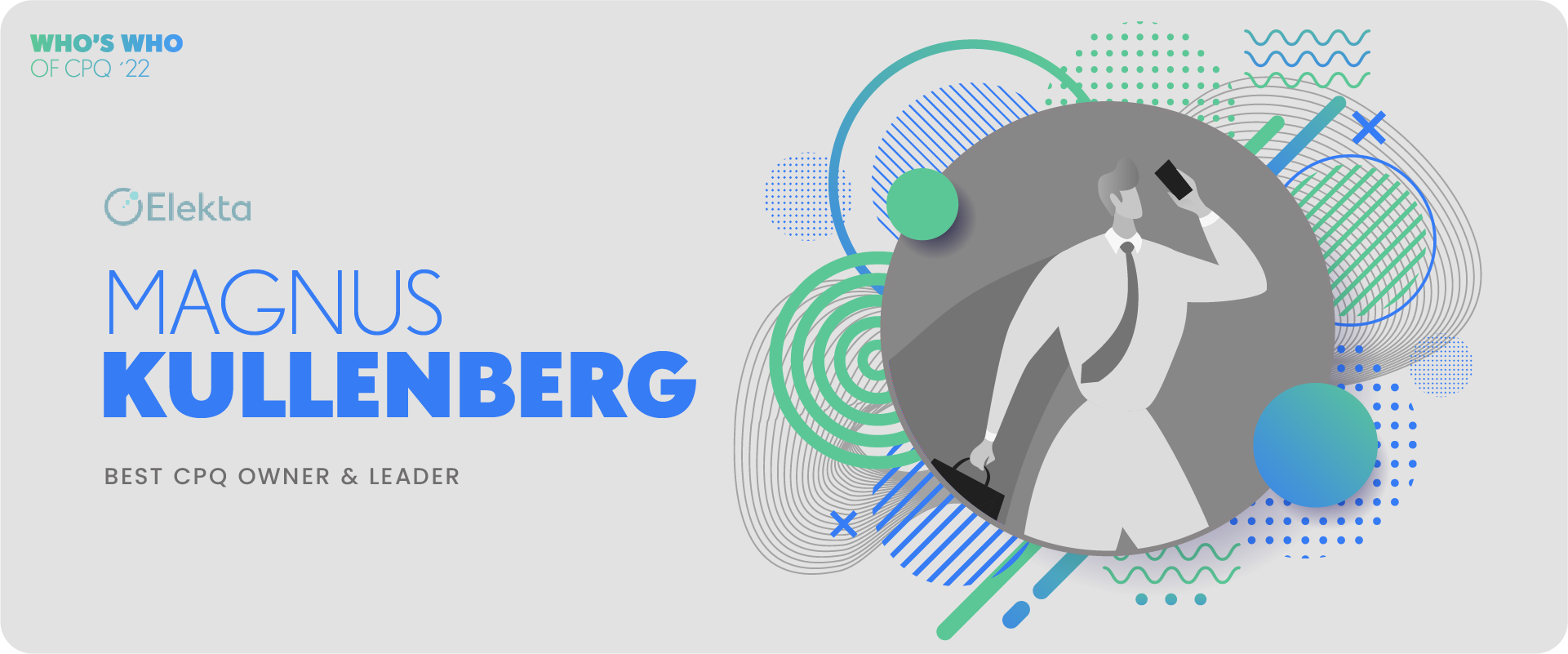 It takes a special type of expert to rightly oversee global projects across multiple systems in varying stages of development. Luckily for Elekta, VP Sales Operations Magnus Kullenberg has dedicated nearly 15 years to that mission, and has seen the payoff time and time again.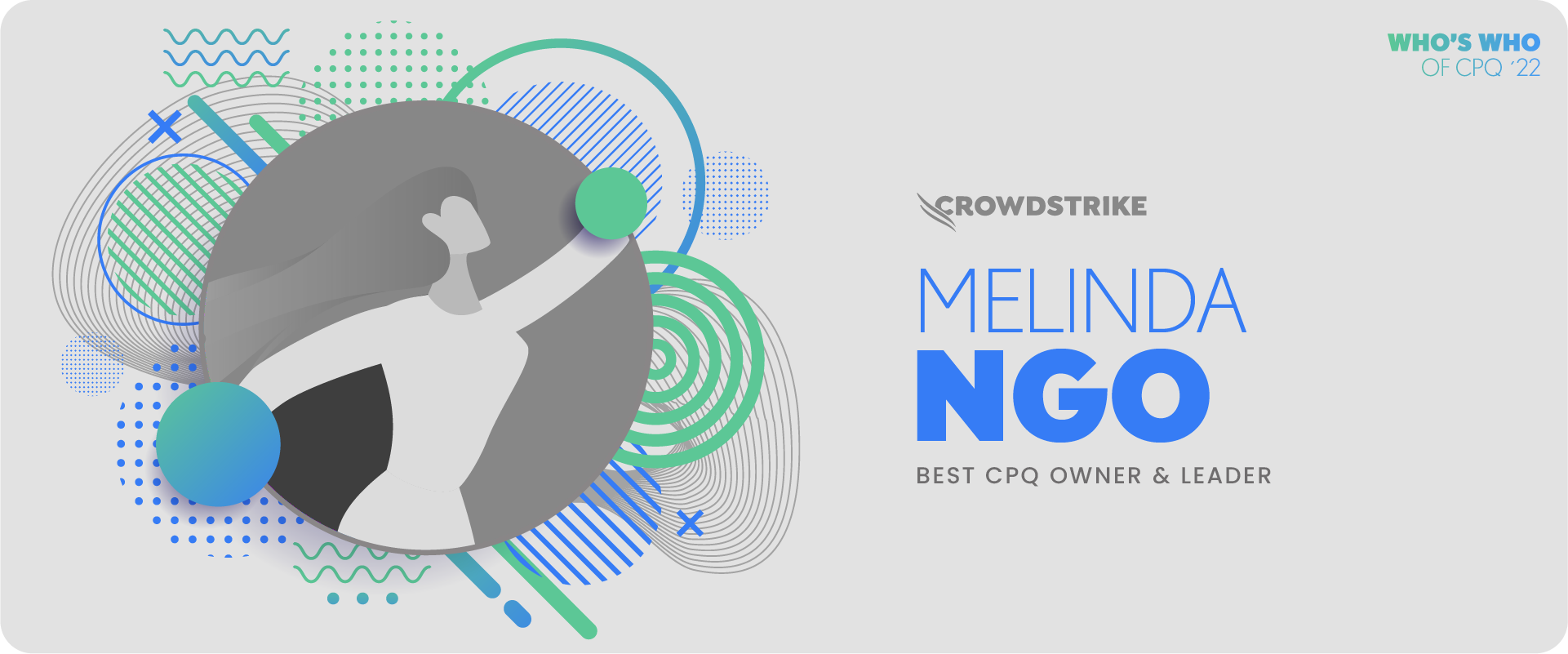 If you're looking for a powerhouse business systems analyst to liaise with business clients directly and work in their best interests, Melinda Ngo of Crowdstrike is the end of your hunt. A tenacious leader, she embodies total project ownership each and every time.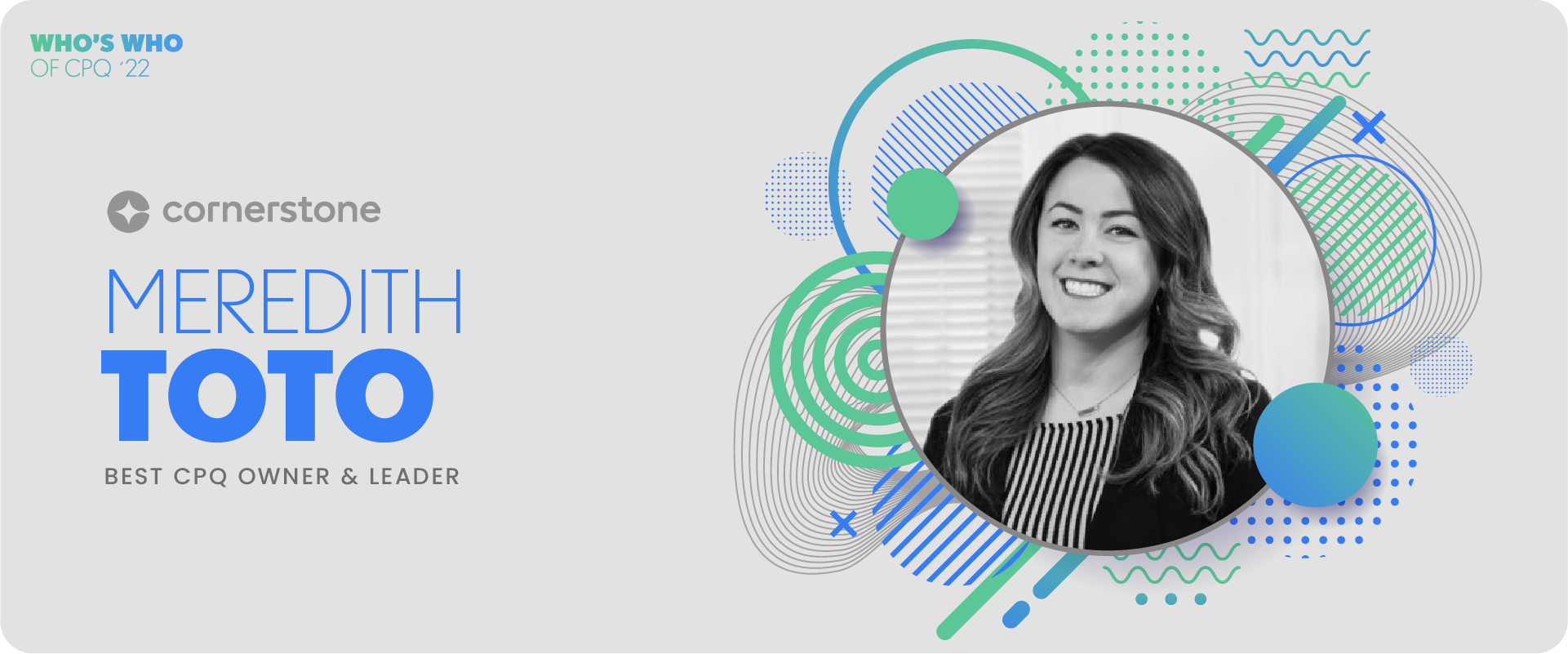 Nearing a decade of experience with successful Salesforce CPQ implementations, Cornerstone OnDemand Manager, Business Applications Meredith Toto brings a well-rounded perspective to complex projects. Particularly versed in Lead-to-Order and Go-to-Market processes, Meredith partners with stakeholders across business units to optimize strategy.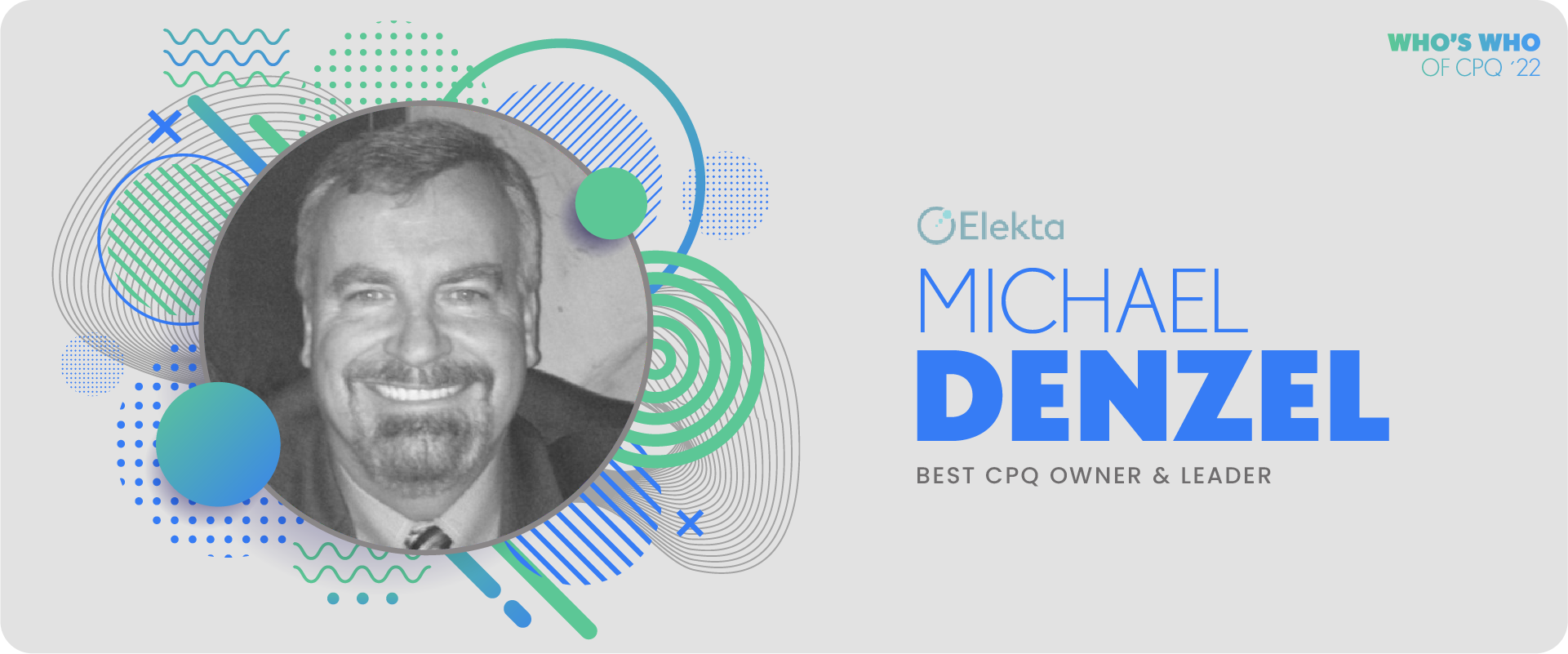 As a medical device professional breaking into the world of consultancy at Elekta back in 2008, now-Sr. Director Customer Success Michael Denzel couldn't have anticipated his future in CPQ. Globally responsible for thousands of Salesforce, Oracle, and SAP implementations, Michael remains a true leader of the CPQ movement.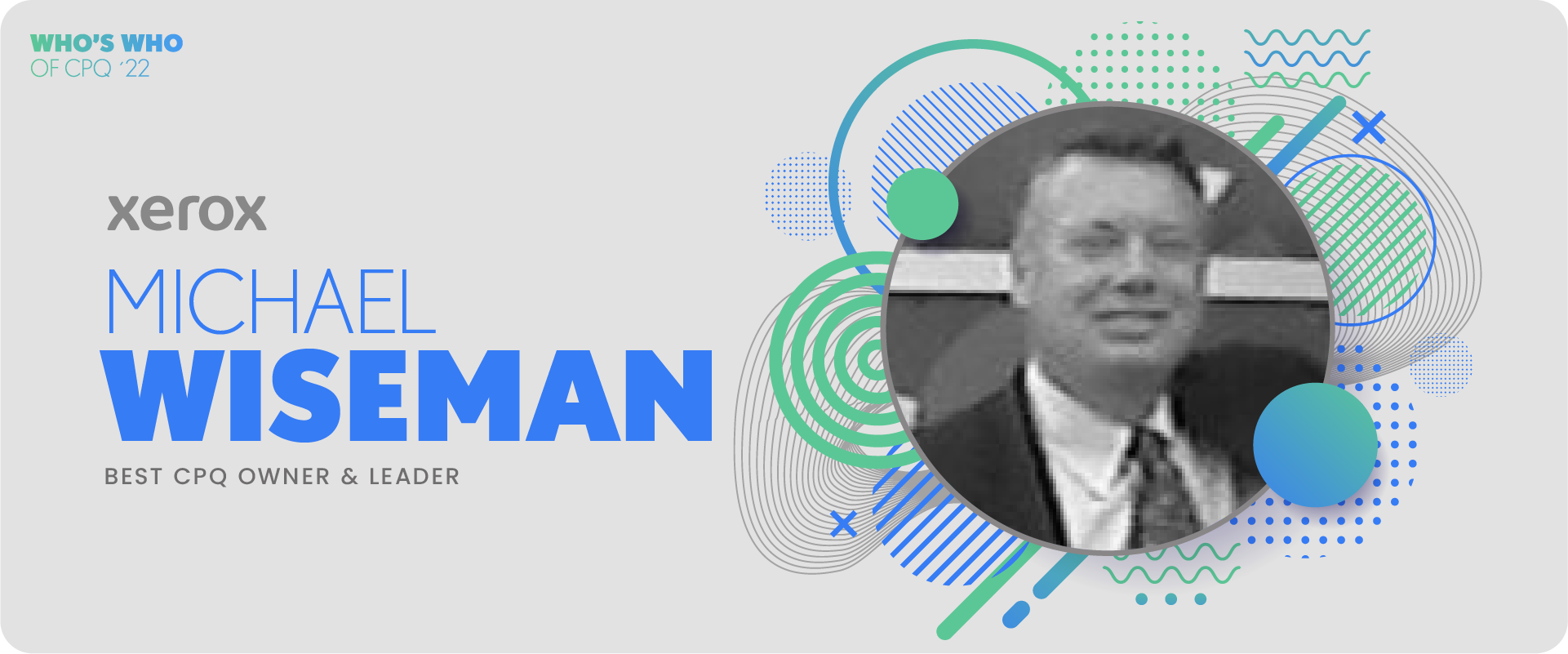 Mike has been a CPQ pioneer working with CPQ for well over 10 years. A visionary who has long seen the amazing impact of a modern CPQ and understands the vision of unlocking CPQ through not just Omnichannel but as an enabler of product catalog and deal rationalization.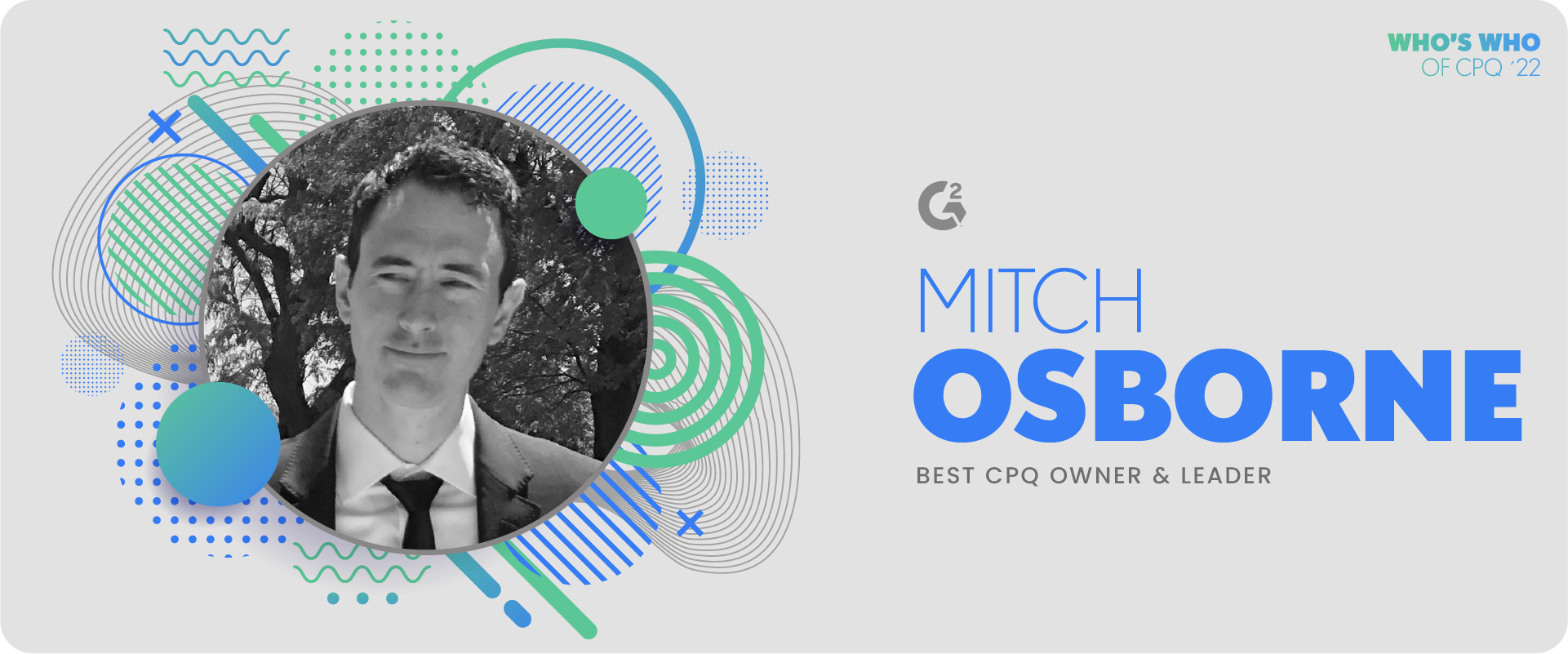 Living up to the G2 name, Manager, Businesses Systems & Revenue Operations Mitch Osborne surrounds himself with all things CPQ. With a business intelligence background focused squarely on growth and development, his eye is hard to match when it comes to operational strategy.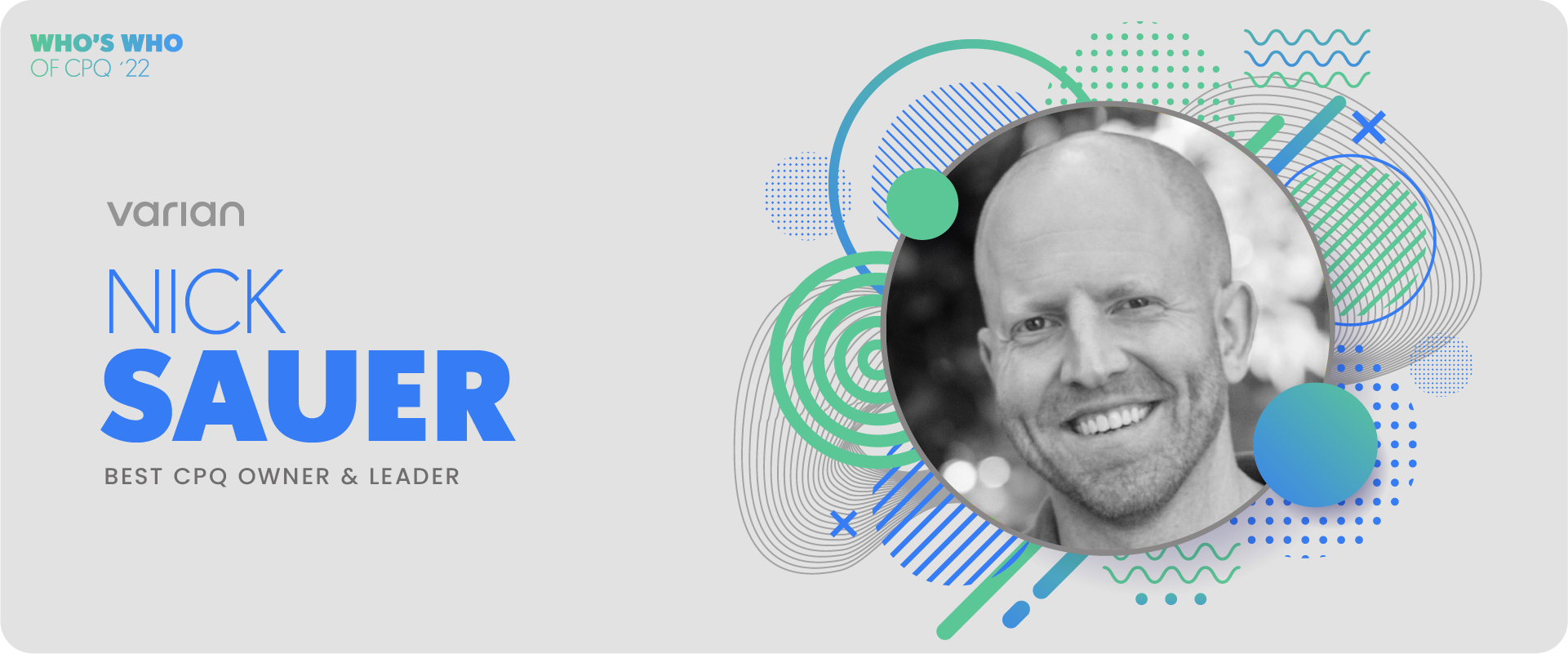 Nick takes the time to dig into technology and really understand both the business value it provides and the administration effort to set up and maintain. He gets into the details and takes the time to socialize this learnings with others. Truely a CPQ All Star who strives to keep learning and growing the CPQ ecosystem!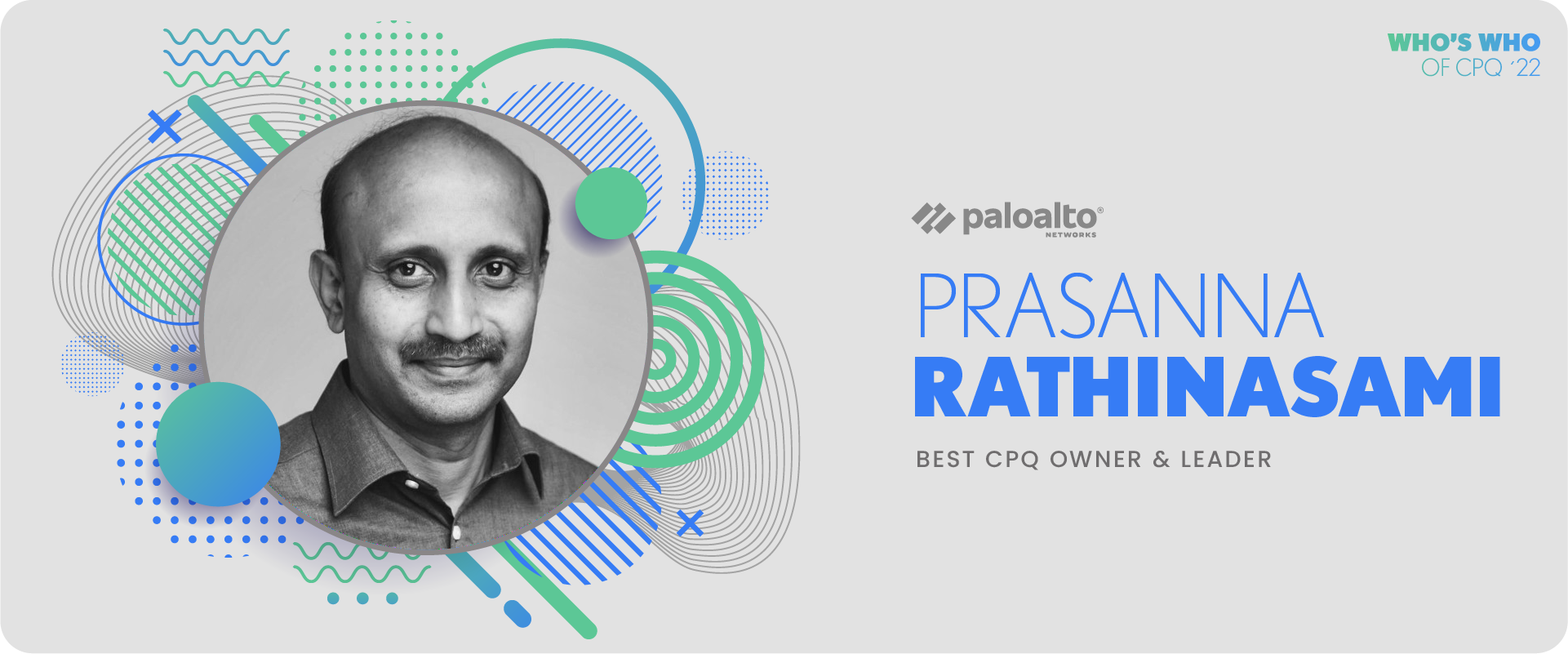 Prasanna has been working with CPQ for over 15 years and is hyper focused on process improvement for not just his customers, the users, but also for the teams that are implementing and managing CPQ day to day. He understands where things get complex, and strives to avoid customization and find a more simple, scalable approach to get to the desired outcome.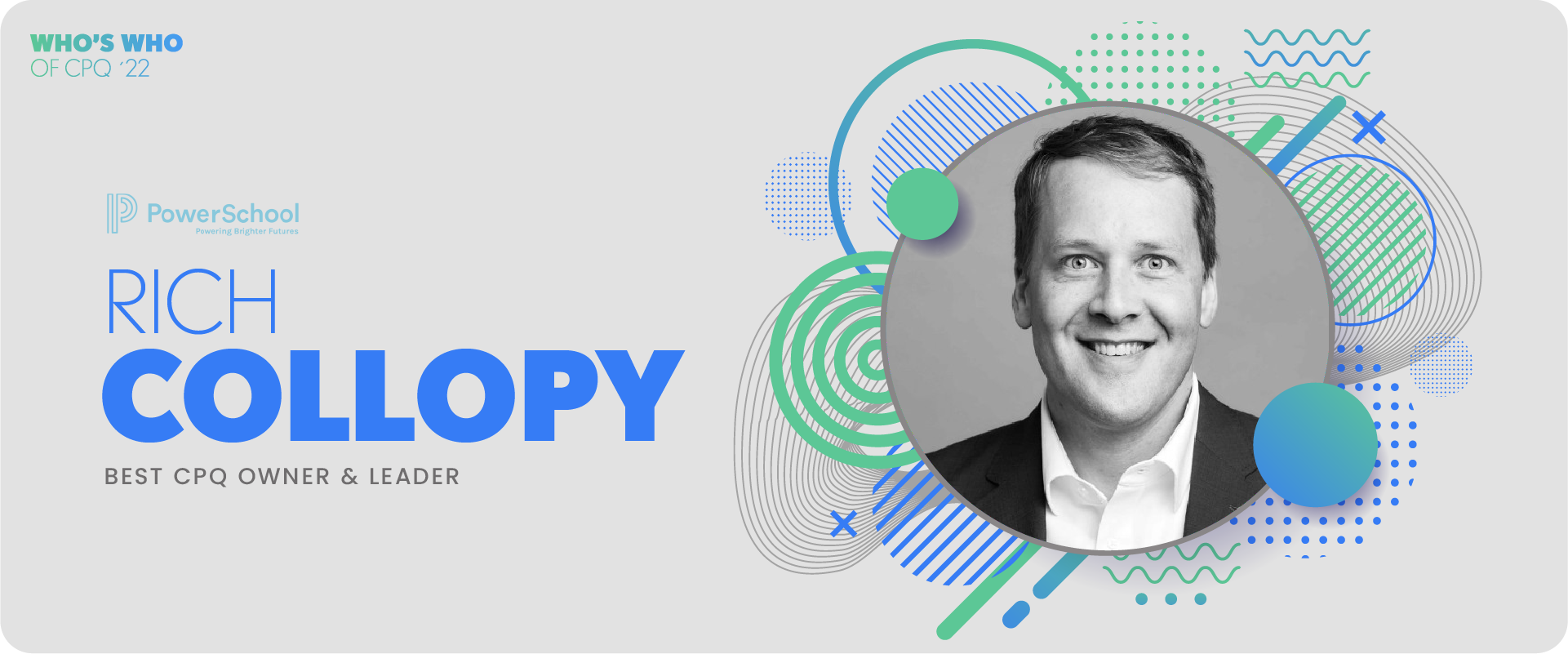 Having evaluated and implemented varying CPQ solutions across the years, PowerSchool Vice President Enterprise Applications Rich Collopy has a treasure trove of knowledge to tap into at any given moment. He knows exactly what complexities to expect, and has a way to get in front of them before they cause problems.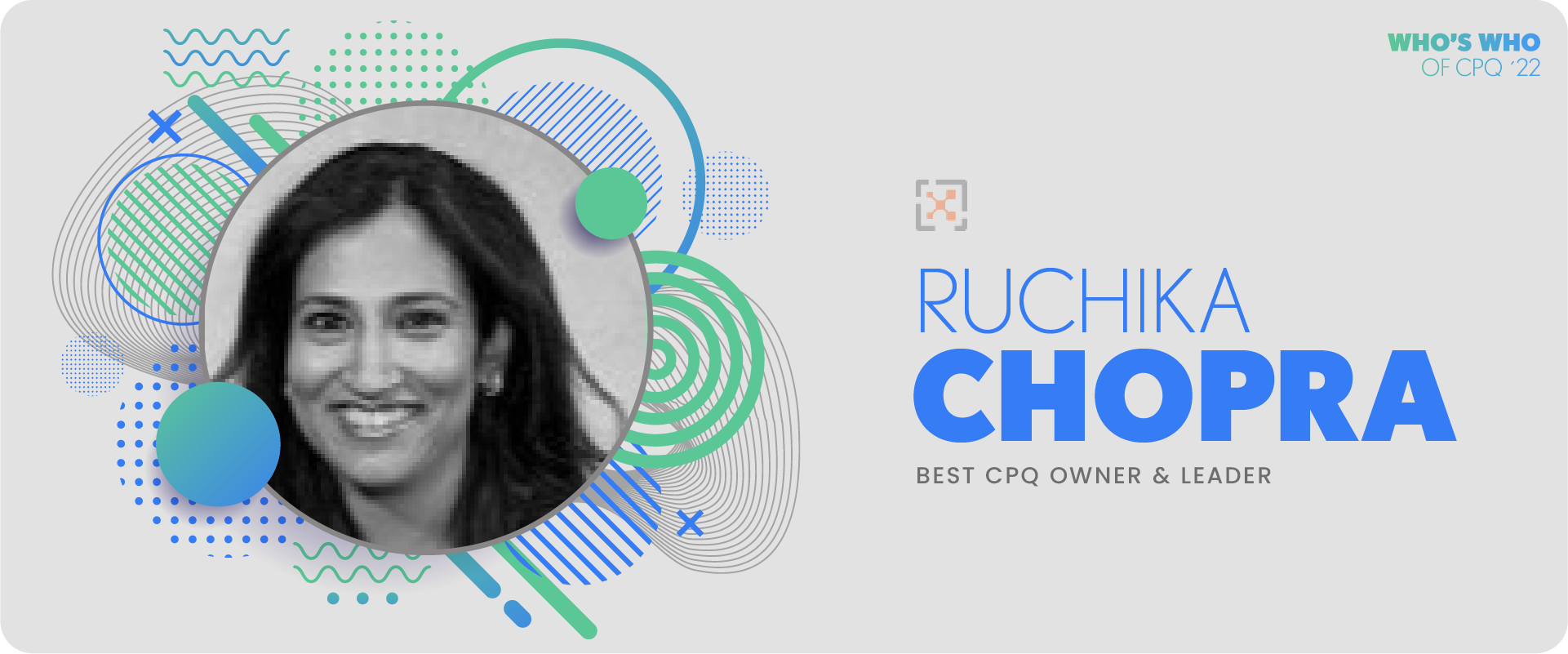 An early adopter and longtime advocate for CPQ solutions, Illumio VP Sales Operations Ruchika Chopra has a deeper and more nuanced understanding than most of exactly what the right solution can do for a business. Her specialty is finding the gaps clients can't see and turning them into growth opportunities.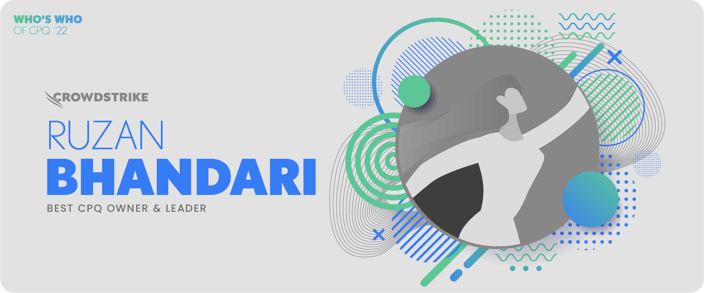 From Fortune 500 companies to hardware businesses and everything in between, Ruzan Bhandari offers expert consulting services for enterprise and cross-functional projects. The Principal Product Owner – CPQ for Crowdstrike, Ruzan levies experience in an array of quote-to-cash transformations for the benefit of his clients.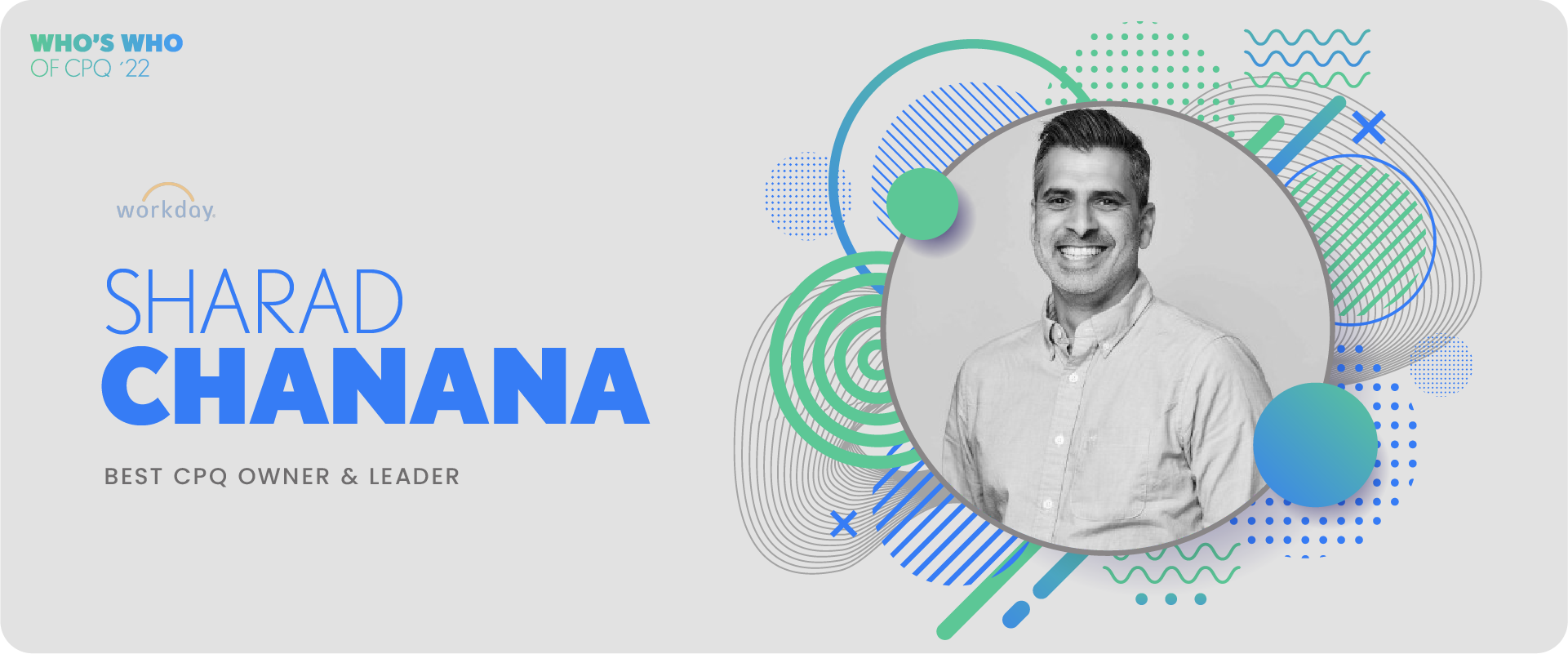 It's easy for things to get confusing in the world of CPQ. If you find yourself around Workday Senior Field Readiness Architect Sharad Chanana, though, peers and clients alike can tell you that things will be kept crystal clear. His personal blend of business acuity and communication excellence keep him a fan favorite.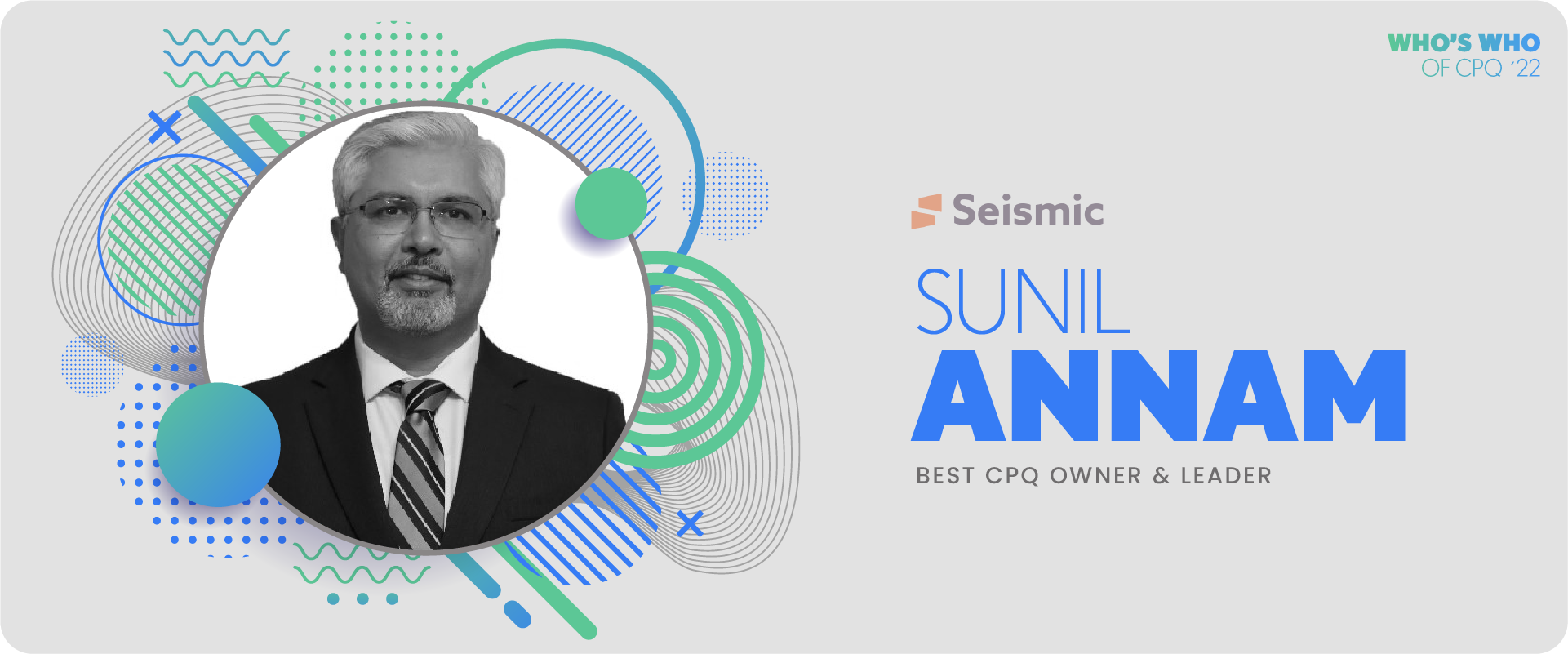 With over 25 years of professional experience in the realm of solution architecture and delivery management, Sunil Annam has had leading roles in implementations the world over. As Seismic's current Solution Architect, Salesforce CPQ & Billing, Sunil gets to flex his business analysis and project management muscles.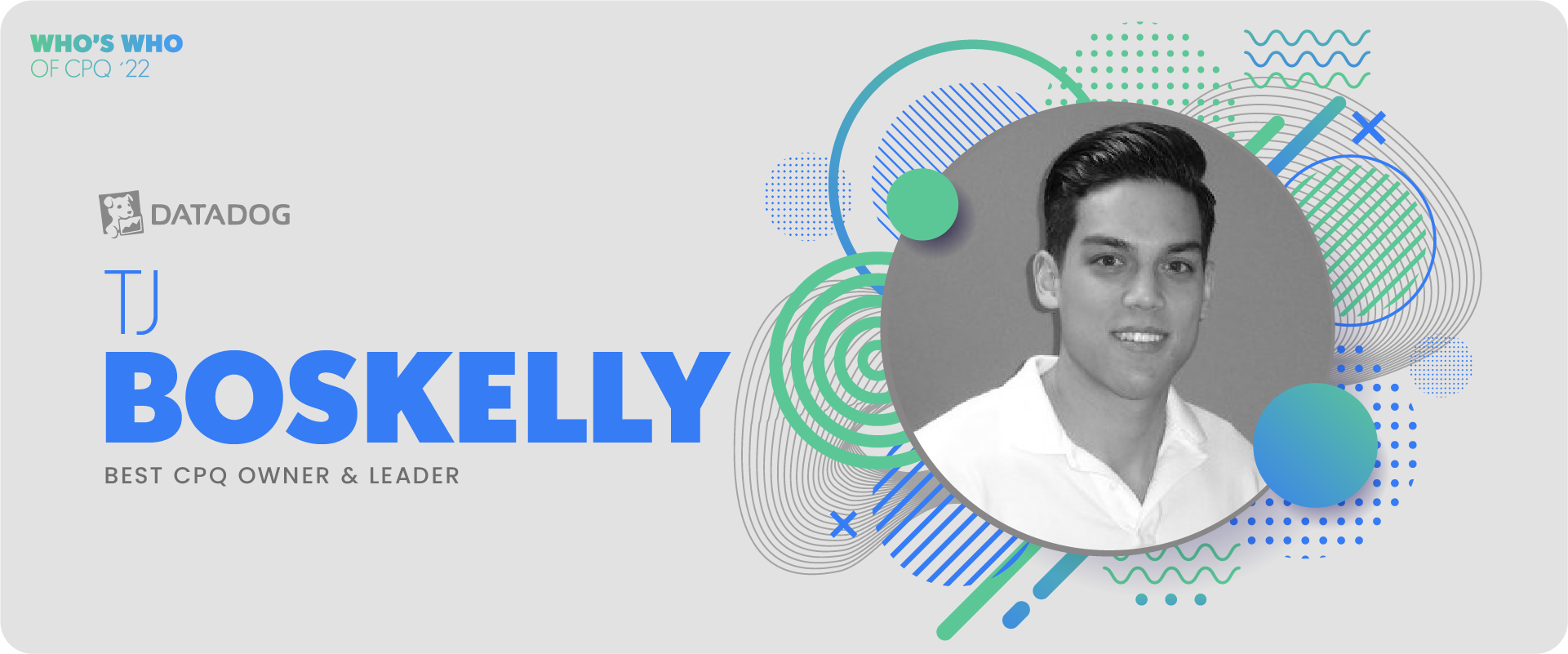 They say a leader is worth no more than those they find themselves followed by; if this adage holds true, TJ Boskelly is a leader of great repute. Senior Manager, Sales Systems for Datadog, Boskelly has earned a reputation not just for personal excellence in the field, but for fostering a first-class team of experts to tackle sales and billing quandaries.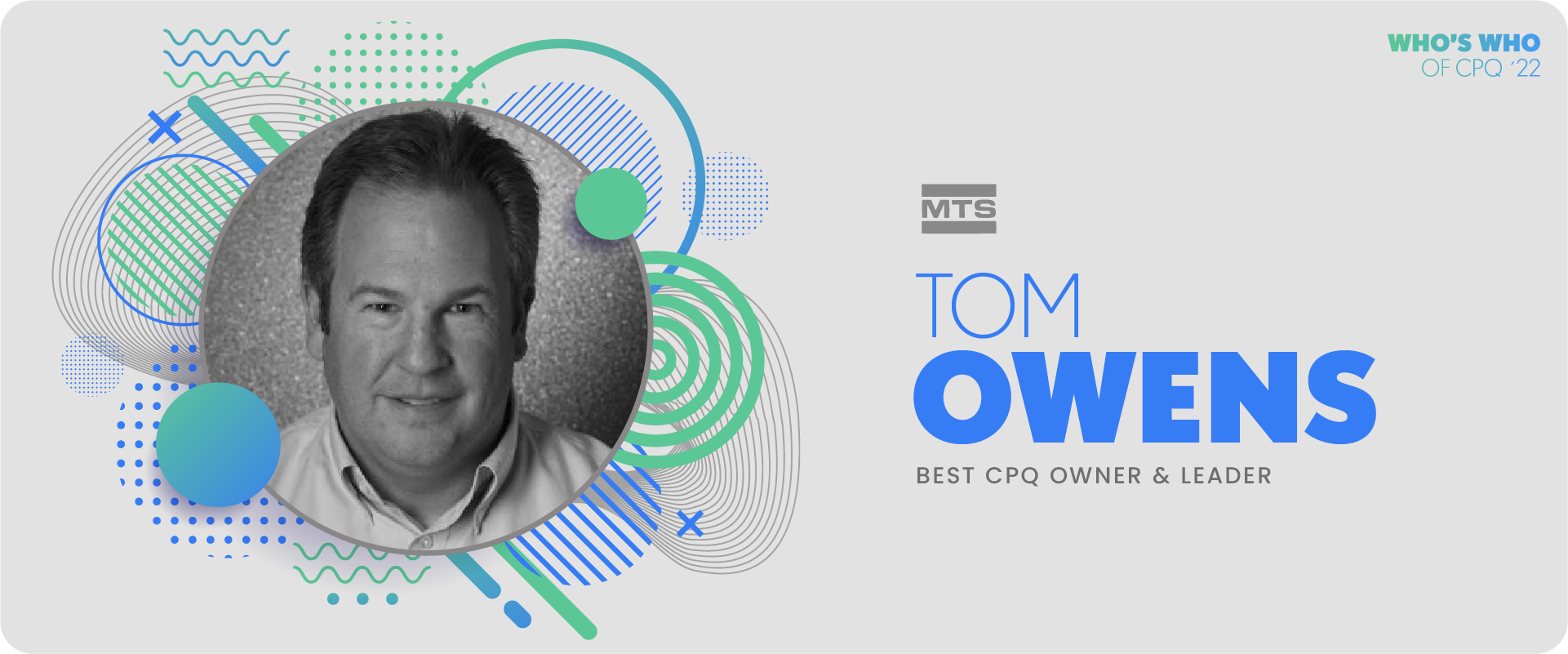 You could ask colleagues of Tom Owens, Sales Operations Manager-SFDC and Oracle CPQ for MTS, about the reputation he's built for himself – or, you could look to the more than one hundred employees successfully operating at cross-functional levels under his careful tutelage. He knows his way around the biggest systems and smallest nuances, and doesn't hesitate to share what he's learned.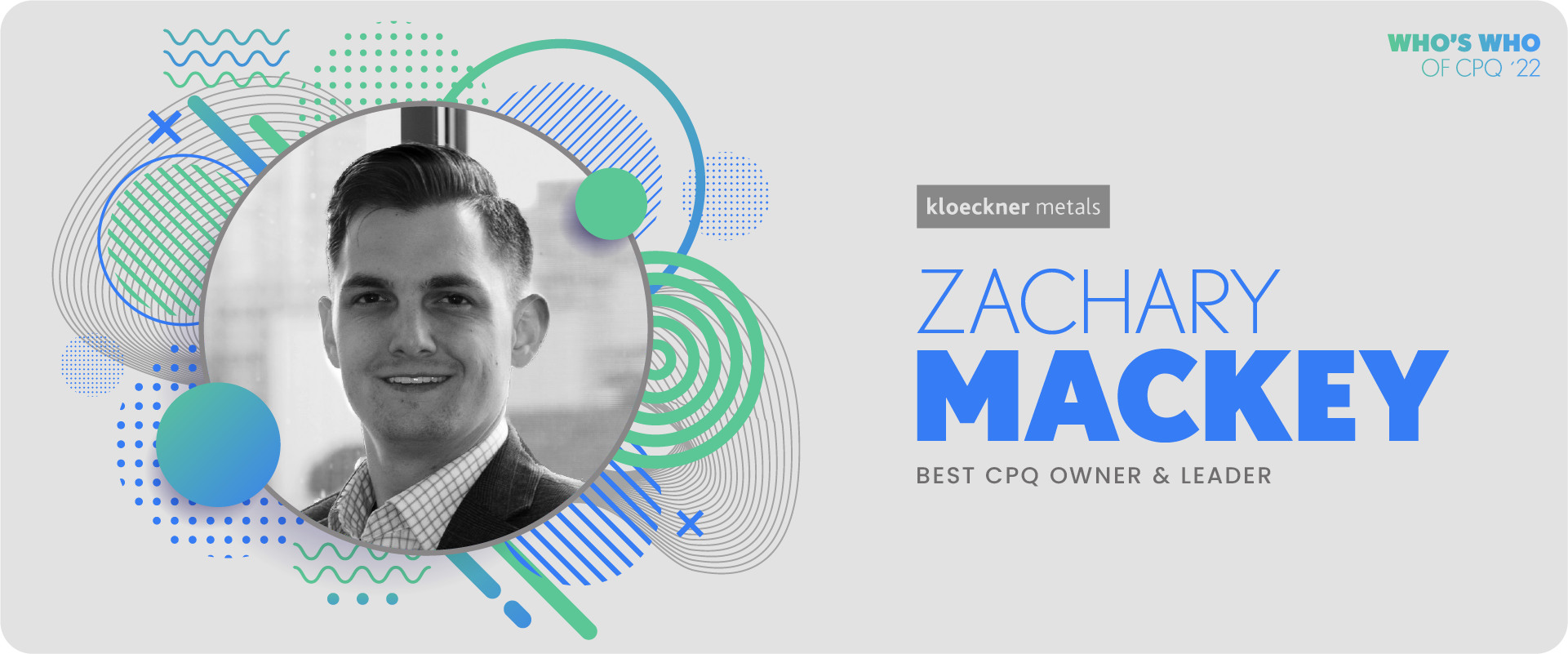 A textbook case study in the growing migration away from legacy CPQ solutions and into newer software, Kloeckner Metals Senior Manager, CRM Zachary Mackey has cut his teeth on moving from Oracle to Salesforce. The benefits of a consolidated, cohesive platform are far from lost on Zachary and his team as they re-architect around a stronger tech stack.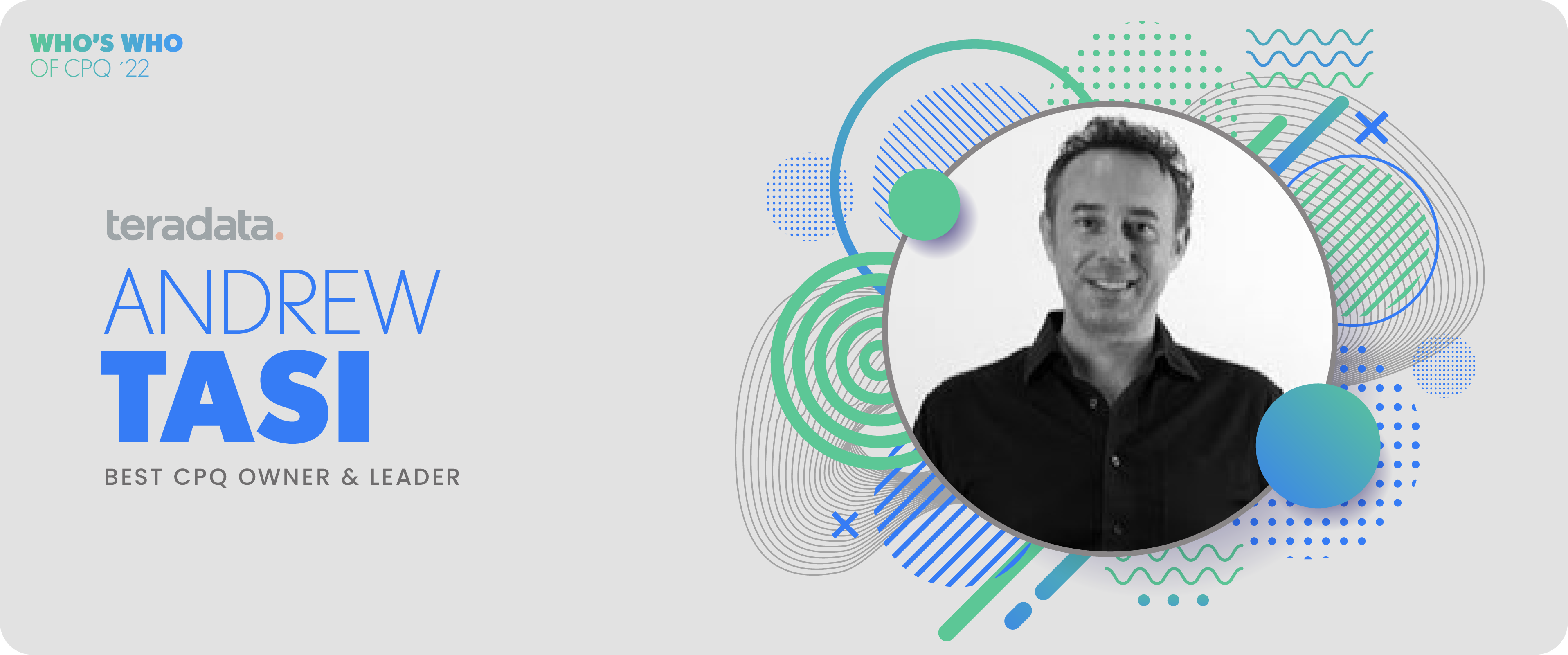 Andrew Tasi, Director, Salesforce Platform and Technology Services at Teradata, honed his CPQ skills to near-perfection through multiple implementation rounds across multiple companies. He always keeps administrators in mind when presenting solutions, and maximizes the value of properly constructed tech stacks.

Natively built for the Salesforce platform, we at Logik.io have a front-row seat to Salesforce's operational prowess and unrivaled innovation. It takes a lot to stand out in a company that's already so widely known for its excellence, but the following folks have managed to do just that – stake their claim, make a difference, and advance CPQ operations for the benefit of all. Let's take a look at the top CPQ innovators at Salesforce: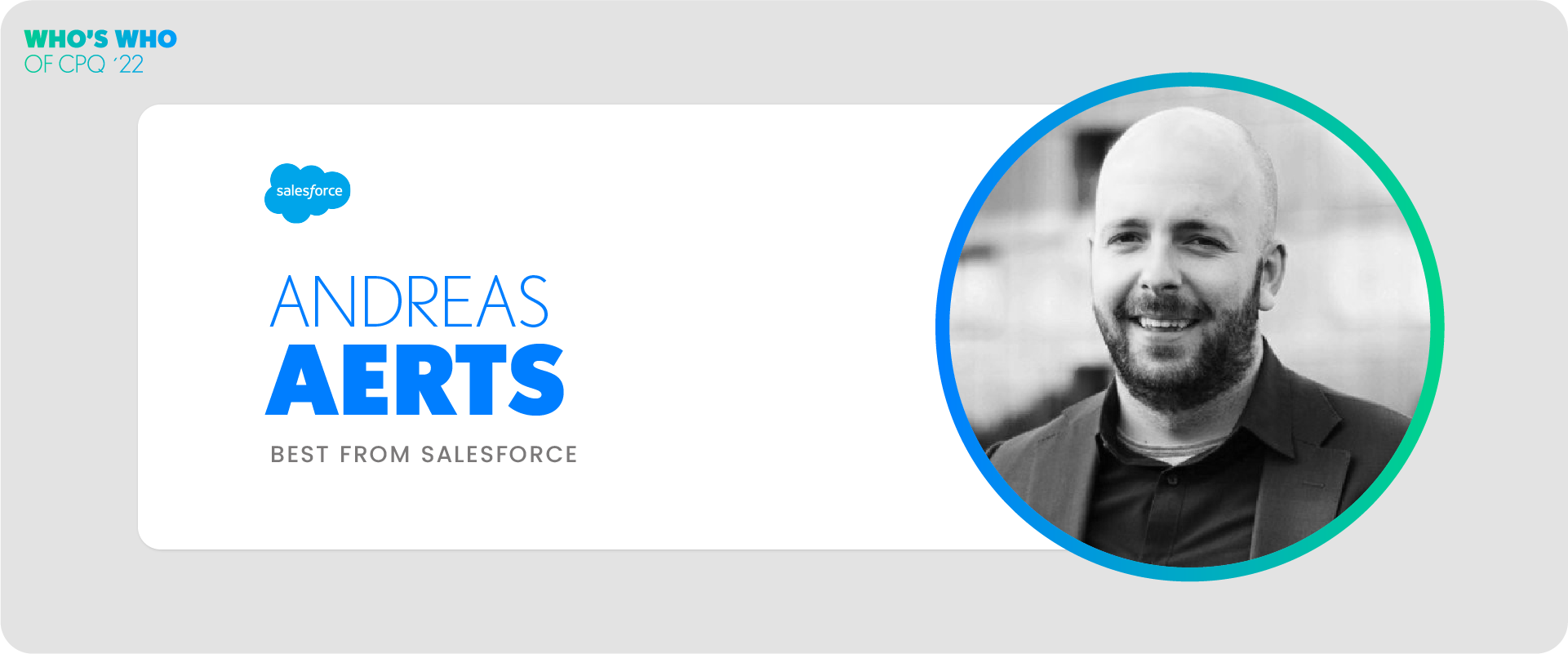 Deftly navigating the transition from finance to software, Andreas Aerts is making the right kind of waves in his rookie year as Account Executive – Revenue Cloud at Salesforce. With innovative explanations and ways of relating to younger, greener clients, Andreas is quickly making a name for himself in CPQ.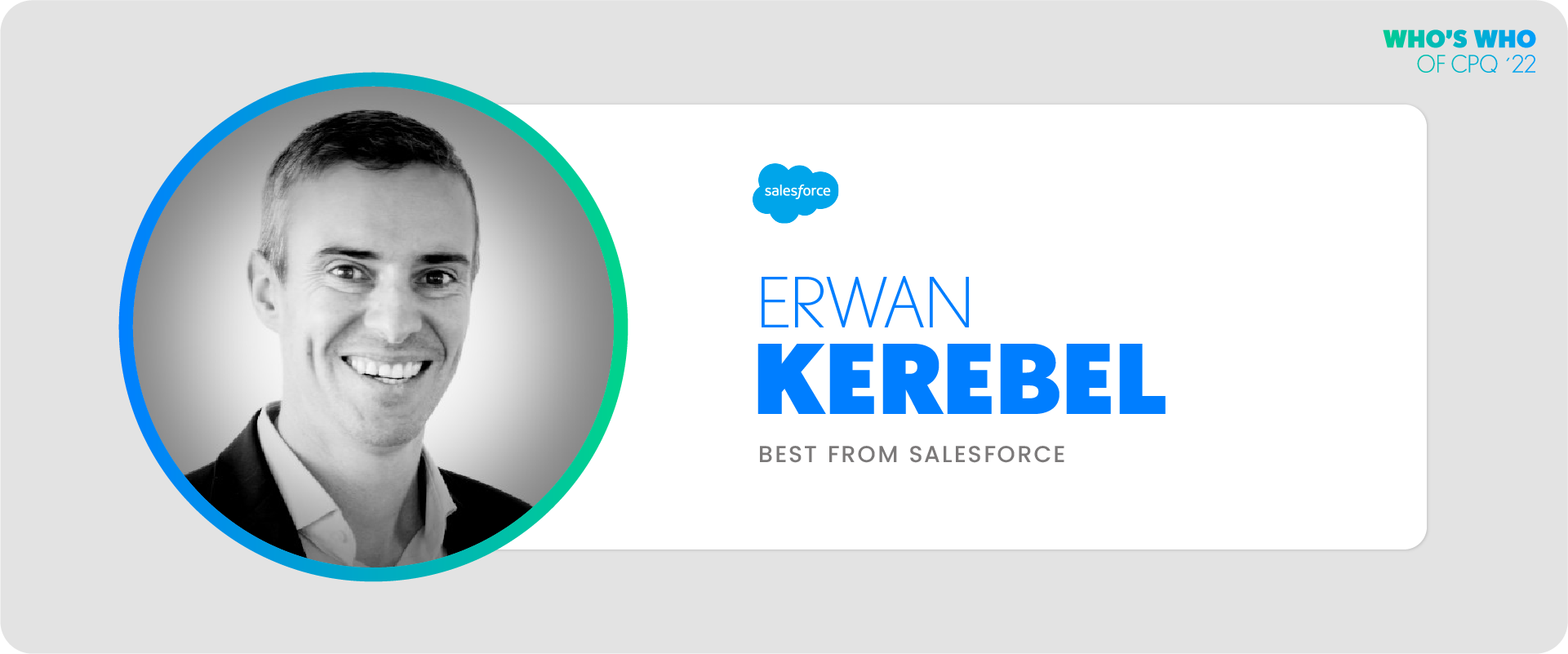 The work done by Erwan Kerebel, Sr. Director Product Management, Quote to Cash Solutions at Salesforce, is hard to quantify under a single directive, but wholly supports customers through CPQ and Revenue Cloud offerings. His history in the field translates to advice he can apply to a huge array of clients to leave them feeling secure in their solution.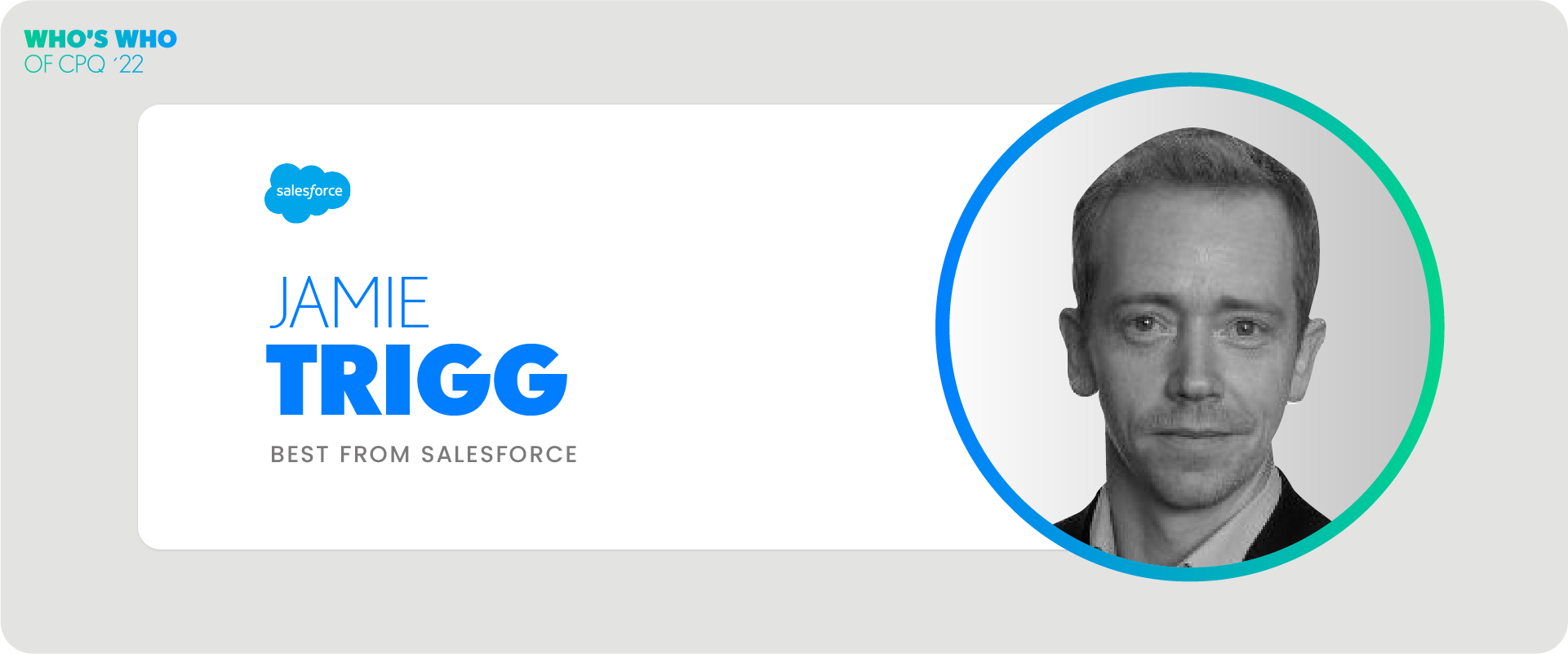 Jamie Trigg doesn't just know CPQ. The Senior Account Executive for Salesforce Quote-to-Cash eats, sleeps, and breathes CPQ solutions. With experience dating back to the Steelbrick days, Jamie can leverage years of knowledge to get clients on board with the true value of implementation.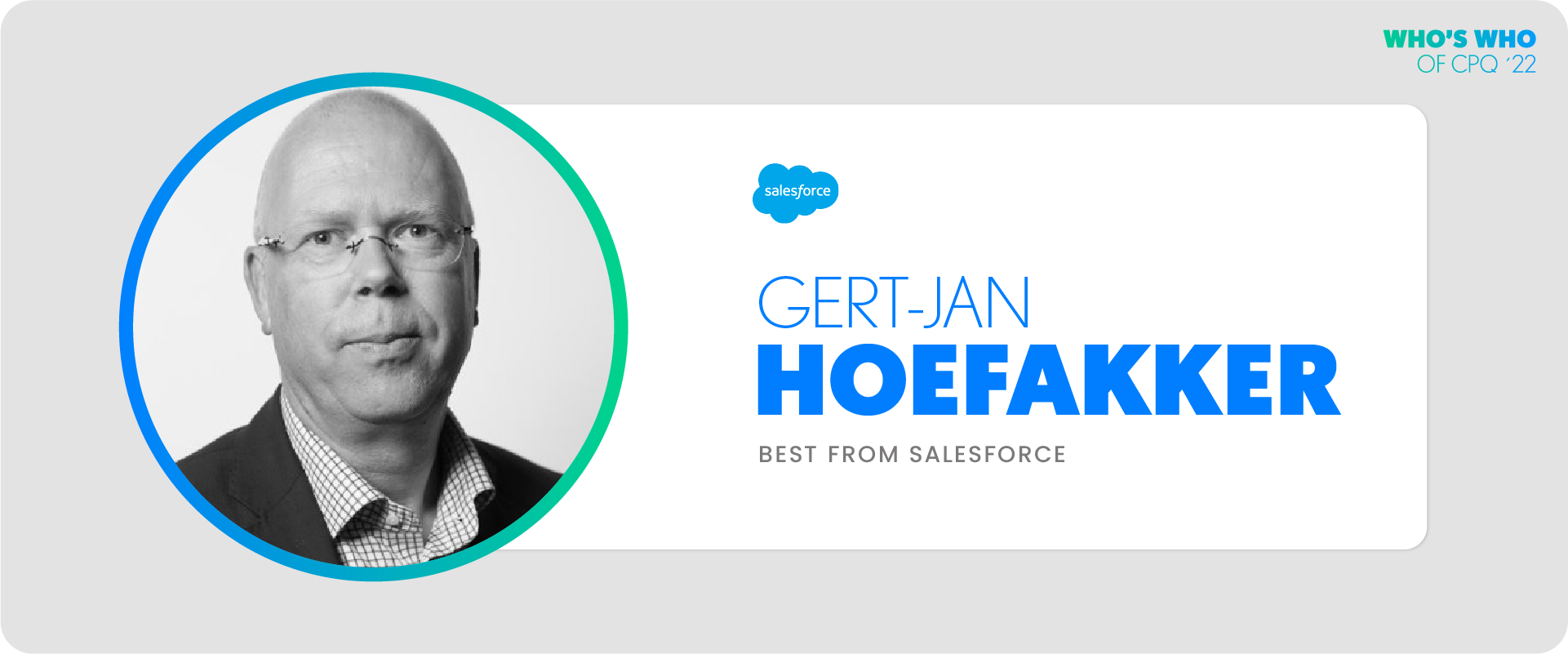 The go-to guy for system implementation and partner relationships, Strategic Account Executive, Revenue Management at Salesforce Gert-Jan Hoefakker can meet folks exactly where they are in their CPQ journey. He architects the best way to bring them forward, no matter how complex the tasks at hand.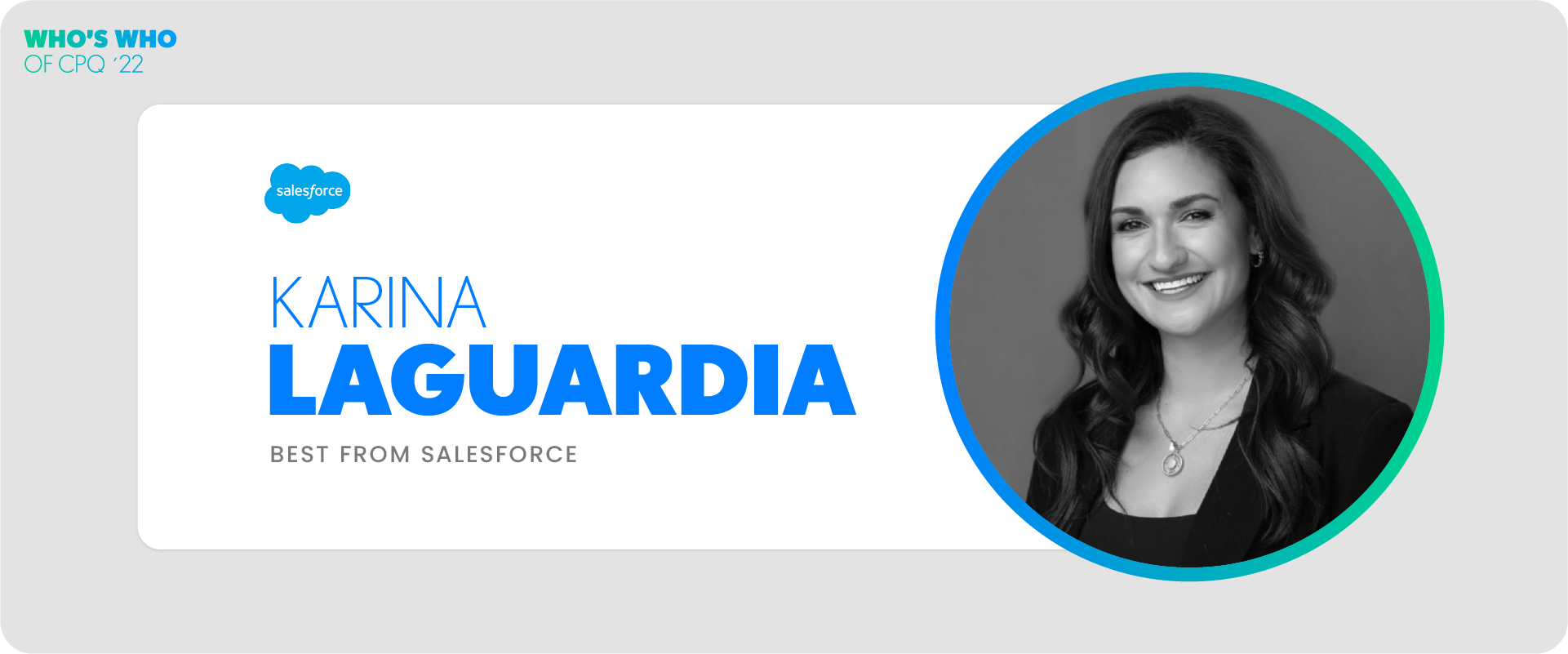 Supporting representatives from coast to coast, Lead Solution Engineer at Salesforce Revenue Cloud Karina LaGuardia can be found crushing numbers and expectations alike. Her work ethic is a known quantity to colleagues, who appreciate the strong working relationships she carries with so many.
Clients can let out a sign of relief when Lyudmil Zdravkov, Lead Enterprise Revenue Cloud Solution Engineer at Salesforce, is put on their case. He blends top-notch technical expertise with a demeanor that commands respect and appreciation from all who encounter him, cementing his CPQ reputation among the best of the best.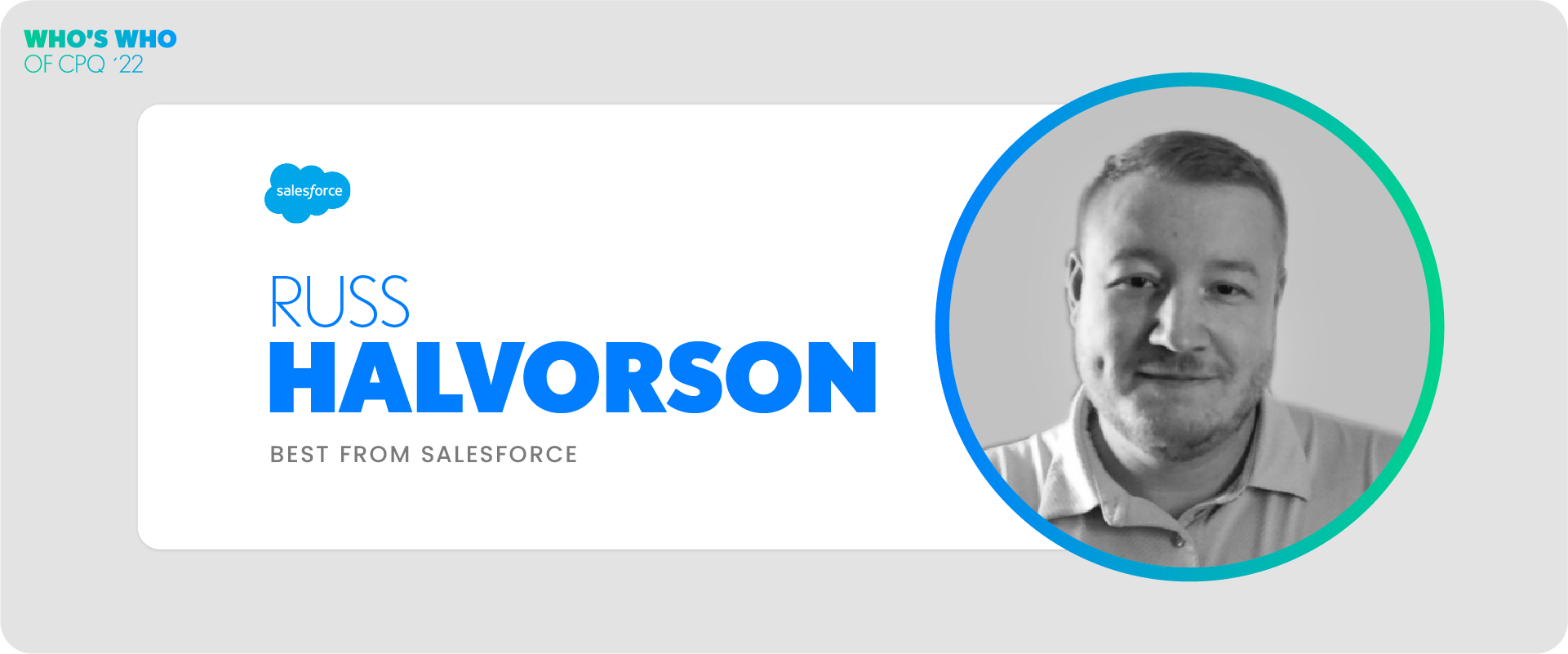 Even in the face of the most challenging CPQ conundrums, Salesforce Senior Director of Product Management – Revenue Cloud Russ Halvorson stays calm, cool, and collected. He synthesizes complex scenarios into manageable roadmaps, built out with all necessary solutions and systems.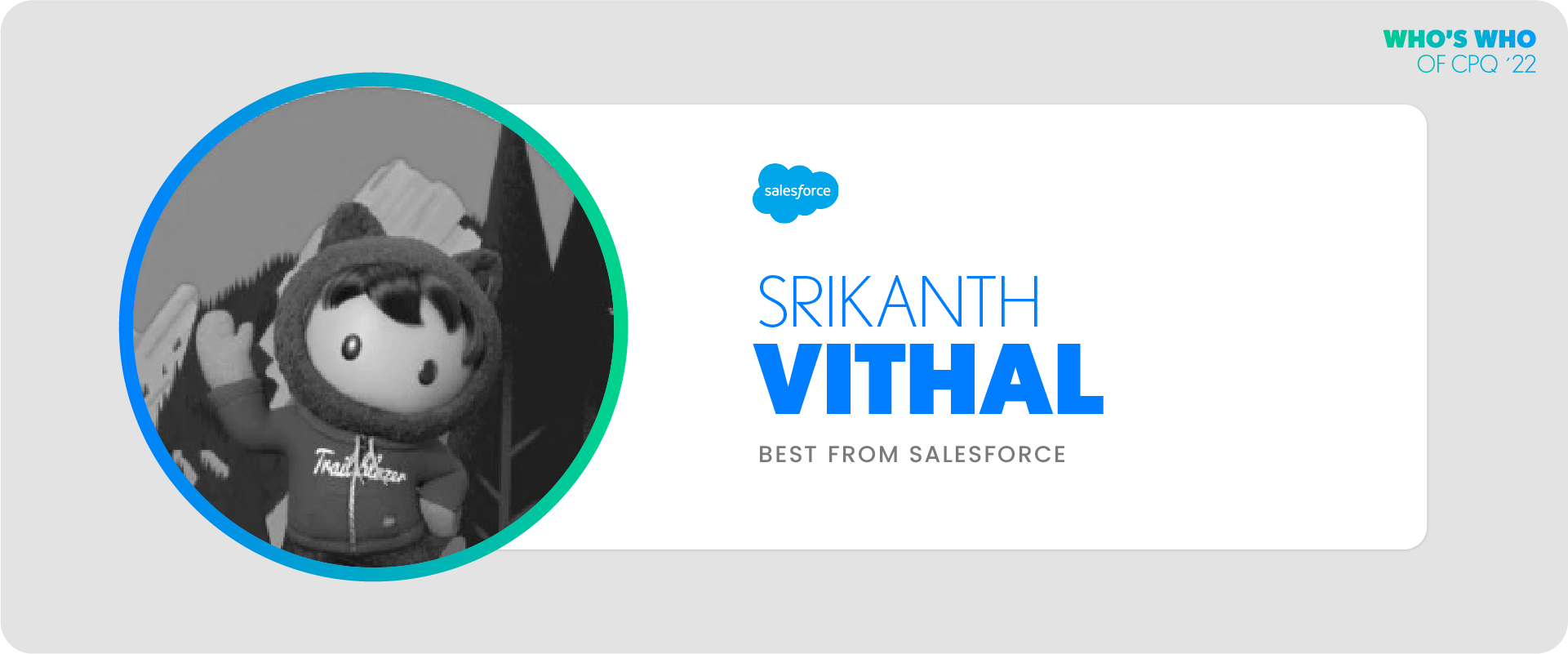 Earning the respect of colleagues and clients alike, Salesforce Technical Program Architect/PM Srikanth Vittal leverages in-depth knowledge of nuanced offerings to create out-of-the-box solutions. Her holistic approach to projects considers impact in all directions, at all times.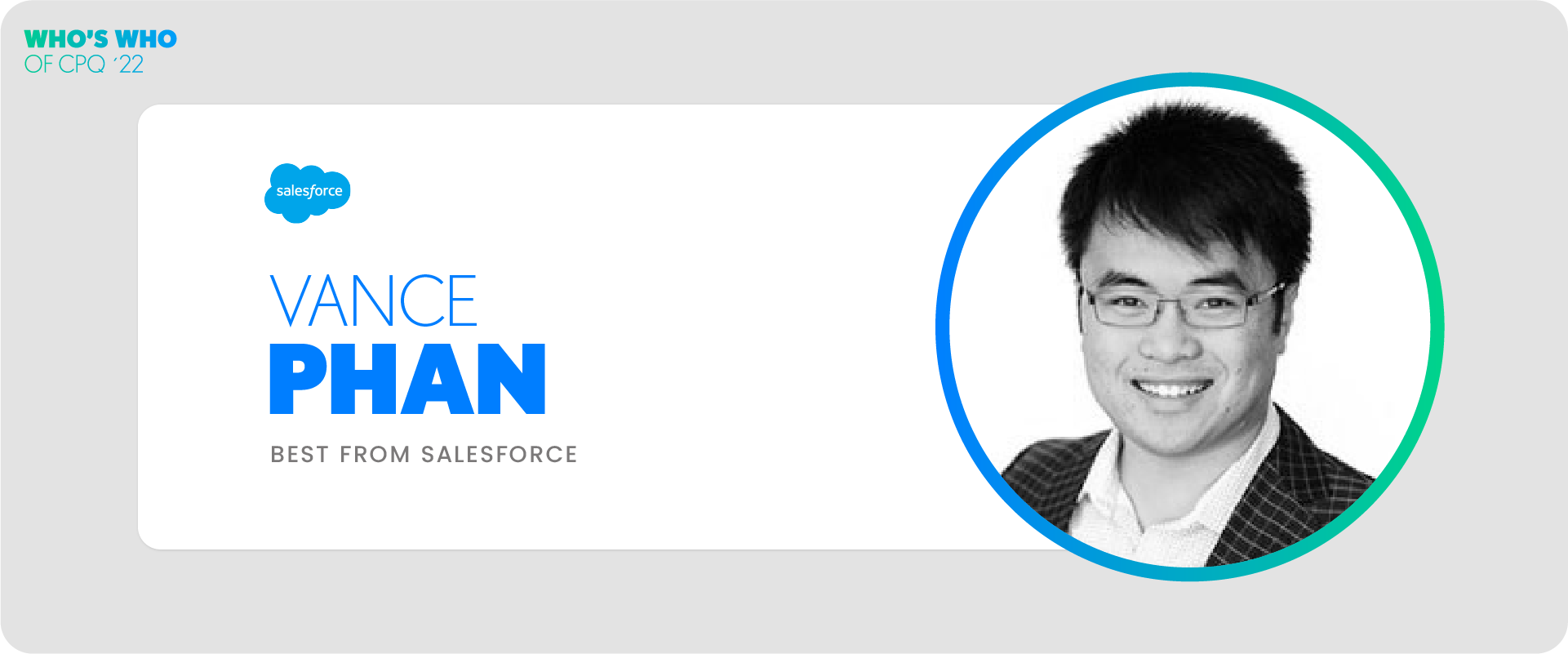 Vance Phan, Principal Solution Engineer, Revenue Cloud Enterprise Accounts at Salesforce, is unfamiliar with the idea of resting on his laurels and constantly finds himself above and beyond the status quo. Never losing the smile on his face, he relishes opportunities to go just that much farther for the benefit of the project.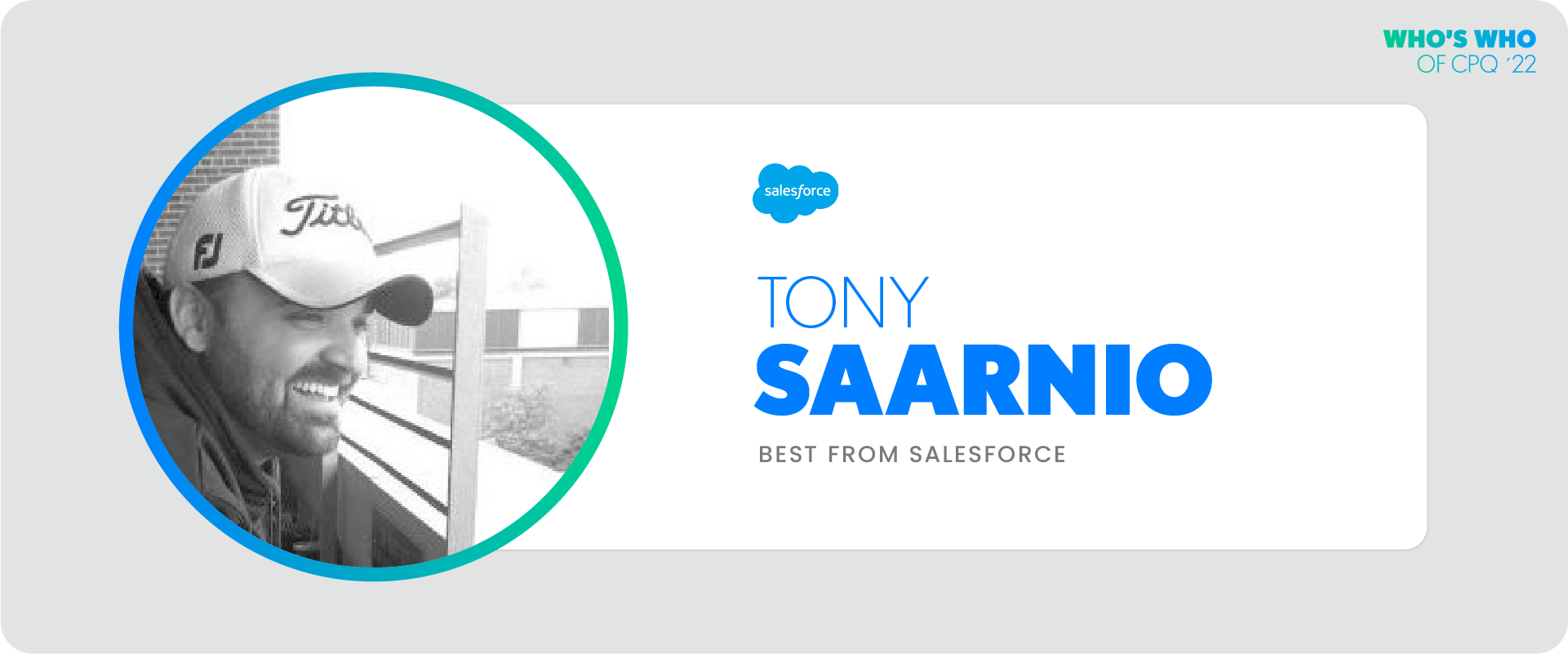 If there's a niche use case set to come across your desk, you'll want Anthony Saarnio, Director Solution Engineering at Salesforce Revenue Cloud, to be the one taking a look at it. With a boots-on-the-ground approach to his work, Anthony isn't afraid to parse the nitty gritty details and find the absolute best solution to accommodate.

The innermost of CPQ's inner circle, these SIs help shape and redefine critical business processes, strategies, and infrastructures at the heart of sales success. From practice leaders, to solution architects, to engineers, these folks are nominated because they're laser focused on driving successful CPQ projects for their customers. Let's take a look at the best CPQ consultants, implementers, and architects in the business: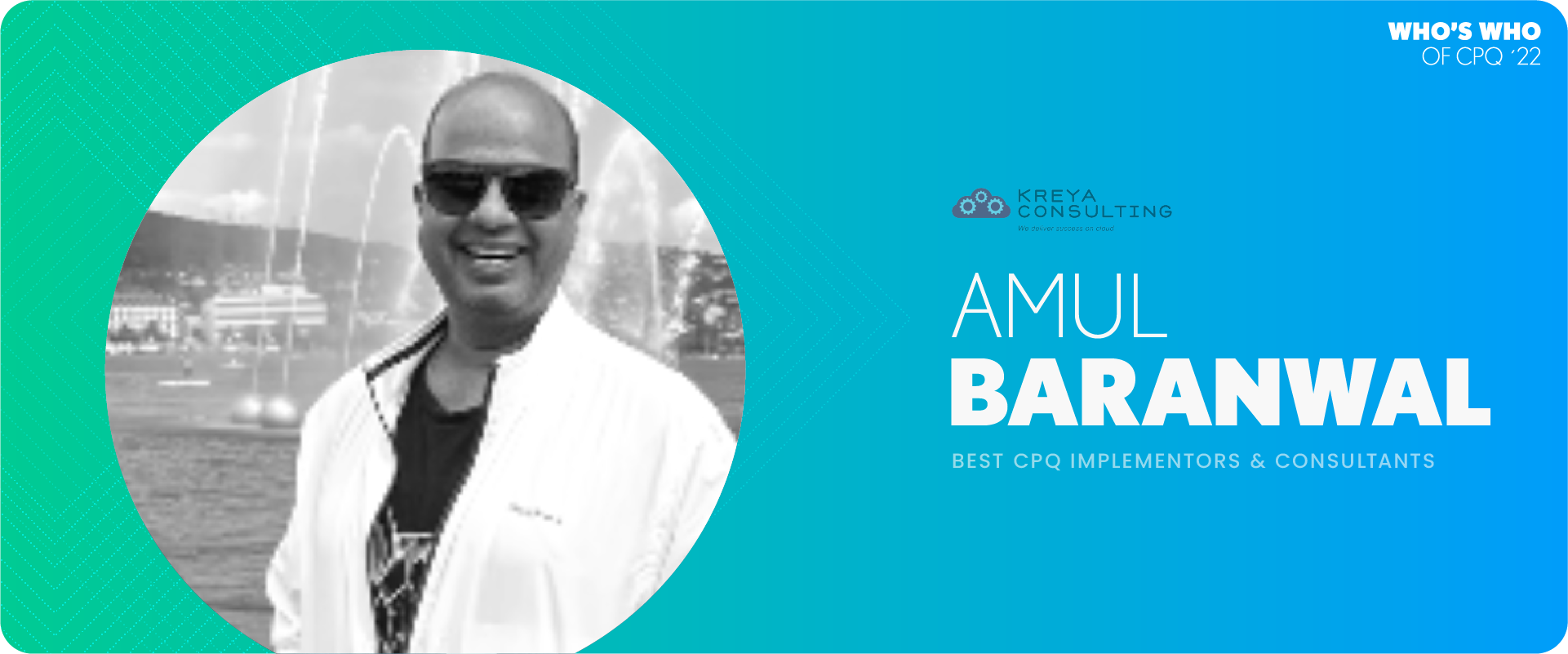 If you can call yourself both the CEO of a company like KreyaConsulting, Inc. and a recognized Salesforce Trailblazer, your CPQ expertise goes without saying. Amul Baranwal is taking his expertise to Youtube, providing a free consulting certification program alongside hours of free CPQ resources.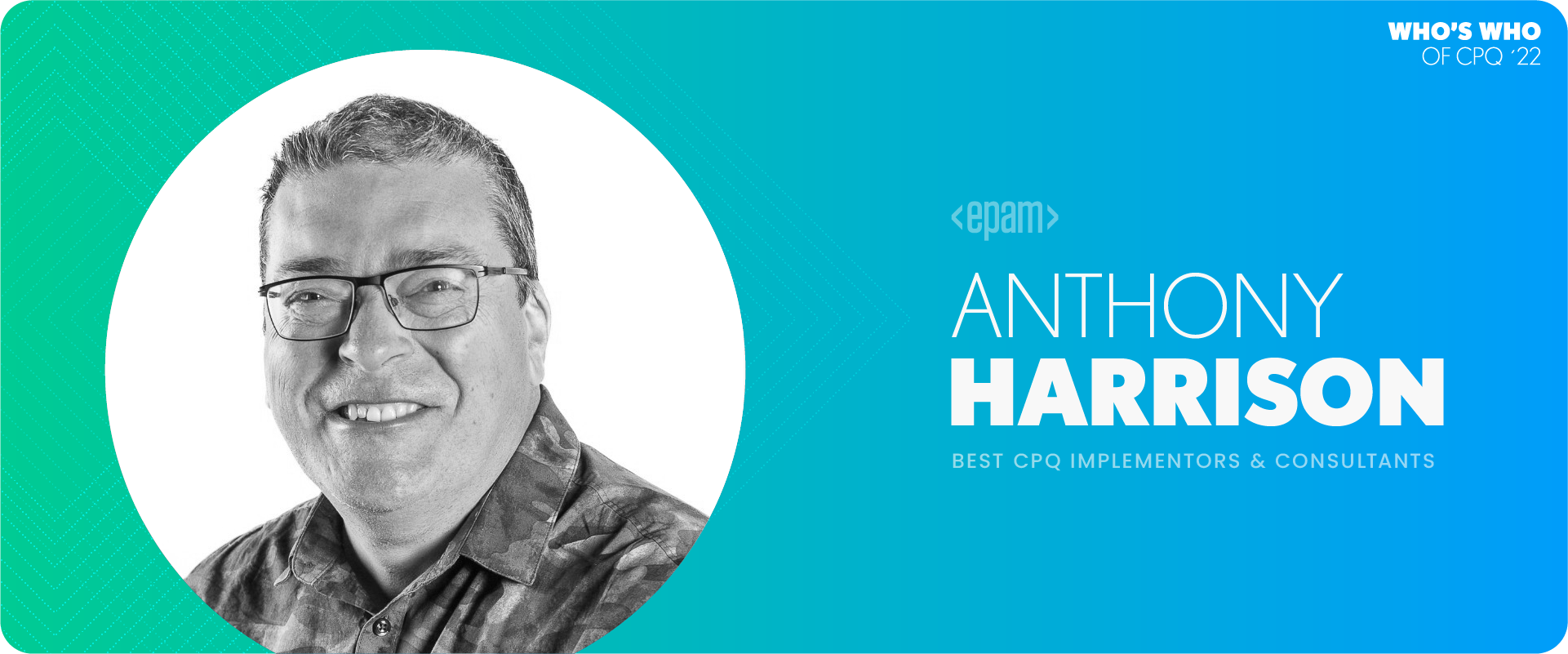 It's one thing to technically architect a solution and pass it over to another team for implementation. It's entirely another to both architect and lead the total implementation of such a solution, as we see with Anthony Harrison, Industries Practice Director at EPAM Systems.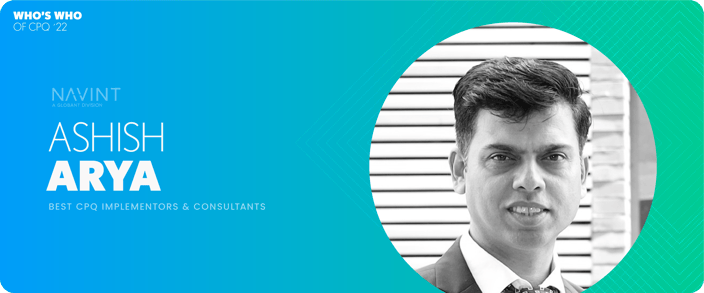 With over two decades of hands-on quote-to-cash experience, Navint Sr. Director & Enterprise Solution Architect Ashish Arya is one of the most seasoned members of the Navint team. Regardless of the industry in front of him, Ashish can find the most direct path to follow toward overall success.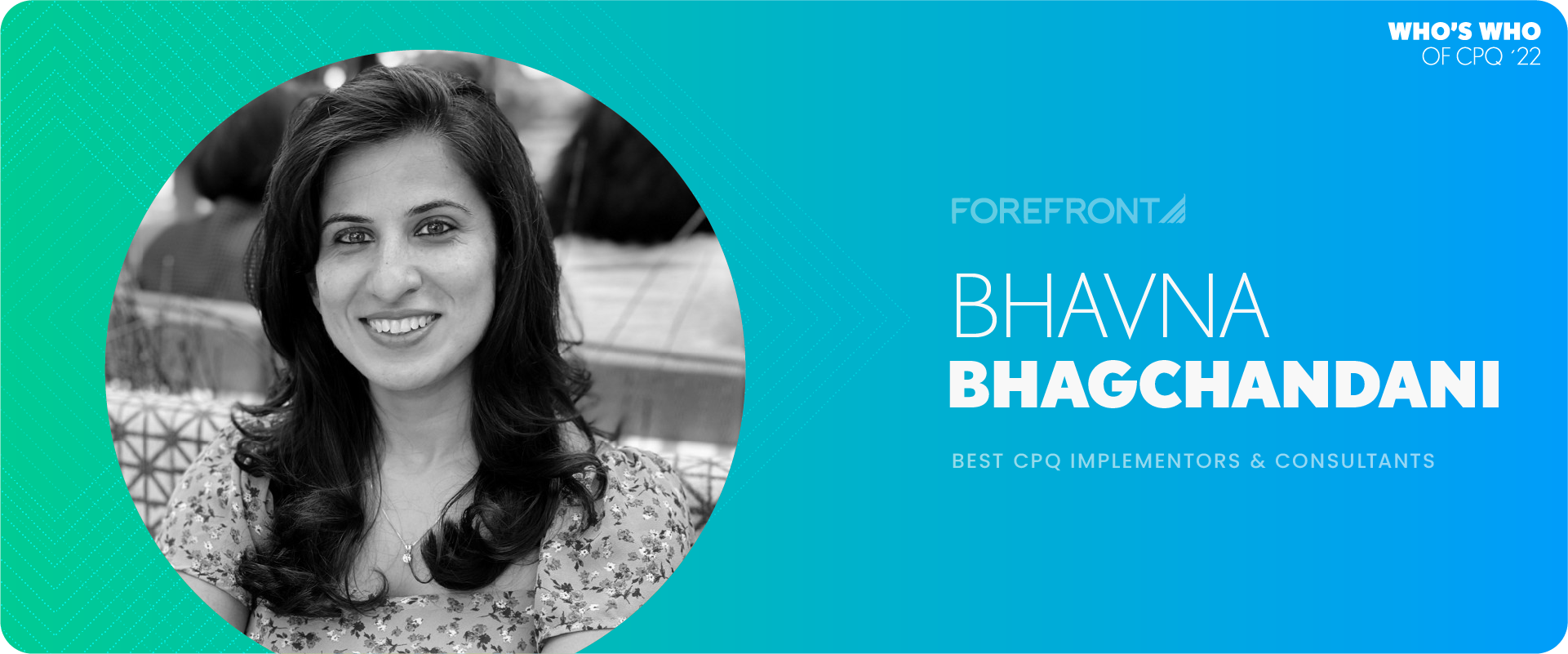 A Solution Architect Team Manager knows they've done their job well when the CPQ solution they help implement makes life notably and immediately easier for the client. Bhavna Bhagchandani at ForeFront carries a reputation of succeeding at no less, much to the appreciation of his team. Her partner-in-CPQ, Christian Taylor is highlighted below.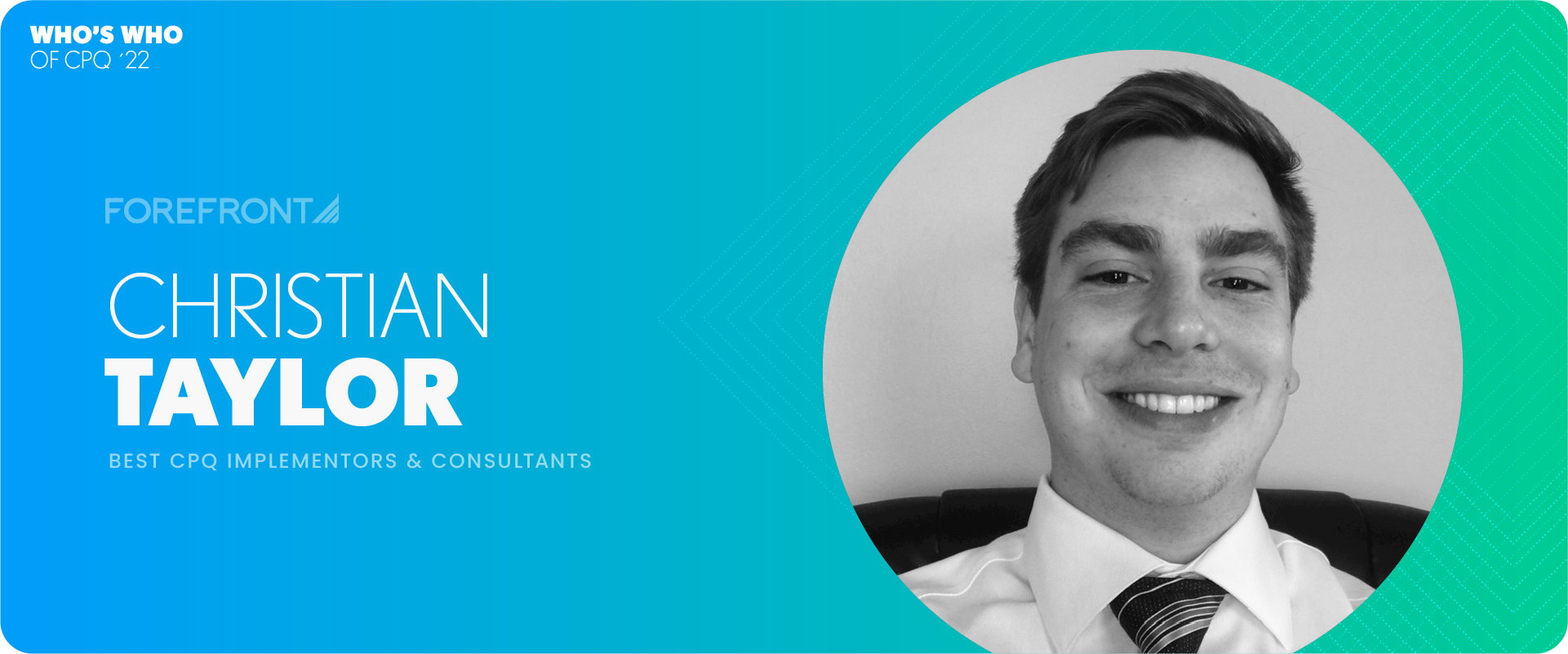 You may not be calling them like Ghostbusters, but Solution Architects are the behind-the-scenes heroes that rid your CPQ environment of unwanted stress. Christian Taylor, a ForeFront architect, helps turn clients from spooked to solid when it comes to subscription models.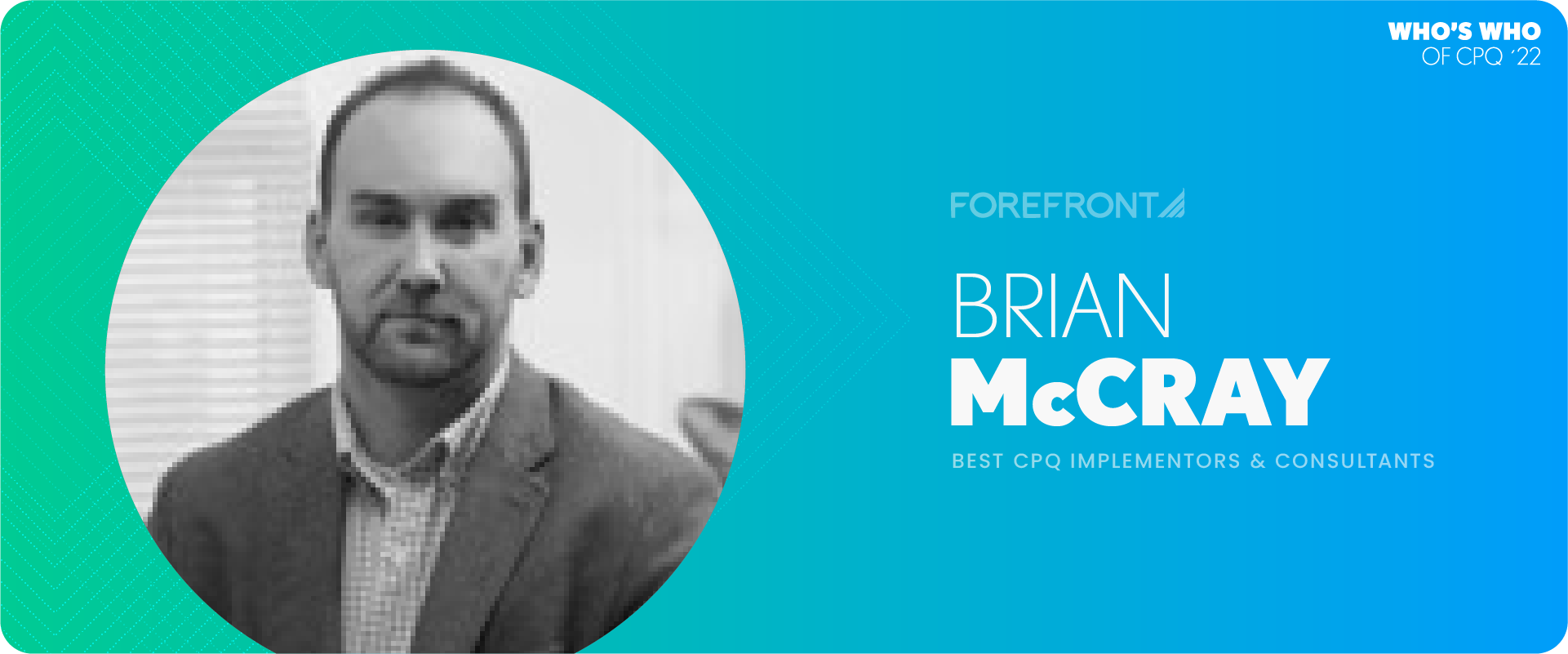 How do you consolidate disparate systems into a single, supercharged solution that skillfully manages a full product lifecycle? You entrust it to ForeFront VP of Salesforce Practice (B2B/CPQ) Brian McCray, specialist in digital customer experience, of course.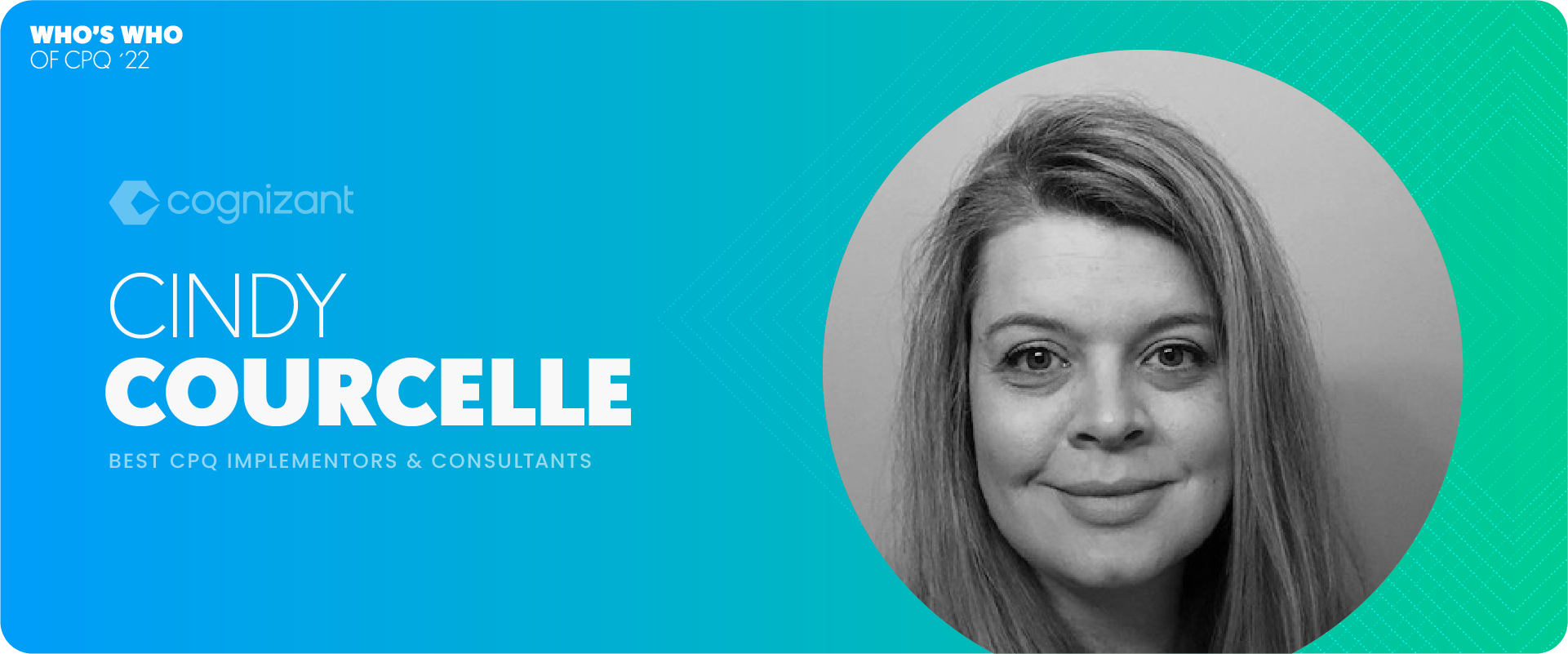 Helping to lead the pack of CPQ Solution Architects as Principal Consultant for Cognizant ATG, Cynthia "Cindy" Courcelle fearlessly goes where others won't. Her approach to building Q2C solutions is holistic in nature and much admired by those around her.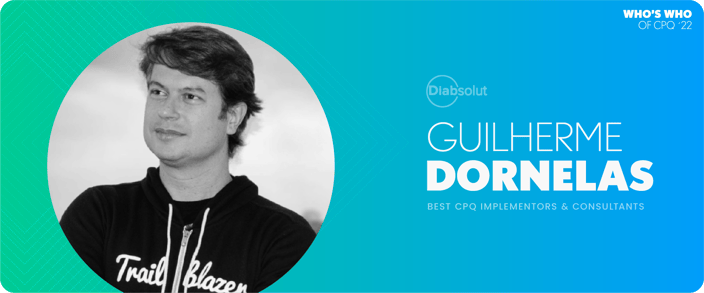 As Salesforce Senior Consultant and Project Manager at Diabsolut, Guilherme Dornelas was able to spread his wings and share his CPQ prowess. With multiple areas of specialty he can tailor to nearly any project, Guilherme always keeps client satisfaction at the forefront.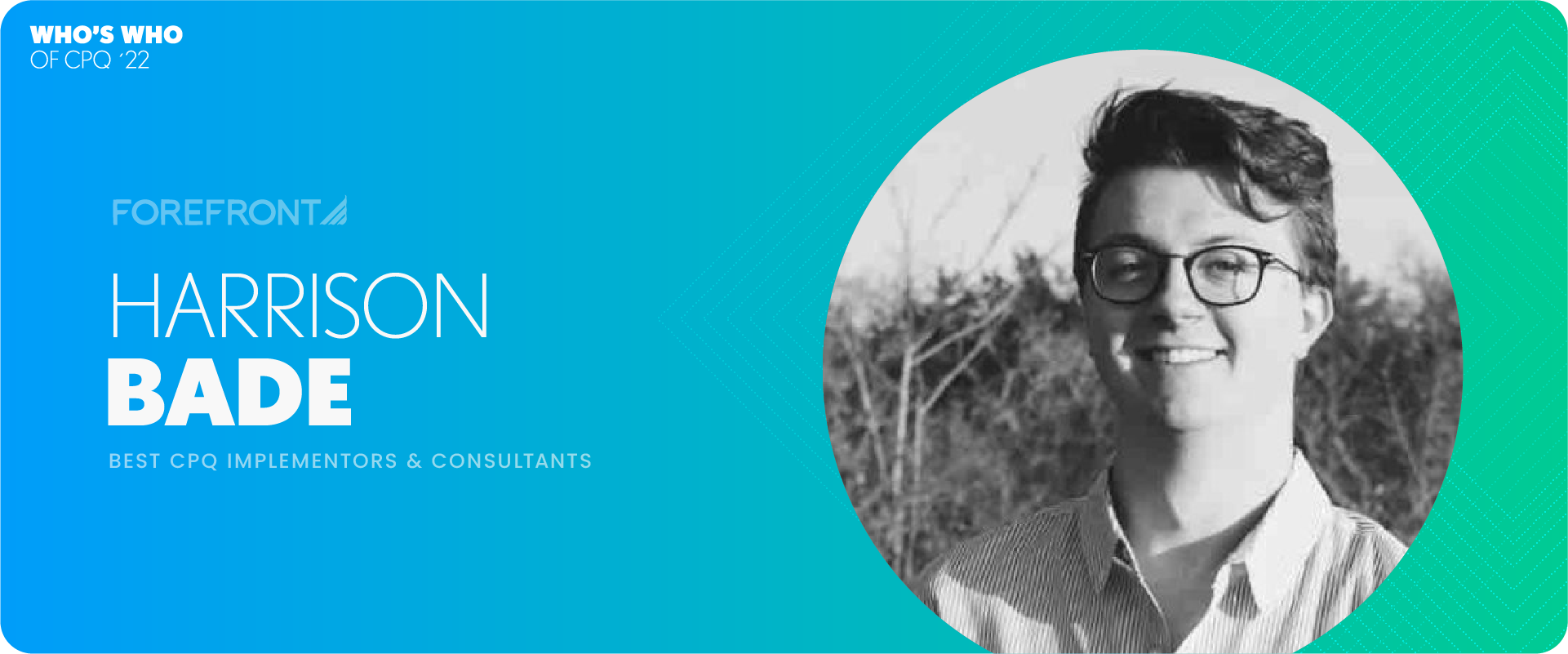 Customer experience should always be elevated by CPQ solutions, and Business Analyst Team Manager Harrison Bade of Forefront makes that experience a walk in the park for his clients. How? Streamlining quoting processes through Salesforce CPQ.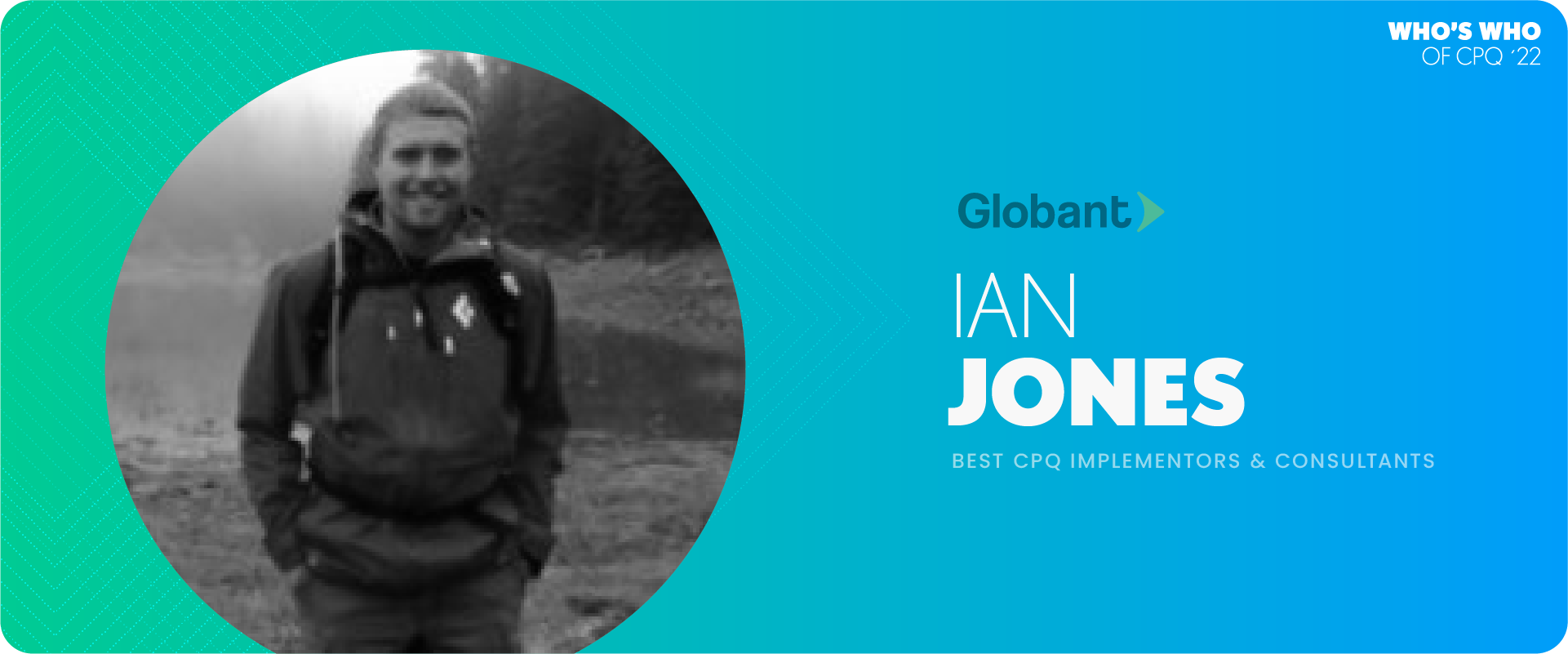 From designing and building to testing and deployment, Globant Revenue Cloud Consultant - Architect Ian Jones helps transform even the most complex of concepts and operations into something approachable, usable, and more than worthwhile. He brings the story to CPQ so clients can connect.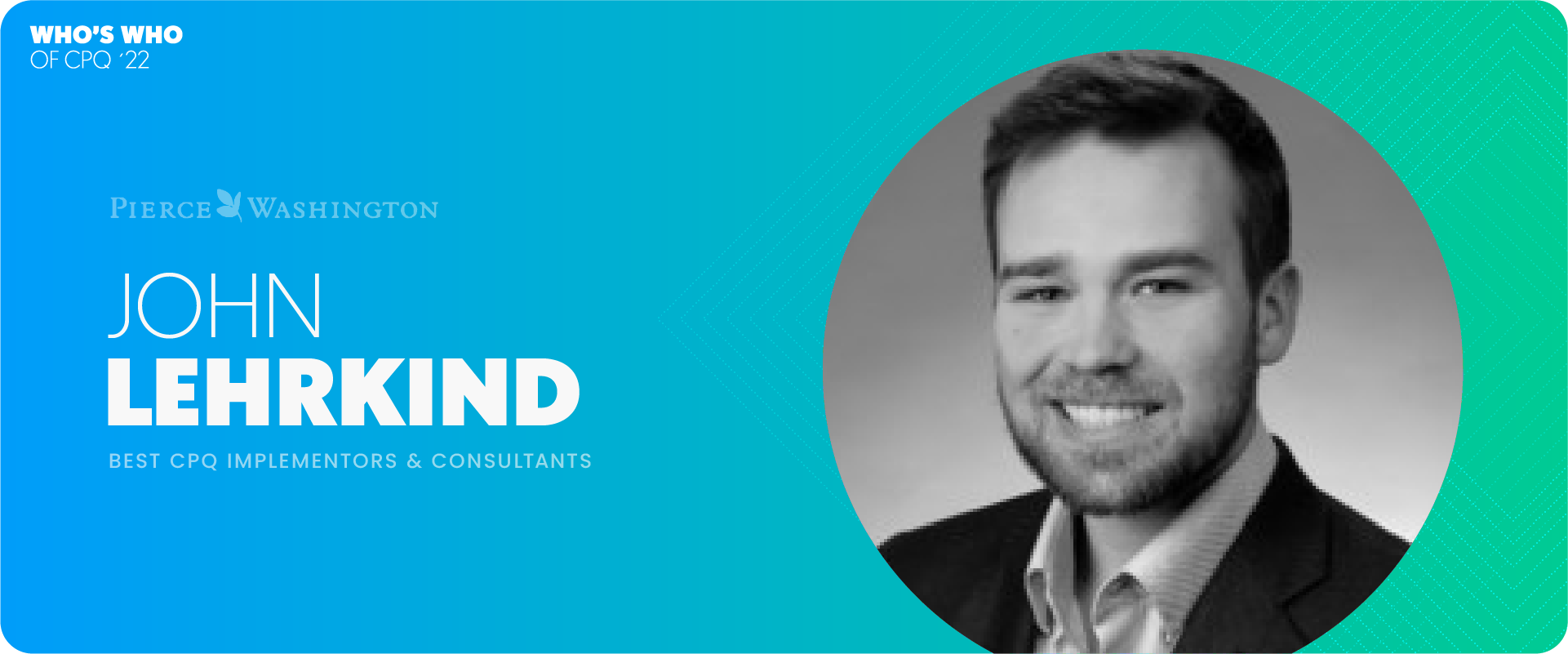 If you know modern CPQ, you know – and love – John Lehrkind. Pierce Washington's Director, Solutions Engineering is a ubiquitous presence in the field of experts, putting over a decade of revenue cloud and client success experience toward innovative solutions that delight customers.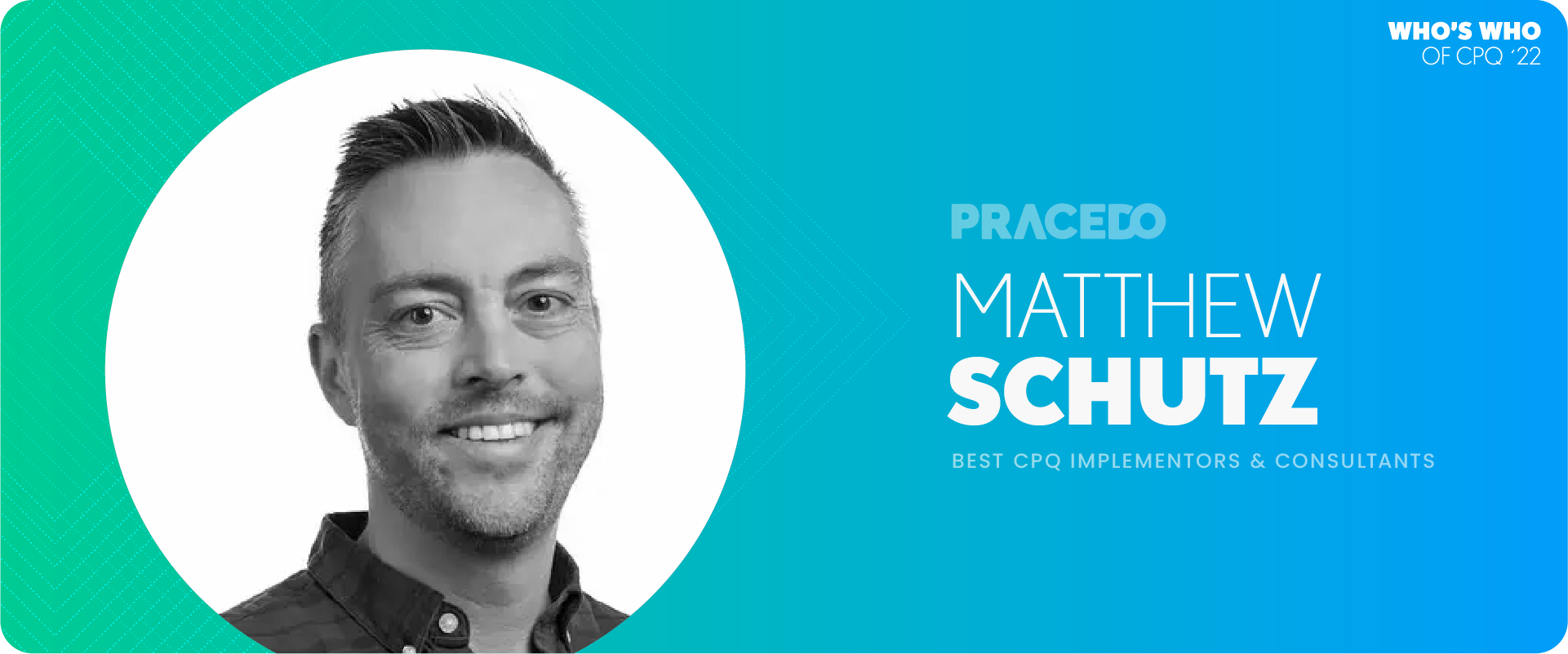 Manning the helm of London-based Pracedo, CEO Matthew Schutz takes a remarkably active approach to all levels of business, from selling to educating to implementing. He and his teams work closely with the CPQ sectors at Salesforce to keep their fingers on the pulse of the best and newest solutions for clients.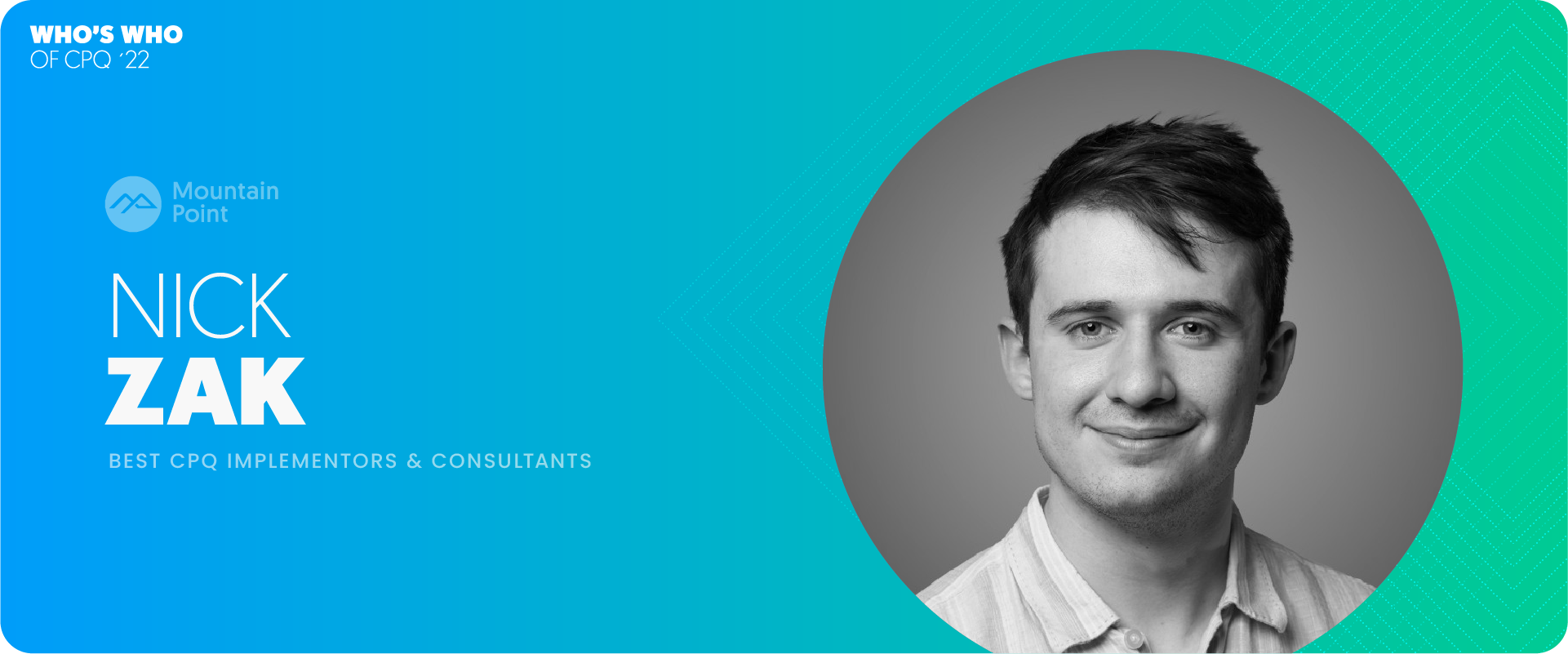 Despite initially being brought onto a high-profile CPQ account for Mountain Point in a support role, Associate Consultant Nick Zak leveraged what he knew and ran with it. His technical aptitude has had amazing results for the client in question, solidifying Nick's status as a CPQ legend.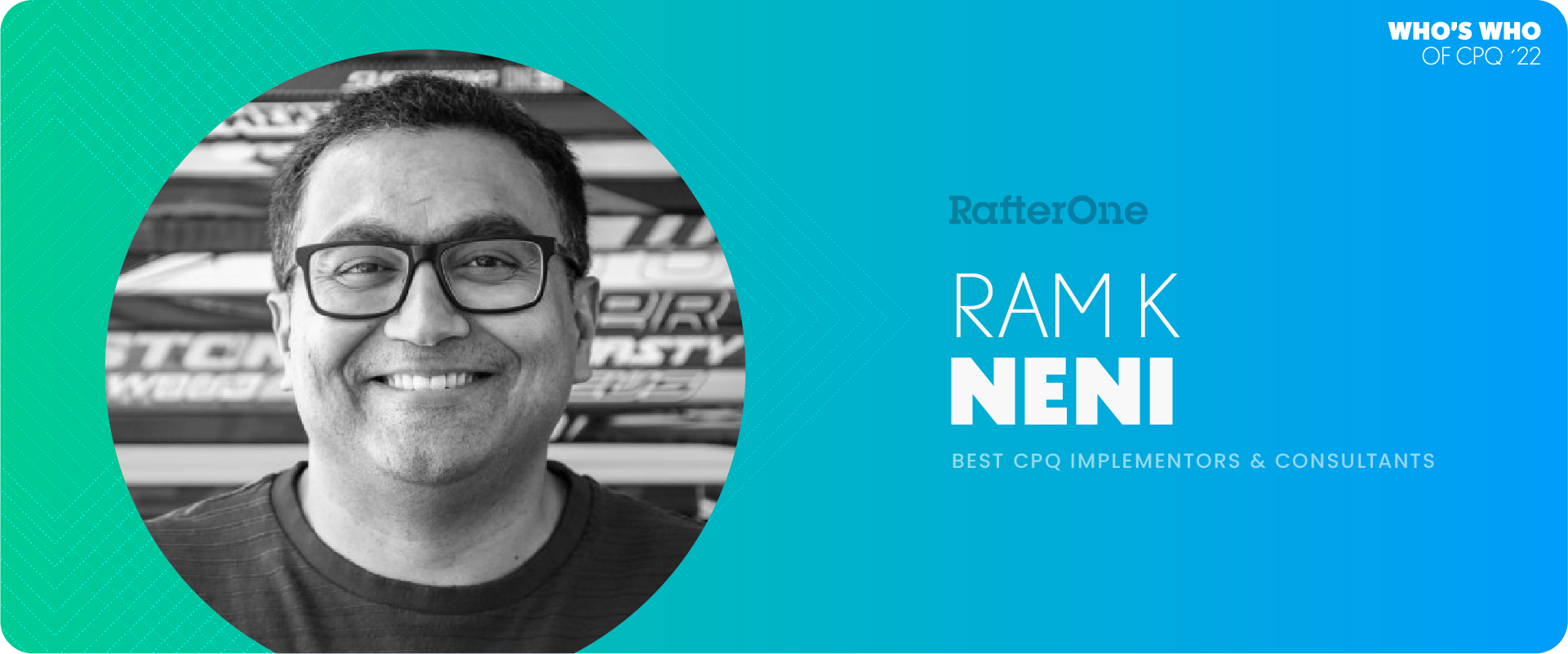 Salesforce Senior Technical Architect for RafterOne, Ram K. Neni is a walking source of truth for Trailblazers, clients, and teammates alike. His stalwart presence in regard to both work accounts and community forums is unmissable, and his impact is still growing.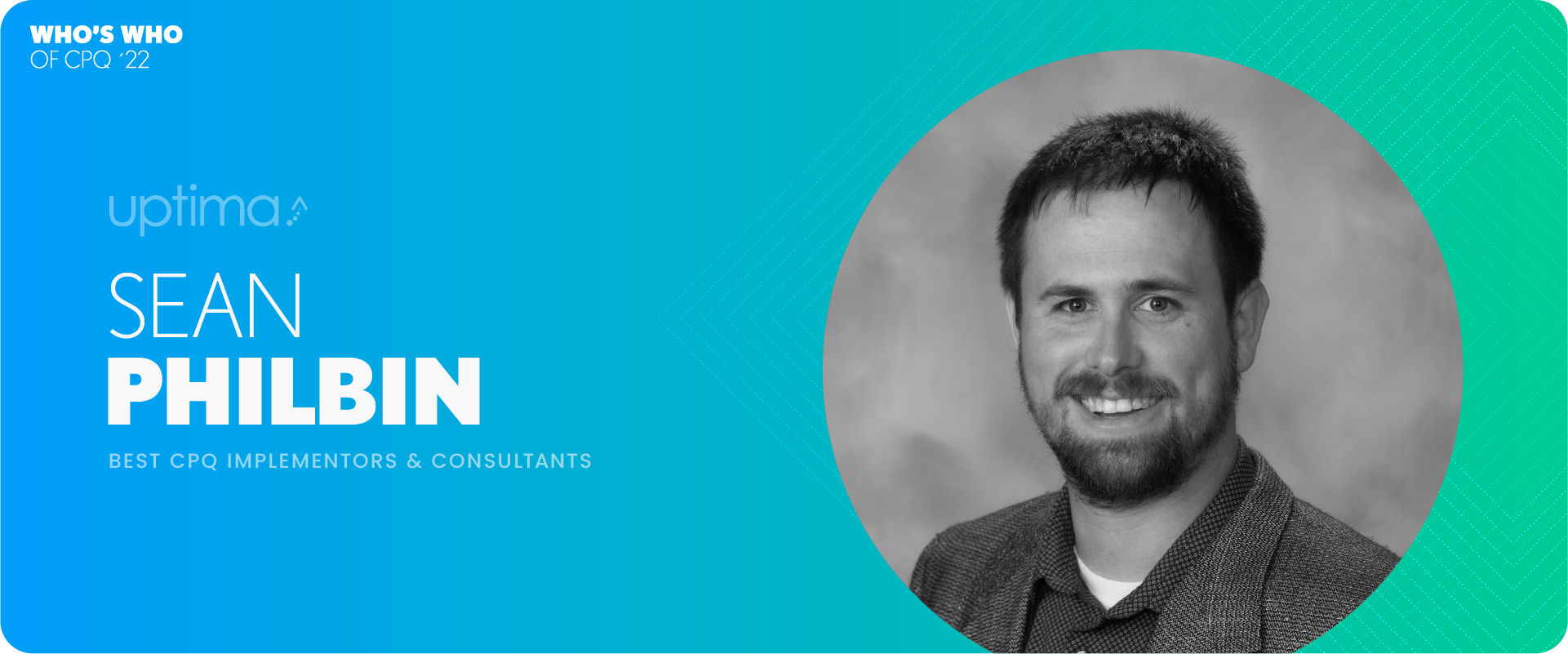 Bringing a long history of tackling tough CPQ and billing cases to Uptima, Senior Director, Revenue Solutions Sean Philbin is a natural authority on any processing matter. Few have been in the Salesforce Billing space as consistently as Sean, leading colleagues and clients alike to seek out his specific bank of knowledge.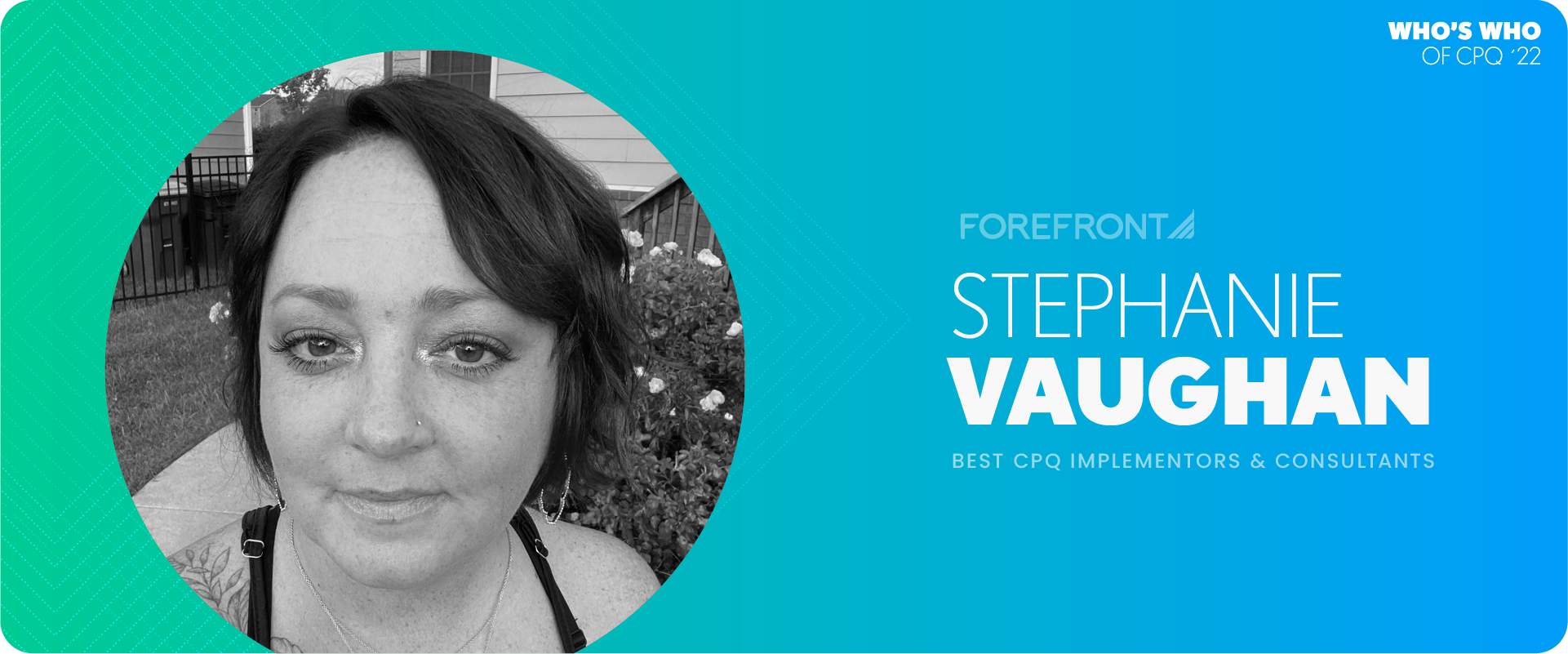 Bringing industry and technical expertise together to execute robust forecasting solutions and enhanced automation, Forefront Solutions Architect Stephanie Vaughan has staked her claim in the world of CPQ renown. A skilled leader to fall behind, she's successfully navigated several high-stakes projects.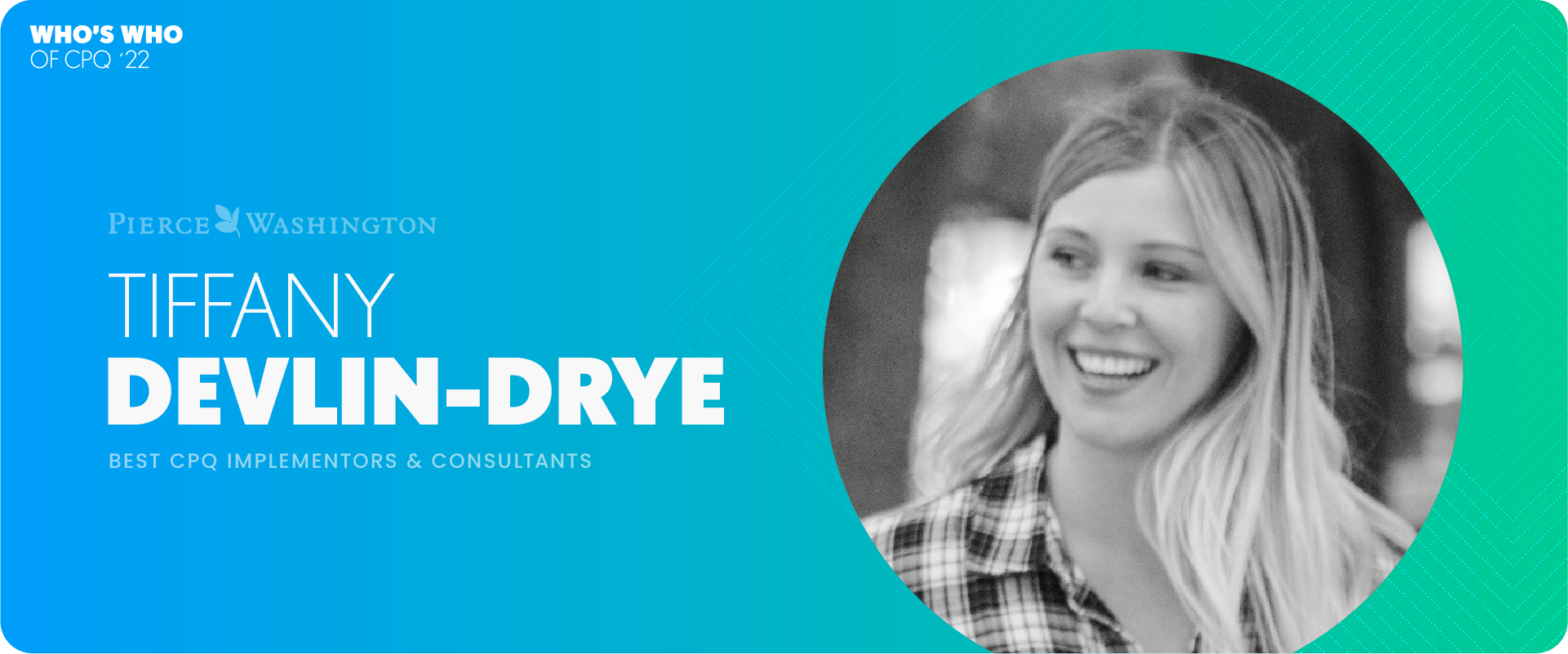 Not just a Sr. Solution Architect for Pierce Washington, but also a Salesforce Trailblazer, Tiffany Devlin-Drye is always looking for ways to bring CPQ to the next level. Whether she's breaking down barriers at legacy accounts or ramping up the next generation of experts, Tiffany has her fingerprints all over the modern CPQ scene.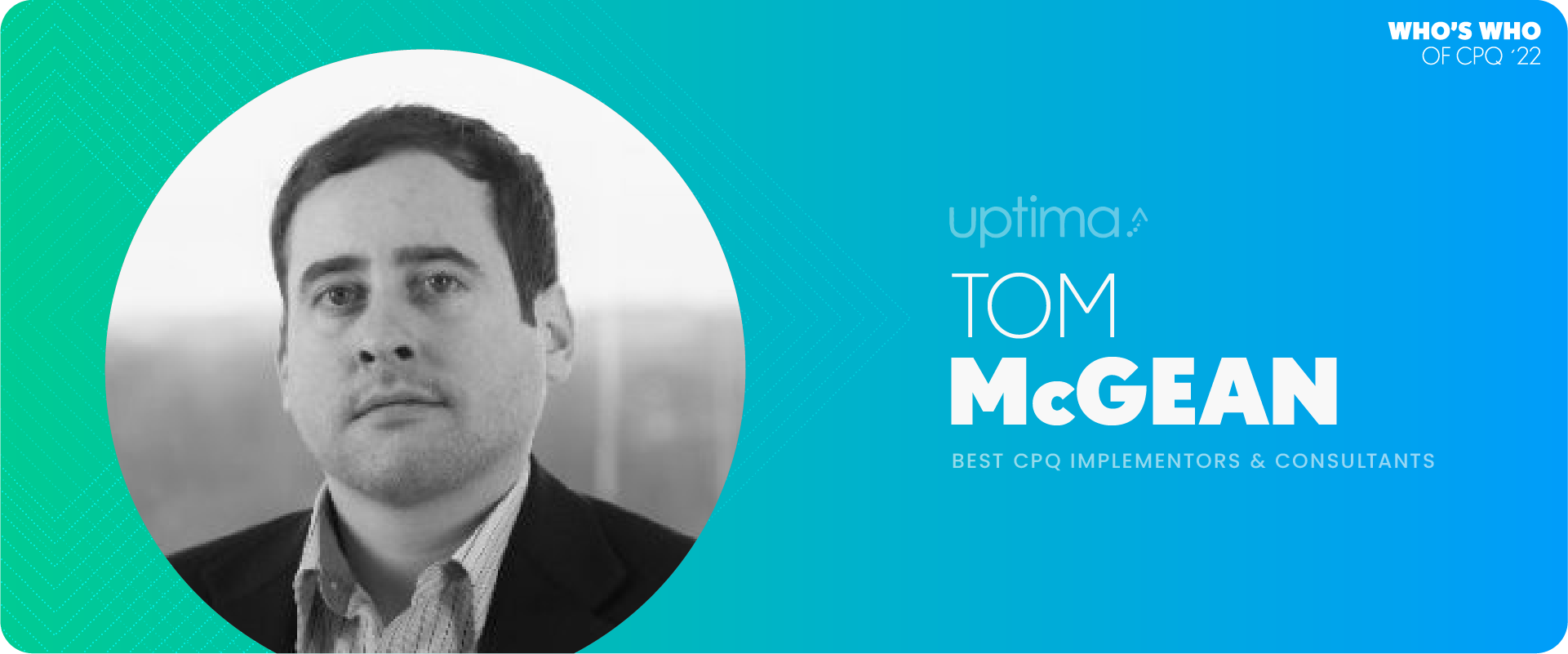 Small or large, no CPQ implementation case is outside the scope of Thomas McGean, Director of Revenue Cloud Architecture at Uptima. His ability to construct ready-to-use components and advanced accelerators leaves him a highly sought after name in the industry.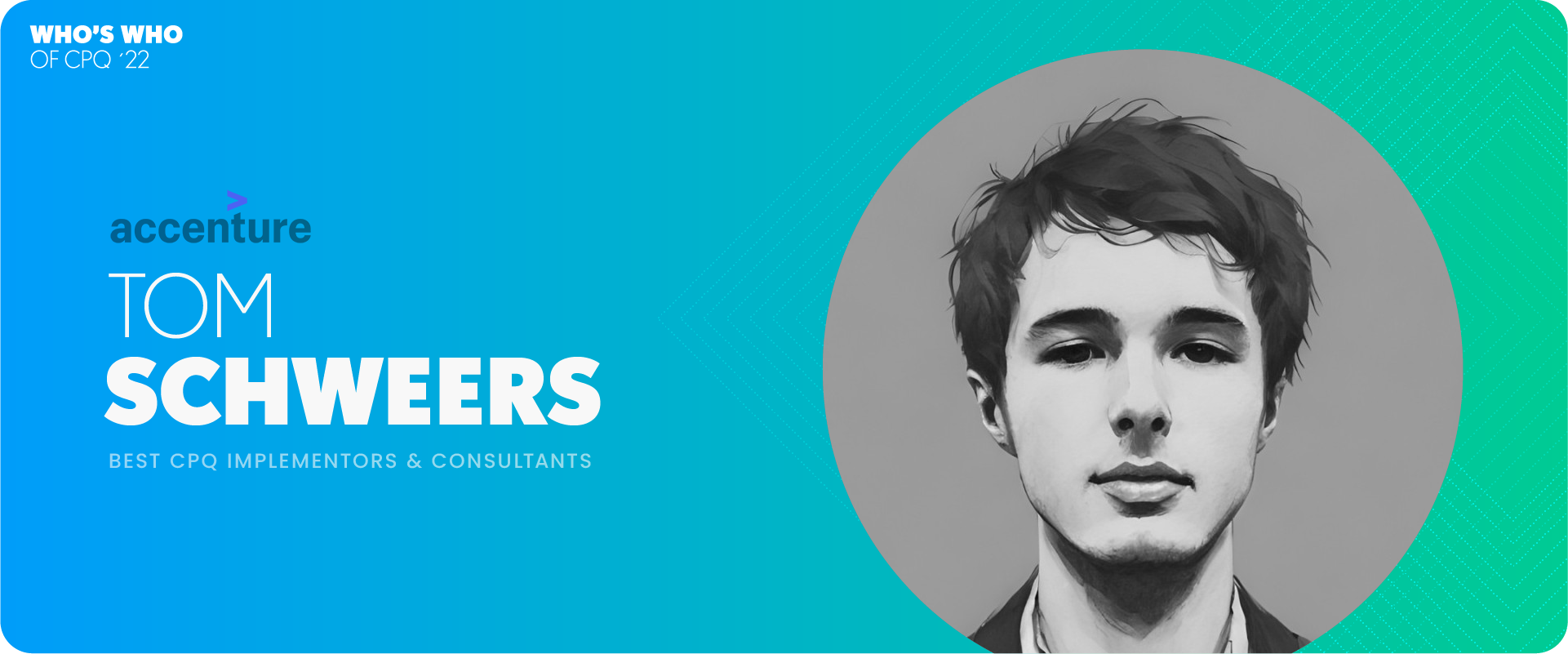 Manager, Business and Technology Delivery at Accenture turned Owner and Principal Consultant at Protrero, Tom Schweers has established himself as an Oracle CPQ powerhouse both in and out of the Seattle area. A background in technology consulting means Schweers brings a uniquely analytical perspective to all things configure, price, quote.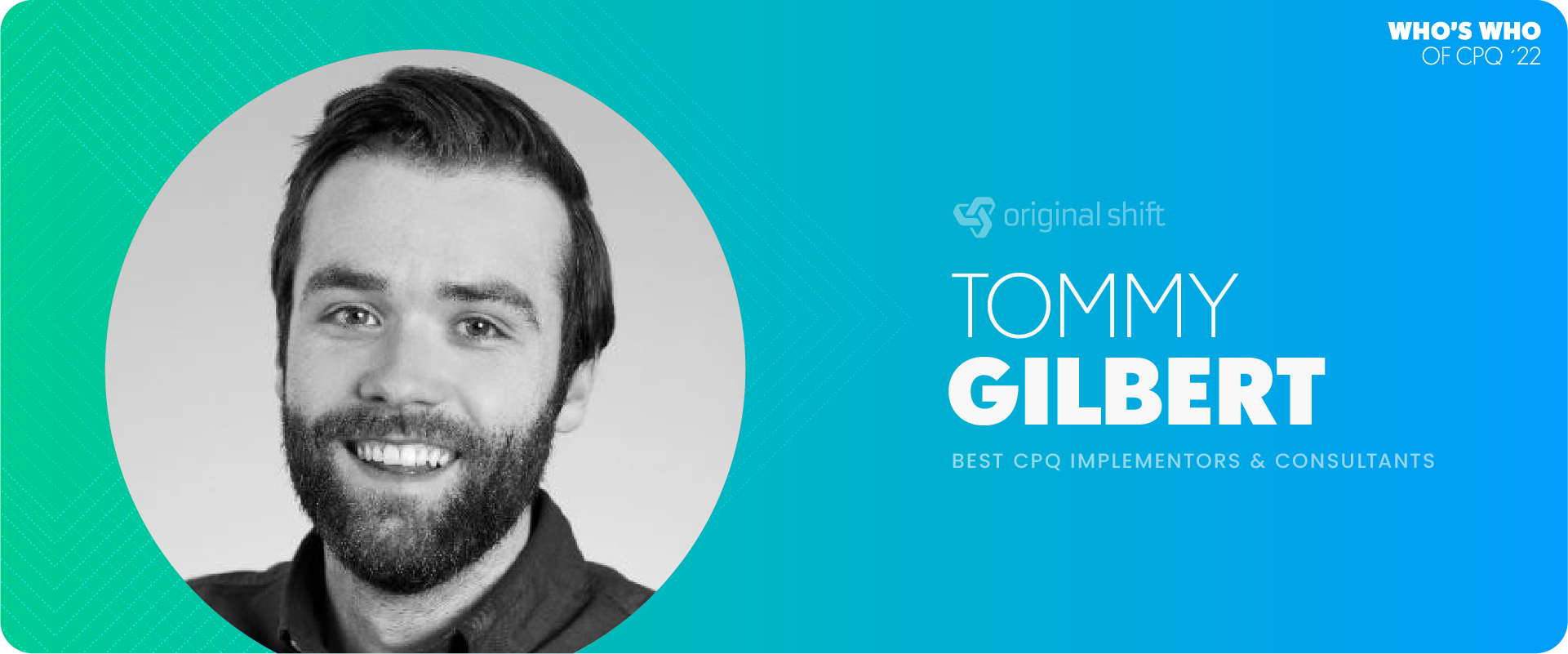 A jack-of-all-trades with CPQ proficiency in Salesforce, Oracle, Logik.io, and more, Original Shift Solutions Architect Tommy Gilbert is guaranteed to find the right solution for you. No problem or conversation is too hard for Tommy to face, and everything he encounters helps him develop cutting-edge best practices.