It's been a volatile few years for businesses and buyers alike. Uncontrollable and unprecedented global circumstances changed things we thought to be true about the industry. The importance of self-navigable digital environments skyrocketed, the reliance upon traditional selling tactics waned, and buyers began presenting entirely new personas and preferences in direct response to these shifts.
Different industries have had to adapt to these changes in new ways, with most looking at how to get back to business as usual.
But for B2B manufacturers, they can't ignore that last issue at hand – buyers aren't the same as they were a few years ago, and it's unlikely they'll ever shift back to their old preferences. Simply getting back to the status quo just won't do if these manufacturers want to maintain their presence and hit their sales quotas.
Buyers are becoming increasingly "consumerized" as a result of recent years putting an out-of-proportion focus on eCommerce experiences. Most specifically, buyers in the B2B sphere have brought over their B2C-style expectations of efficiency, personalization, and ease – now, it's up to B2B businesses and manufacturers to adapt accordingly.
B2B sales experiences need to be digitally native and focused on eCommerce to meet these consumerized buyers where they are and win over their final business. But, refining that eCommerce environment takes time, money, the right tools, and a vision. Sure, businesses may know they need to start moving in that direction, but are they? And how are buyers reacting to the presence – or lack – of these developments?
We at Logik.io wanted to know everything we could about this paradigm shift playing out in real time, and wanted as much specific data as possible to synthesize. Quickly, we realized that the numbers and satisfaction rates we most wanted to take a look at couldn't quite be found.
That's why we commissioned a study conducted by Sinclair Customer Metrics to contextualize the current state of the eCommerce market and gauge how closely B2B manufacturers are aligning themselves with buyer preferences, if at all. The results can be found in our newest report: The State of B2B eCommerce for Manufacturers

Download The State of B2B eCommerce for Manufacturers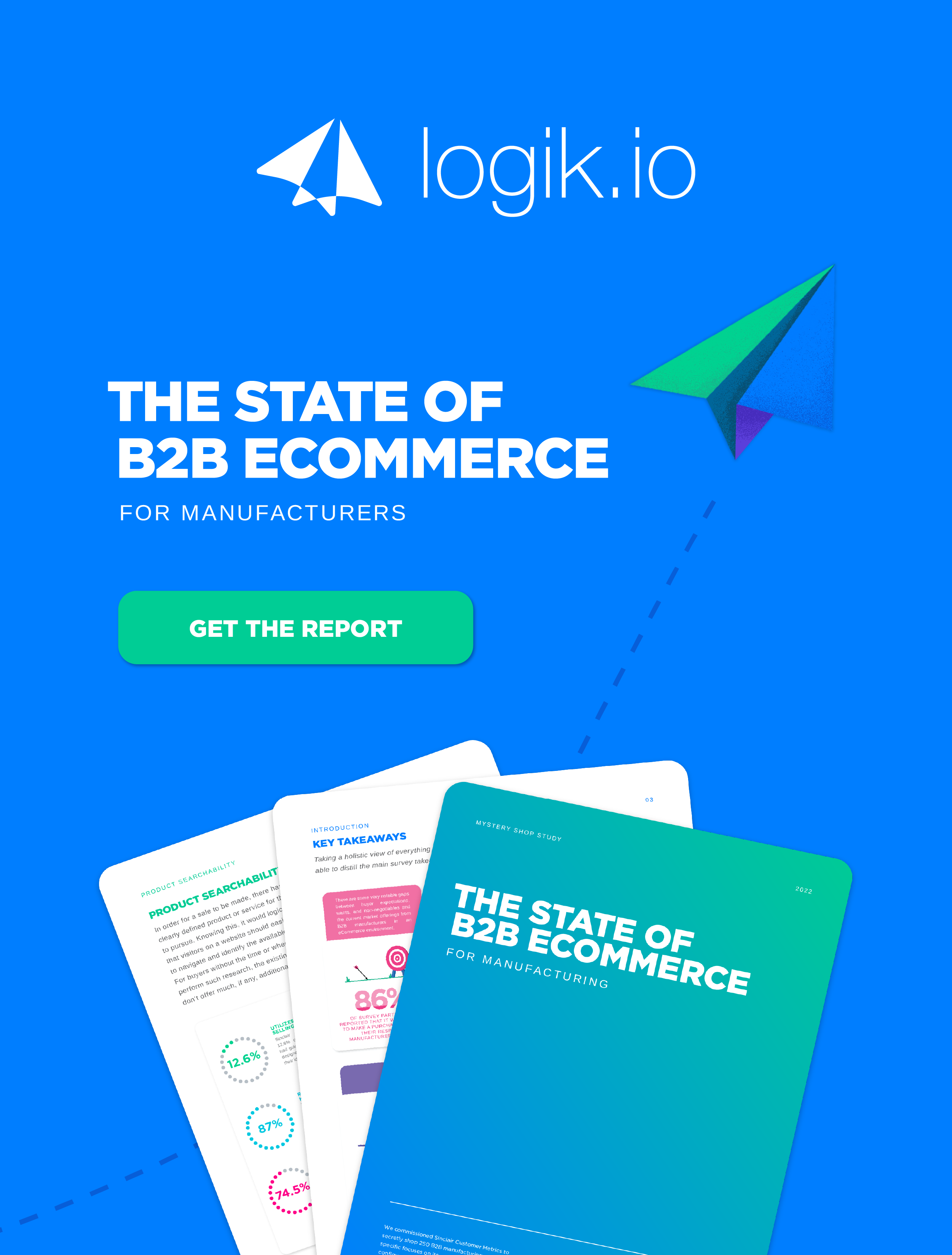 Our Sinclair researchers surveyed 250 leading B2B manufacturing websites and took a discerning look at:

Product Searchability
Customization & Configurability
Pricing Transparency
Purchasing Power
The data we got back was illuminating, and put a stark spotlight on the areas between customer expectations and marketing offerings. Looking at the survey questions themselves, the collective feedback and overall percentage points, we were able to distill the data down to three main pillars:
Firstly, it seems like buyers are left wanting significantly more from the manufacturing eCommerce environments available to them. And not just some buyers – over 80% of our researchers reported that it was simply not easy to make the purchase they wanted through the website they were directed to. But that could change in the future, especially when looking at our second pillar of data.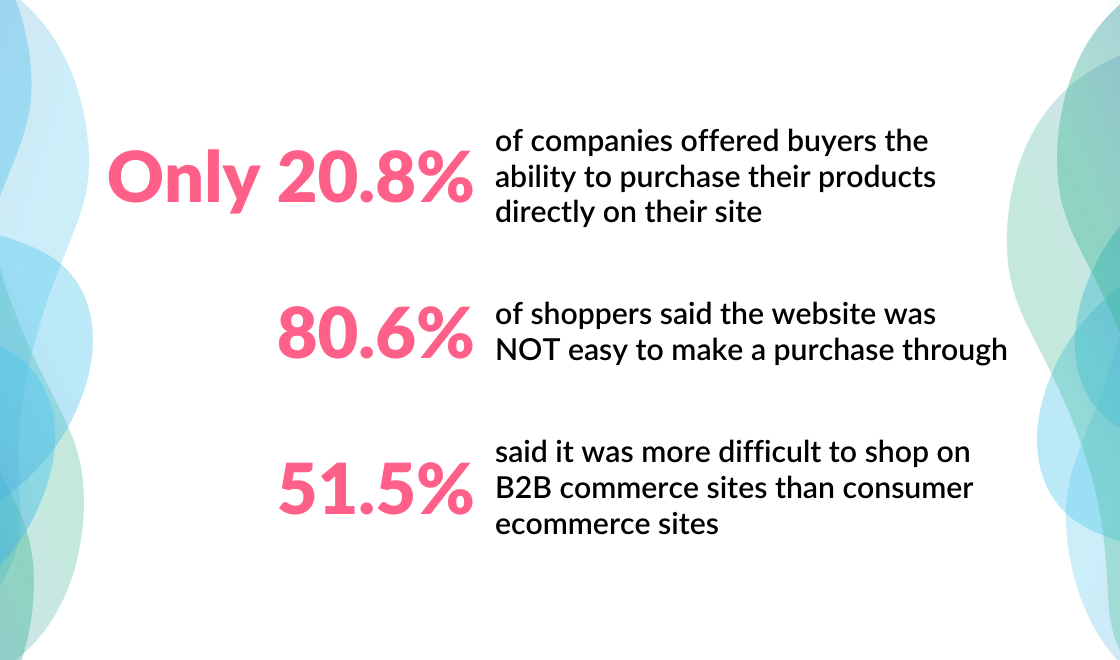 As a whole, B2B manufacturers are incredibly early on in their eCommerce lifecycle, and many are just now starting to take it seriously. Less than one in five of our surveyed websites even had a product configurator for buyers to engage with, and just about 12% incorporated any sort of guided selling software into their platform. While those numbers are lower than we would have anticipated, it does bring us directly to data pillar three.
A small subset of B2B manufacturers have adopted and implemented eCommerce offerings in time with their buyers, and are serving as an overall proof of concept for the market at large. Of our researchers, 30% reported overall satisfaction with the environment they were assigned to survey. So, it's not impossible by any means for a B2B manufacturer to meet the bar of eCommerce – it does just take the decision to implement.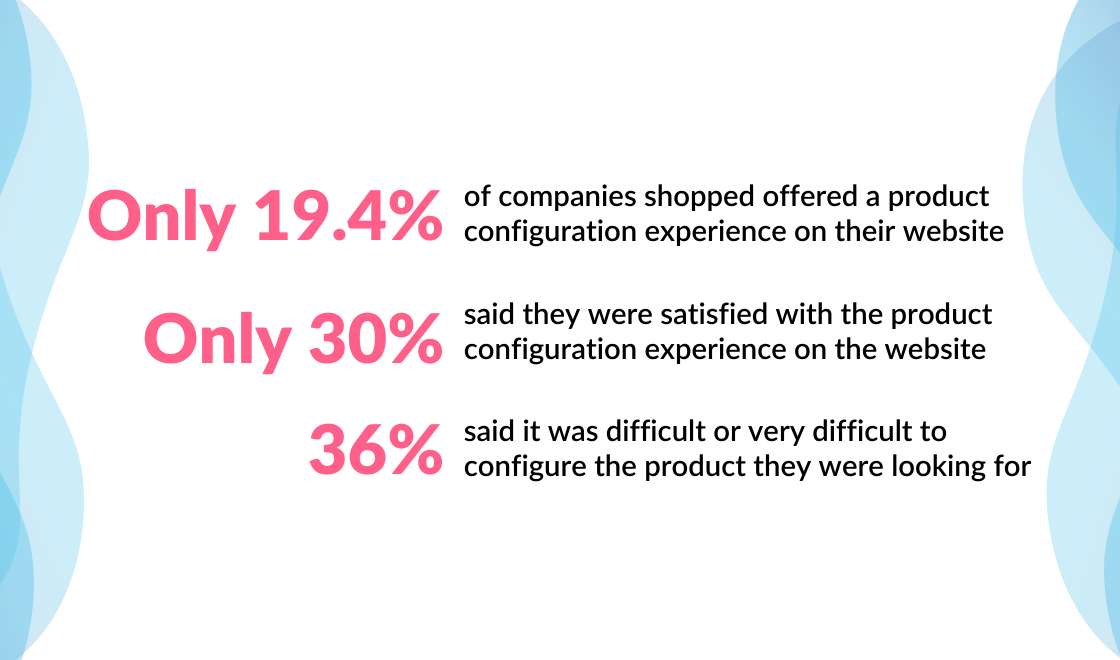 If you're a B2B manufacturer, a buyer in the market, or simply interested in the full scope of our survey, you'll want to take some time with our free, downloadable report – The State of B2B eCommerce for Manufacturers. There, you can access all of the data supporting our main pillars, learn more about how Commerce Logic Engines can get manufacturing to the next level, and get back to your day with that much more new knowledge.